LNO was the first news organization to report on  the arrest of the teacher.  Click Here June 26, 2004 and again on July 11, 2005, Click Here before her August Trial.
On August 3, 2005, Reiser was sentenced in the court of Judge Wayne Salvant as noted below.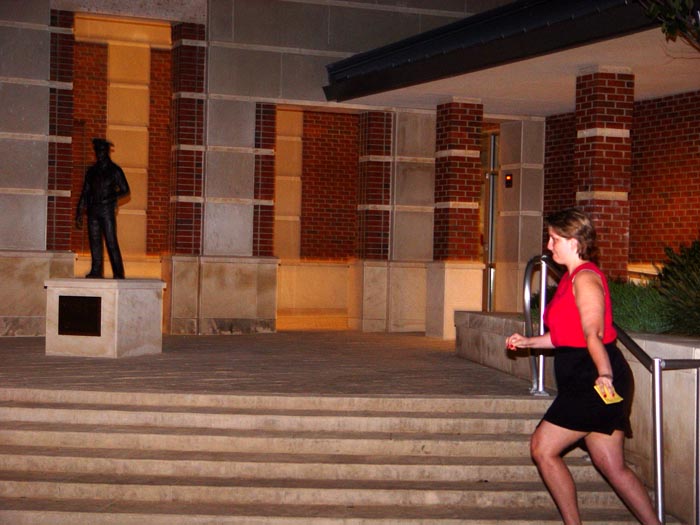 Dawn Reiser is seen running in the front of the Colleyville Police Station.  Reiser refused to speak to LNO reporters, June 26, 2004.
A former Catholic school teacher was sentenced Thursday to eight years in prison for her sexual relationship with a 13-year-old student.
Dawn Reiser, 30, was given eight-year and seven-year sentences for convictions on two counts of aggravated sexual assault. The sentences will run concurrently.
Dawn Reiser Ms. Reiser will have to serve at least four years before she is eligible for parole. The Tarrant County jury also gave her 10 years of probation, which will run concurrently with her prison sentence.
"Your criminal behavior may have scarred my son for life," the boy's mother said to Ms. Reiser after the sentence was announced.
The mother's name is being withheld to avoid identifying her son. Judge Wayne Salvant also ordered Ms. Reiser to pay for counseling for the boy, now 14.
Although he had pleaded for probation, defense attorney Sam Cammack said he and his client were satisfied with the sentence.
"At least Dawn will have some of her life back," he said. "She is relieved this is over."
Considering the prosecution's request for a 50-year sentence, Mr. Cammack said, the jury's decision could have been much worse. Ms.Reiser could have been sentenced to as much as life in prison.