Colleyville, Texas  August 19, 2015
Editorial Comment: LNO has learned of the passing of my friend, a knowledgable local Historical Preservationist of Grapevine and Colleyville history.  He has been the "go to" guy about historical aspects of this area for years.  A few past news stories with Ed Havran present are  found below.  To learn more about Ed, if you go to the LNO archives Prior to May 2015 and put in the name Ed Havran, you will get around 100 returns from LNO articles since 2000.  My sympathies to his family, he will be missed by many.
Larry Oliver reported the following:
Sad news this afternoon as I was notified of the passing of Bob Havran's father, Edward Havran.  Those of you in our class know what great and supportive parents Bob, Susan and John had.  Ed provided trips to the Vandervoorts in Fort Worth and he and Mrs. Havran were always volunteering for school events and very active in our community.  Ed has been a Board Member and huge supporter of the Grapevine Historical Society over these past many years.  I know you join me in thoughts and prayers for the Havran Family as the cope with this loss.
Ed was survived by his wife Muriel, children Susan Havran Carter and husband Jim, Bob Havran and wife Joy Ann, and John Havran and wife Susan; and five grandchildren and three great grandchildren.
A Memorial Service will be held Friday, August 21, 2015 at 3:00 p.m., Colleyville Church of Christ, 1008 Church Street Colleyville. 
A Private Graveside Service for the family only will be held at the Dallas-Fort Worth National Cemetery. The family requests that memorials be made to the "Havran Memorial / Grapevine Historical Society" to be directed to the Grapevine Historical Museum in memory of Ed Havran.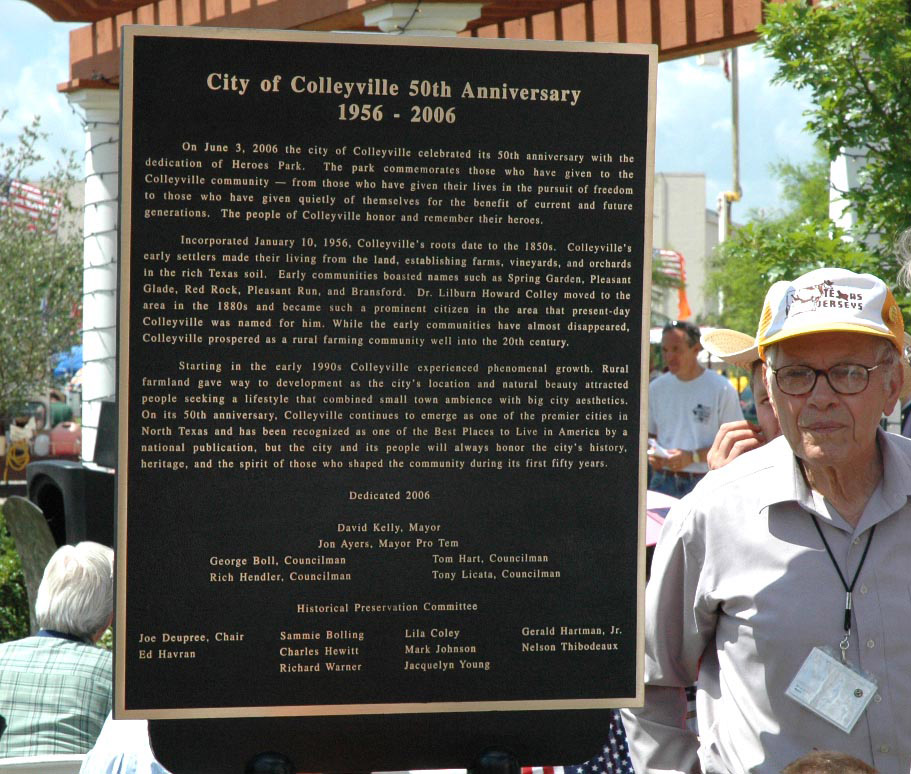 Ed Havran at the opening of Heroes Park in 2006.
January 13, 2006   Colleyville, Texas
Official birthday of January 10th was celebrated with a public reception
The Colleyville Historical Preservation Committee and the City of Colleyville sponsored a birthday for the city on Tuesday evening January 10th.  The event was to recognize the official day of incorporation of the city and a city-wide 50th celebration is planned for the fall.


Members of the Colleyville Historical Preservation Committee (l to r)  Nelson Thibodeaux, Lila Coley, Sammie Bolling, Mark Johnson, Richard Warner,
Ed Havran, Chairman Joe Deupree and Charles Hewitt

November 19, 2003
Honoring some of those who made Grapevine the city it is today by Edward Coley  

Ted Willhoite, Ed Havran, and Inez Crow
It took many a man and woman to make Grapevine what it is today. It took sweat, blood and tears from pioneer Texans to build the blocks of what we see today.  Monday night November 17, 2003  was a night to remember two Grapevine Pioneers.  The Grapevine Historical Committee honored  Ted Wilhoite , age 92 and Mary Ruth Box Jones at the Grapevine Visitors Center on Main St. in downtown Grapevine. Both have lived in Grapevine all their lives and been a major part of why Grapevine is a destination location of thousands today.
February 19, 2010
This week Ed Havran celebrates his 89th birthday  and 65 years anniversary –
Ed Havran, Colleyville, Texas
Havran was in the United States Army Air Force, prior to the United States Air Force formation.  He served with the 8th air force in WWII and later taught navigation in Hondo, Texas.  Havran retired from the Air National Guard as a Lt. Colonel.  He flew more than 5,000 hours in 29 years including 35 combat missions including during the Battle of the Bulge.  Ed Havran flew with well known local resident and retired 2 star General Hank Smyth.
August 22, 2003
COLLEYVILLE CABOOSE GETS OFFICIAL DEDICATION IN MEMORY OF DICK DENNISON
Thursday, August 21st, the City of Colleyville had the official  dedication for a restored Caboose. A 1974 restored caboose was delivered to Bransford Park, 408 Shelton Drive, on June 16, 2003.
Attending were a number of citizens that have been instrumental in preserving historical aspects of the community.
(l to r) Jane Deupree, Ed Havran, Joe Deupree, former Mayor Frank Whitmire and Dixie Cawthorne from the City of Colleyville