June 30, 2006 Grapevine
Loyal Police Dog would have been 8 years old on July 9th
At the Grapevine Botanical Gardens on Wednesday, June 28th, police officers and the public gathered for a memorial to Grapevine's K-9 Police Dog Darby.
DARBY
Jan. 26, 2001 –  June 20, 2006
An emotional and dignified memorial was given on behalf of a beloved member of the Grapevine Police Force.  K-9 Police Dog Darby had served the force faithfully for five years before his untimely death last week. Darby had been left at the boarders while his handler K-9 Officer Brian Hintz made plans to go out of town. Unfortunately Darby's faithfulness to Officer Hintz and
his inability to understand that all was well resulted in what appears a heat related death.

Officer Hintz described Darby as simply always wanting to please him.  "He never let me out of his sight, sometimes I would get up and literally stumble over him and get irritated, but Darby was always forgiving my human mistakes."  Officer Hintz, who has no children, described Darby, "as my son."
Darby was honored on Wednesday
Grapevine's other K-9 Team, Officer Macchio and Hero were on hand to honor Darby.
Officer Hintz explained that Darby climbed over a 6 ft fence and ran home to their home.  He was rushed to the vet for medical attention, but passed away shortly after.  Hintz said his beloved companion held on until he and his wife were by his side before he passed away.
Officer Hintz speaks with the press top, while other K-9 teams from other police departments were on hand to honor Darby. .
Officer Hintz prepares to lay roses down next to a marker honoring Darby by a tree planted in his memory.The bond between a police officer and an animal that will lay down his life to protect him is very special. In his remarks, Eddie Salame, Chief of Police of Grapevine, said that to adequately understand the grief experienced with the loss of Darby that one had to first be a pet lover.  
Officer Hintz is not only a pet lover, but cherished a pet that he worked with everyday, a pet that was a fine police officer in his own right, a pet that was recognized for his incredible talents to track the bad guys, a pet that had excelled in competitive protection and obedience events, and a pet that only wanted to please him in everyway.   The bond between a police officer and an animal that will lay down his life to protect him is very special.  The loss for Officer Hintz of his partner Darby was shared by many a brave officer with a tear in his eye on Wednesday.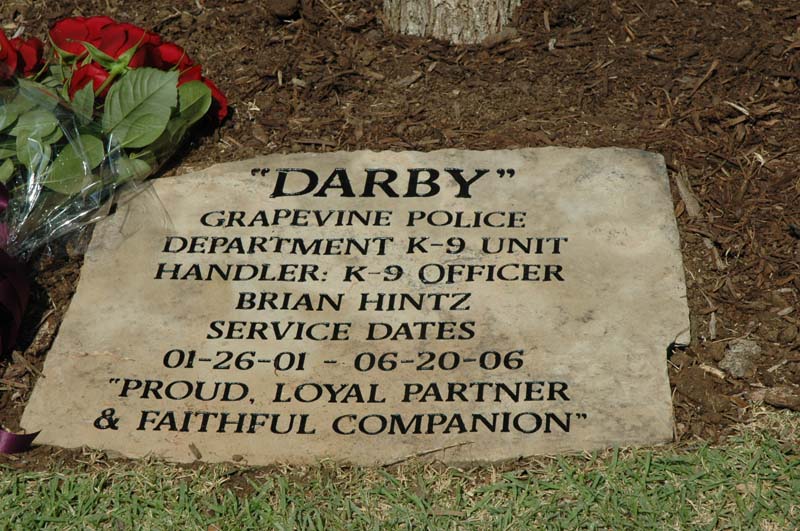 Officer Hintz showed great restraint and courage to get through a memorial to his fallen partner.  Some may not understand the hurt felt on the loss of a beloved family pet. No one could have attended the Wednesday memorial
and not feel the grief of a Police Officer that had lost a finely trained police dog, that was also a pet that would have gladly laid down his life to protect the one he loved so dearly

.