Colleyville, Texas April 8, 2007
 Alleged Assault Gun Owner Refuses to Reveal Identify in Colleyville Courtroom
by Linda Baker
Judge Orders Assault Weapons Destroyed After Terse Hearing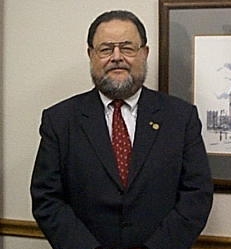 Municipal Judge James Ames recently conducted a Magistrate Hearing to determine whether a Waco man with a criminally checkered past would regain possession of three assault weapons he had left in the care of a former friend. The Disposition of Property hearing was extremely brief-the Waco man refused to identify himself after demanding to know whether Judge Ames "was sworn to uphold the Constitution?"
Mark Allen Coker had left the guns in two unopened cases at a home owned by a friend in May of 2005. By July, the friend, who had become distrustful of Mr. Coker, turned them over to the Colleyville Police Department. Coker had finally filed the paperwork to retrieve the guns and was scheduled to testify in the Disposition of Property Hearing on March 23, 2007.
At the beginning of the hearing, Judge James Ames asked the City Attorney if he was ready to proceed. The Attorney answered "Yes", and indicated his witness, Detective David Martz, was present. Judge Ames asked if Mr. Mark Allen Coker was here and ready to proceed. Coker, who was accompanied by three unidentified men, who also stood up, replied, "First I have a question for you, Judge. Are you sworn to uphold the Constitution?"
Ames responded, "I am the Colleyville Municipal Judge and I run this Courtroom. Are you here for the Property Hearing? Is your name Mark Allen Coker?"
Coker refused to identify himself.
Judge Ames then ruled that "Mark Coker failed to appear to proceed-this is a Default Hearing. I award the items to the Police Department for the destruction of all items this afternoon."
The Background of The Hearing…
On July 17, 2005, resident Barbara Groff, 39, of 613 Eudaly Drive, contacted Colleyville Police regarding two gun cases left at her home two months earlier by a former friend, Mark A. Coker. Coker had left the gun cases at her home in May, while he relocated back to Waco to clear up a tax seizure of a house he owned in that city.
When Ms. Groff opened the cases in July, she found several guns and ammunition, and summoned the Police. She told Officer Ron McFadden that she had suspected her former friend of stealing some items from her and had informed Mark Coker that she intended to hold the guns as collateral and also notify the police department about them. Ms. Groff added that she planned to move from the Colleyville Estates house.
Officer McFadden opened the gun cases and found two assault rifles, one assault pistol, one movie stage replica blank revolver, and various live ammunition and accessories. The second case also contained what is commonly referred to as a "hell-fire switch", a trigger actuator for conversion of a firearm to a fully automatic weapon, and two butt plates-one an extender for a Glock pistol and the other unknown.
Colleyville Police ran a computer check on the three firearms, but none were reported to have been stolen.
Officer McFadden, concerned about the nature of the weapons, and the possibility that Coker would receive the firearms back from the police department, had Dispatch run a criminal record check on Mark Coker after discovering Coker had a valid Texas concealed handgun license. Turned out that Mark A. Coker had an extensive criminal history, which includes two charges of Assault Causes Bodily Injury, Theft, Criminal Mischief, Failure to Identify as Fugitive from Justice, Prohibited Weapon (Switchblade/Knuckles), two charges of Unlawful Carrying a Weapon, and Trespassing.
The police incident report dryly understates, "McFadden is concerned as to how Coker qualified to receive a concealed handgun license."
The technical inventory of the other items, aside from the two gun cases, butt plates and "hell-fire switch", was as follows:
Norinco (made in China) MAK-90 (AK-47), caliber 7.62 x 39 mm, semi-automatic rifle with one 5 round magazine and two approximately 20-30 round magazines.
Unknown make (probably Norinco) SKS, caliber 7.62 x 39 mm, semi-automatic rifle with B-Square scope mount, Simmons scope, folding bi-pod, folding bayonet, flash suppressor, with three approximately 20-30 round magazines.
American Arms Inc.-NKC-MO/Sites- Spectre HC Pistol, (made in Italy) .45 ACO caliber, semi-automatic pistol (sub-machine style) with two approximately 20-30 round magazines.
The live ammunition consisted of 36 rounds of 7.62 x 39 mm, full metal jacket; 17 rounds of .45 ACP caliber, Winchester Silvertip; 6 rounds of .45 ACP caliber Federal Hydra-Shock; 29 rounds of .45 ACP caliber round nose, and 1 round of an unknown cartridge . 45 ACP caliber, appeared to be for test fire.
The Kokusiai blank pistol was a replica of a Smith & Wesson .44 magnum caliber revolver, made of plastic with six .44 magnum caliber cap cartridges.
On November 2, 2005, a supplemental report was filed by Detective Hillary Wreay:
"On this date, approximately 4 months after the firearms were placed into property, a male arrived at the police department around 0830 hrs. He advised that he was here to pick up his weapons. I met with the male who stated his name was Mark Coker. Mr. Coker advised me that a police officer told him that if he wanted his guns back that he would need to come to the police department and show his identification and they would be released. I asked Mr. Coker what weapons he was referring to, because at the time, I did not know who he was. He told me that he did not know what guns he had, except that they were in two large black rifle cases. I immediately knew which guns he was speaking of. I informed Mr. Coker that he had received incorrect information regarding the return of the weapons. I explained to him that a Criminal History and current Protective Orders [reports] would be need to be ran, before any weapons could be returned. I explained that if he is currently under a protective order or if he is a convicted felon, he could not possess the weapons. I asked him to complete an Affidavit of Fact describing the guns, the circumstances regarding another person being in possession of his guns and I requested that he write his drivers license information down so that I could begin the process of preparing the paperwork for the municipal Judge. I explained that on the day of the hearing, the Judge would review his Affidavit and the request for the return of the weapons and any criminal history that may be attached. The Judge would then make the determination if the weapons should be returned."
"I explained to Mr. Coker that since he has come forward requesting the weapons, I would go ahead and ask for a trace of the weapons from ATF when I received his Affidavit, since he can not prove that he is the owner and he can not describe the weapons in detail. I also told Mr. Coker that in the past, when I have requested a routine gun trace, it has taken over a month before I received a reply."
"Mr. Coker said that he did not want to fill out the Affidavit at this time and that he would take it and mail it back. I explained that he would still need to come back for the hearing from the Judge. Mr. Coker advised that he lives over 100 miles away in Waco and he would return in 2-3 months. I told him that if he could contact me approximately 1 month in advance, I would ask the Court to schedule a hearing for him."
Detective Wreay did meet with ATF agents to examine the weapons and then ran a subsequent trace on the serial numbers of the guns. One of the rifles had no importer information in the ATF National Tracing Center files, and the pistol had come from an unidentified "out-of-business" dealer but the serial number was not in the NTC files.
The third rifle was traced to an individual purchaser identified as Ata Tamimi Maher, currently living in Waco Texas. Detective Wreay contacted Mr. Maher and asked him if "he had ever owned a Norinco rifle. He told me that he was not sure, as he has owned several guns in the past."
"I asked him if he knew a Mark Coker and if he may have sold a gun to him. At first he said he did not know him and then he said he knew Mr. Coker from college and that he did sell him a gun many years ago; however, Maher could not remember what type of weapon he sold him." The supplement ends.
After the Property Hearing and decree by Judge Ames, Detective David Martz transported the guns, magazines, and "hell-fire switch" to the Colleyville Public Works Department and under his direct supervision, "were cut up with a torch rendering them inoperable and unable to be rebuilt. The remaining ammunition was turned over to Colleyville Fire Marshall R. McKeown for disposal at the Northeast Tarrant County Task Force. The gun cases were destroyed and disposed of in the dumpster."