Colleyville, Texas  January 25, 2016
Self-Serve Frozen Yogurt Brand Gives Thanks To Its Loyal Guests On February 1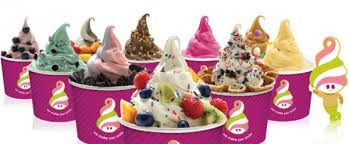 Set your calendars! Menchie's, North America's largest self-serve yogurt franchise, is celebrating National Frozen Yogurt Day early on February 1, by gifting fans a free six ounce cup of frozen yogurt. Anyone who visits Menchie's Colleyville from 4 p.m. to 7 p.m. will receive the sweet deal.
To commemorate the brand's favorite holiday on February 6, fro-yo fanatics can create the perfect dessert early at Menchie's Colleyville, by choosing from a variety of flavors and more than 70 delightful toppings. As a sweet bonus, fans who enjoy the tasty celebratory freebie will receive a 20 percent off coupon to use on their next visit, valid February 2 through February 20.
Menchie's Colleyville is located at 4709 Colleyville Blvd. Suite 520 Colleyville, TX 76034. Guests can reach Menchie's Colleyville by calling (817) 485-1111.  Hours are Mon-Sun from 12 p.m. – 10 p.m. For more information regarding Menchie's, including store locations or franchising opportunities, please visit www.menchies.com. Like Menchie's on Facebook at www.Facebook.com/MyMenchies or follow on Twitter at www.Twitter.com/MyMenchies.
About Menchie's:
Menchie's creates lasting memories by providing an unparalleled guest experience with a mission to make every guest smile. Menchie's is a world-leader of ensuring best-in-class products and is the ambassador of frozen yogurt quality worldwide. With over 500 stores, the franchise has locations open in the United States, Canada, China, Japan, United Arab Emirates, Saudi Arabia, India, and more. Menchie's expects to celebrate 600 stores in 2015. Guaranteeing happiness in every cup, the brand offers guests premium rotating yogurt flavors and delicious toppings for unlimited combinations in every bite. The proprietary collection is made from the milk of "smiley" California cows, which have not been treated with artificial growth hormones (rBST). Menchie's frozen yogurt contains live and active cultures and has received the Live and Active Culture (LAC) seal indicating its endorsement by the National Yogurt Association.