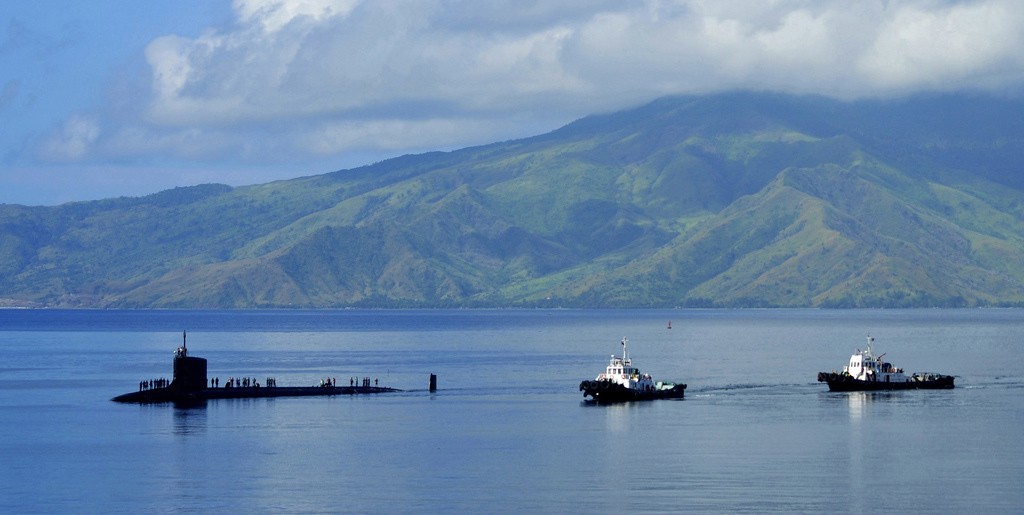 SUBIC BAY, Philippines (Nov. 10, 2011) Virginia-class fast attack submarine USS Texas (SSN 775) glides into Subic Bay to conduct a port visit and coordinated tended mooring alongside submarine tender USS Emory S. Land (AS 39). Texas is homeported in Pearl Harbor, Hawaii, and is on her first Western Pacific deployment. (U.S. Navy photo by Mass Communication Specialist 2nd Class Chris Williamson/Released)
By Lt. j.g. Eric Wooten, USS Texas Public Affairs
SUBIC Bay, Philippines – The Virginia-class fast-attack submarine USS Texas (SSN 775) arrived in Subic Bay Jan. 5 for a visit as part of its Indo-Asia-Pacific deployment.
With a crew of approximately 135, Texas conducts a multitude of missions to enhance proficiency of the submarine fleet. Texas is the second Virginia-class fast-attack submarine commissioned by the United States and is operated by some of the Navy's finest and most well-trained officers and enlisted personnel.
"Texas Sailors are hardworking and downright dedicated," said Master Chief Machinist's Mate Daniel Kloepfer, Texas's chief of the boat. "Maintaining a forward-deployed nuclear submarine is not an easy task and Subic Bay will allow for some much deserved rest for the crew."
For many crew members, this is their first visit to the Philippines.
"I can't wait to get to the Philippines for the first time," said Electronics Technician 2nd Class Keagan Garber. "I'm looking forward to exploring the great outdoors."
Measuring more than 377 feet long and weighing more than 7,800 tons when submerged, Texas is one of the most technologically advanced submarines in the world. This submarine is capable of executing a multitude of missions including anti-submarine warfare, anti-surface ship warfare, strike, surveillance and reconnaissance, irregular warfare, mine warfare and shallow water operations.
Built in Newport News, Virginia from 2002 – 2004, Texas established its home in Groton Connecticut before transferring to Pearl Harbor in 2009. The boat is sponsored by former first lady Laura Bush.