February 20, 2016 Editorial by LNO Editor Nelson Thibodeaux
IF CAMPAIGNS OF TRACI HUTTON & SCOTT FISHER SEEM TO BE USING SIMILAR TACTICS;  THERE IS A REASON!
San Antonio Express-News.. "Of the 14 candidates who have paid Murphy Turner in 2012 11 are opposed by conservatives".

After the Expose on the Traci Hutton Issue by LNO, the staff pulled the initial filing of Hutton for her campaign in the 96th District Judge Race.  A PDF Copy OF  Hutton's Filing: HuttonFilingHighlighted.
Note the highlighted portion of the filing of Hutton's campaign against conservative Judge R.H. Wallace. There were only two donations listed, one from an apparent relative and the other from Tarrant County Commissioner Gary Fickes.  When questioned about his endorsement of Hutton, Commissioner Fickes Responded via Email, "…she has worked on every race I've been in. She's put signs up, handed out literature, taken signs down and given me donations. I think everyone knew about her and Mike".Thanks, Gary.
In addition, Hutton showed a loan to herself of $21,000.  Listed under her expenditures is a total of $20,980.91 paid to Political Consultant  "Murphy Nasica." 
Now comes the State Representative 92 District Campaign of Scott Fisher vs. incumbent Jonathan Stickland.  A campaign with similar viciousness and suspect claims. FisherFilingHighlighted
The Political Consultant?
"Murphy Nasica" .  This same consultant to Traci Hutton was listed by Scott Fisher with expenditures of $50,842.54!  One interesting donation from the Cash America Multi-Candidate Pac Fund for $500. (Ironically, Former local State Representative Vicki Truitt is now a lobbyist for ACE Cash America, a payday firm that was  levied a $10 million fine for illegally coercing borrowers into taking on more debt).
So who is Murphy Nasica?  The overview of Murphy Turner/Murphy Nasica is from the North Texas Tea Party.  In November, 2013  NTTP wrote about Murhpy Nasica the following:

Murphy is Baaack!
November 2013 NorthTexas Tea Party "Ah, the consultancy group we at NTTP have helped successfully defeat multiple times has raised its ugly head again. It is now known as Murphy-Nasica, instead of Murphy-Turner. Bottom line; we had better success than they did in who we chose to support. And, maddening to them, we're just a bunch of grassroot grunts, spending only our allowed individual amounts of $200 of undirected efforts against the many tens of thousands they are paid for each race. And ALL of our supported candidates DID prove out to VOTE conservative; all ending up in our composite scorecards (HOUSE – SENATE) as either 'Golden' or 'Silver Medalist'. Only ONE of the Murphy candidates ended up as a 'Silver Medalist' the rest were 'Meh!' on down. We've proven to have more success and more reliably conservative choices. As to their first attempt to make headway, they put together an email from Angie Chen Button, slamming her NTTP Tea Approved opponent Jared Patterson. Our Dallas County Vetting Chair produced the following response: And the mud-slinging begins anew. Happy 2014 Primary everybody. A recent release by the Angie Button HD112 campaign via the recently renamed political consultancy group Murphy Turner (now Murphy Nasica) states convincingly."
Stickland vs Fisher from Texas Scorecard Magazine
"Fisher's dirty campaign has been run by establishment consultant Craig Murphy and is financed by a number of former Republican politicians who have been defeated or opted not to seek reelection in order to avoid voter scrutiny of their records.
Jan 21, 2016 by Tony McDonald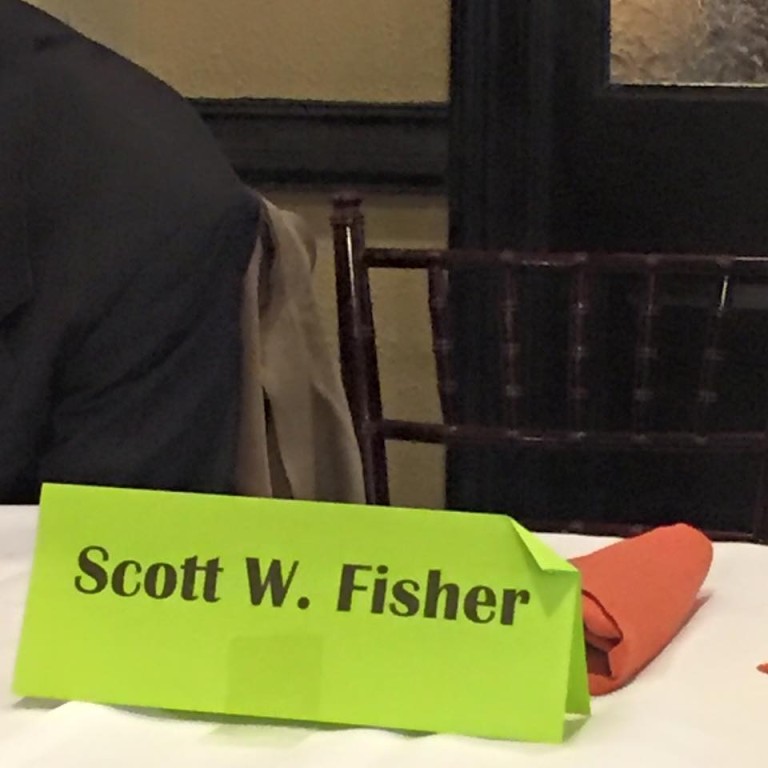 Although he was expected to attend and answer questions at an Arlington Republican Women's candidate forum today, Jonathan Stickland's opponent was a no-show. Scott W. Fisher of Bedford is challenging Stickland (R–Bedford) in the Republican primary. The Republican Women's luncheon was expected to be Fisher's first public appearance since starting his campaign.
Josh Baugh Senior Reporter | San Antonio Express-News May 2012
It's been a bad primary season for Austin consulting outfit Murphy Turner Associates. The firm has taken up with the liberal wing of the Republican party and has been forced to use deceptive tactics in an attempt to win elections.
Last week the Daily News, AgendaWise and Capitol Inside tied Murphy Turner to shadow PACs set up to deceive Texans. Compounding the harm of exposure Murphy Turner was caught lying about their attachments. The PACs and Murphy Turner have since been slapped with cease and desist orders.
Joe Straus has paid Murphy Turner nearly $150,000 in 2012.
At the start of the election season we wrote that Texans needed to pay attention to the hiring practices of their candidates. At the time we singled out Murphy Turner but didn't have a list of clients in 2012 races.
Looking at campaign filings we've compiled a list of Murphy Turner clients.  Of the 14 candidates who have paid Murphy Turner in 2012 11 are opposed by conservatives.
Finally again from  Josh Baugh Senior Reporter | San Antonio Express-News Dec. 12, 2014  (Excerpts)
Ex-Chan aide subject of investigation into sale of city database

Former District 9 council aide Roger L. Legrand, who handled communications for then-Councilwoman Elisa Chan, is the subject of an ongoing criminal investigation into allegations he sold a city-owned email database to a Republican activist.
That database contains more than 6,000 email addresses of District 9 constituents who proactively asked to be kept abreast of municipal governance related to their neighborhoods. It's owned by the taxpayer-funded District 9 office — not by a political campaign — and isn't accessible under the state's open-records law.
Political consultants say such a list is "worth a lot of money" and its value is "extremely high" because it's concentrated in a political jurisdiction and populated by people engaged in government.
The value of the list could play an important role in the criminal case because the severity of some charges is based on that value.
Legrand was not rehired at the District 9 office when Councilman Joe Krier took over Nov 7. The former aide then went to work as a contractor for Murphy Nasica & Associates, the political consulting firm managing Chan's Senate District 25 campaign.
So if the Hutton and Fisher campaigns seem to deploy similar tactics; we now know why.  As many who endorsed Ms. Hutton, should have vetted their candidate more carefully; the voters now have a link of, a minimum of, $220,000 spent with Murphy Nasica to defeat conservative Republican Candidates.  Consider that when you cast your vote.