Click on Photo to see WFAA Report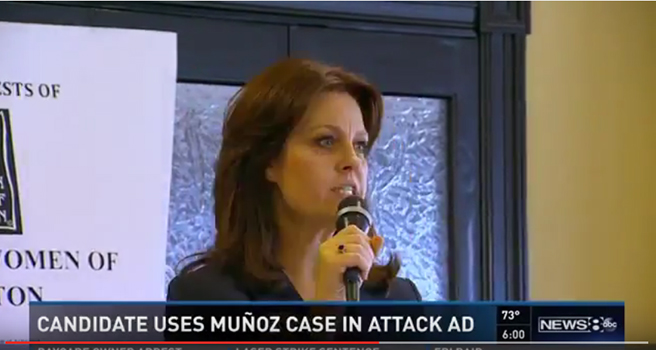 Two years after her death, politicians still won't let Marlise Muñoz rest in peace.
A Grapevine lawyer is challenging the judge who in 2014 ordered a hospital to disconnect the pregnant Haltom City woman from life support , a decision that ended nine weeks of legal manuevers and nine weeks of heart-rending grief for her family.
Sending out mailers calling state District Judge R.H. Wallace "liberal" and saying he does not "share our values," Grapevine Republican Traci Hutton said Thursday that Wallace should have appointed a lawyer to represent Nicole, Muñoz's unborn 23-week-old child with disabilities.
Wallace, a Keller Republican appointed by former Gov. Rick Perry, told a Republican women's club campaign forum Thursday that Hutton's mailer "distorted the law and distorted the facts."
Muñoz, 33, was 14 weeks pregnant with Nicole when she collapsed at home from what was believed to be a pulmonary embolism.
At John Peter Smith Hospital, Muñoz showed no brain function. She was dead.
Her firefighter husband, Erick, was in anguish after learning that his wife's body had to be kept on artificial life support indefinitely because Texas requires sustaining a pregnant "patient."
Hutton, endorsed by Colleyville and Grapevine officials and the Houston-based Texas Right to Life, said that she has represented children in other cases and that "it's important to represent the voice and interests" of Nicole Muñoz: "That wasn't done."
Hutton said that by ordering JPS to release Marlise Muñoz's body, Wallace did not show a "conservative judicial philosophy."
Wallace said all sides agreed that Muñoz was dead and had died in the early development of the pregnancy. He is endorsed by abortion opponents Perry and Kyleen Wright of the Arlington-based Texans for Life Coalition, along with former Dallas Cowboys quarterback Roger Staubach of Dallas.
The case spotlights an ongoing divide between Republican anti-abortion groups over end-of-life issues, some against prolonging needless suffering, others saying life should be sustained until death.
After the forum, Hutton said she did not question whether Muñoz was dead, only that Nicole needed a lawyer: "I'm not getting into the medical part."
I asked whether a paramedic responding to a pregnant woman's death should rush to connect life support.
"I'm not going to go there," she said. "I'm only talking about this case."
(Hutton became the target of other personal criticism this week on a Colleyville website. "That's about things in Colleyville," she said. "It doesn't have anything to do with this race." Wallace said he didn't know anything about the website "and I don't want to know.")
WFAA/Channel 8 asked Muñoz's parents, Ernie and Lynne Machado, about Hutton's mailer. Ernie Machado said Hutton is "using our tragedy to attempt to gain political favor. … Things like this, they open wounds again."
Some campaigns are more about politics than justice.
Bud Kennedy: 817-390-7538, bud@star-telegram.com, @BudKennedy. His column appears Sundays, Wednesdays and Fridays.