Little Known Facts
First Appeared on LNO January 7, 2005
I wonder what you'll think of Julian. He's quite a guy, and I'd like to tell you a bit about him. Julian Armas is originally from Ysleta, Texas, but he didn't stay there very long. He had other things to do in his life that the good community of Ysleta just couldn't provide. Julian is today probably the most successful private detective in America – maybe the world.
Let me give you an idea of just how successful. He goes to work every day in his chauffeur-driven Rolls Royce. He lives in a $1 million home, complete with an indoor swimming pool, private lake, and waterfall. The house has some unusual amenities, such as a zoo for the kids with a panther, tigers, puma, and chimps. And let's not forget the tennis courts, for Julian's favorite past time. (He's quite good at it, too.) He frequently flies to his customers in one of his two private airplanes, not to mention the helicopter sitting on the helipad next to his home.
Now remember I said Julian was a private detective, and you might know that most PI's aren't nearly as successful as Julian. And you might be wondering just how he got to be so successful. Well, he is willing to do something that almost no other detective is willing to do. He is willing to accept assignments from customers on contingency. That's right, if he doesn't find your man – or woman – there's no charge. And he sure gets lots of business that way.
Over the years Julian has tracked down stolen goods that the police couldn't find, and found lost, kidnapped and runaway children for distraught parents. He caught shoplifters for stores, found missing wives, husbands, friends and even a few lost loves.
Yes, Julian is quite a guy. But he's most famous for one "caper," as he calls it. That was when he was hired by Marlon Brando to find and recover Brando's captured son, Christian. Julian had to go deep into the jungles of Mexico, and surprise and hold eight vicious kidnappers captive until the authorities arrived. But he did it, and that's about par for a day's work to this man. Not bad, huh? Quite a guy.
Oh, there is one more thing you should know about Julian. Something that makes everything he does almost something of a miracle. It's a Little Known Fact that probably the world's most successful private eye is also someone who has overcome a huge handicap. At least I believe that's the way most of us would view it. But I guess that Julian doesn't. It's just something else to contend with. You see, Julian has no hands… no hands at all.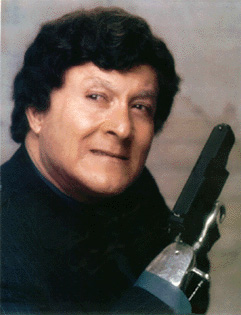 Julian "J.J. Ames"