Colleyville, Texas March 12, 2016
Editorial by Nelson Thibodeaux
Note:  unlike this private investigation or the withholding of information on how the City Manager acquired property in the Village of Colleyville, we want to provide information in a transparent spirit; therefore the following answers to Mr. Ted Steinke.
First of all Mr. Theodore Paul 'Ted' Steinke, Jr., "Ted Steinke," if you are reading this, you will find the answers to your questions.
Mr. Ted Steinke, the Independent Investigator, recommended as the individual the City Council should hire, by the City Attorney's Firm, contacted me by telephone.
He introduced himself as the person who will be "investigating" Jennifer Fadden; and indicated he wanted to ask me some questions.
Checking with Martindale.com Mr. Steinke's   Practice Areas are listed as  Criminal Defense;  and White Collar Crime.
Among some of his better known cases, in December 2010 he defended,  Collin County First Assistant District Attorney Greg Davis who was  indicted on a charge of tampering with a governmental records. "The attorney, Ted Steinke, said he plans to file motions next week challenging the indictment. If convicted on the state felony charge, Davis faces up to two years in jail and up to a $10,000 fine. "He has done nothing wrong," Steinke said. "He has an impeccable reputation. He can't believe this is happening." Steinke said he didn't understand the allegation against Davis. Steinke was successful in getting a Judge to quash the Indictment January 2011.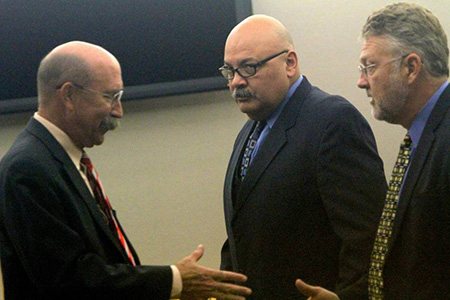 August 19, 2013, It was reported that, "Dallas constable who resigned gets probation for falsifying campaign finance report." Above: Special prosecutor Ted Steinke (left) shook hands with defense attorney Wayne Lacy as details of the plea deal for Jaime Cortes  were worked out on Monday at the Frank Crowley Courts Building in Dallas.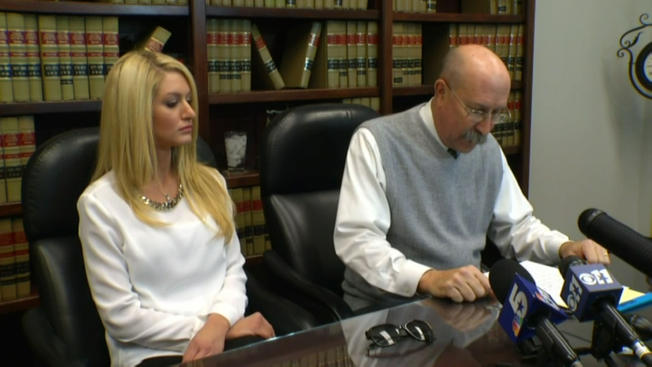 February 2014 Ted Steinke representing Maggie Strother, the woman who accused Dallas Judge Carlos Cortez of family violence, held a news conference Friday where he said he planned to address comments made by Cortez and his attorneys after the judge was no-billed by the grand jury Thursday. Instead, the attorney released recordings of threatening and profane conversations he said are between the judge and woman.
Now to Mr. Steinke's questions;

Steinke; My first question is why do you think the recently passed Colleyville Comprehensive Plan is a "High Density Plan." I have read 1998 and 2004 plans and the 2015 Plan says the goal is 1.8 dwellings per acre. So why do you think differently?
Thibodeaux Answer: First of all this complaint is not about the Comprehensive Plan. In order to have this a part of the discussion removed; I amended the complaint to ONLY include the potential conflict of interest of the City Manager's purchase of the property on 59 Piazza Lane in the Village of Colleyville. So why are you asking me this question?
Steinke: Well, I am doing a complete investigation and this is part of my overall investigation; can you give me your reason to believe this is "High Density"
Thibodeaux Answer; let me give some thought to this but one major reason is the gross vs. net way the current council is proceeding; and this was a major point of contention.
However, after considering how very odd the question was, I decided to call him back.
Thibodeaux: Ted, this is Nelson Thibodeaux, after thinking about your question, I am now even more curious why you even ask the question.
Steinke Answer: Well, I can't tell you except to say it is part of my investigation.
At that point I expressed my concern about this style of investigation, especially, 1.) this was not part of my amended complaint, seen here; Fadden Amended Complaint, as well as, 2.) my concern about the charge given to him from City Council.  I pointed out that Kelly was quoted as saying, "This is NOT AN INVESTIGATION, but to "Clear the Air" that We Have a "Trustworthy" City Manager."  Mr. Steinke said pointedly, "I did not get instructions of this nature, only to investigate the complaint and wanted to get input from you." Further, I am my own man recently I prosecuted a constable; assuming he is referring to the reference above.
Regarding the High Density Question; frankly this question sounds similar to a setup the City Attorney orchestrated over Glade Road and his "opinion" was used by a PAC in last year's City Council race.  However, counting on the integrity of Mr. Steinke I am offering the following;
First of all, I am far from being the only citizen in Colleyville that understands the new Comprehensive Plan as a further entry to more high density development in Colleyville.  In fact, hundreds of citizens attended three City Council meetings in protest only to have the Plan pass on a 5 to 2 vote.  There is also the empirical evidence of the current Mayor David Kelly led City Council where a litany of high density projects were approved and more proposed. As far as Mr. Steinke's comment the plans since 1998, 2004 and 2015 all indicated a goal of 1.8 per acre.
First, regarding the plan in 1998, when I served on City Council, note the following:


The Density Issue was #1 in the Master Plan, as was the continuance of a rural feel and the preservation of AG land in the city.                                1998
Note in the 2004 plan below, the SPECIFIC REFERENCE, that the 1.8 calculation does, "not include the land required for street right away."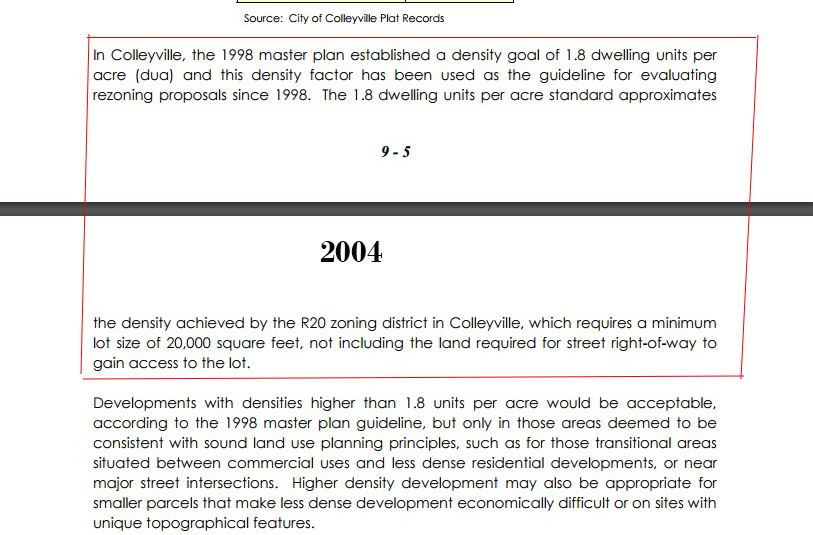 Now from the 2015, note below the designation about, "not including the land required for street right-of-way" has been removed and in it's place the description of "per gross acre"
are included. While the plan states that, "there is no need to deviate from this standard," it is clear there has been deviation.  THE WORD GROSS MEANS GROSS LAND, including what?  EVERYTHING, apparently from roads to right of way, to areas that can actually be used like creek beds, to a fudging on the open space requirements.  Words, even subtle as they can be, MEAN SOMETHING!  This very issue was repeatedly brought up and Mayor Kelly and the majority of council REFUSED to accept a definition on what 1.8 is actually calculated..  Therefore, leaving it open to a majority of council's interpretation, along with mysterious "transitional" areas; citizens believe and rightly so, this plan has been adulterated from the original meaning in 1998.  In fact, in 1998 to address a mixed use, the council passed the initial Village of Colleyville plan calling for heavy commercial.  In fact the residential was to be above the commercial operations, according to the original developer.
Under the existing city council, this is what is happening in the Village: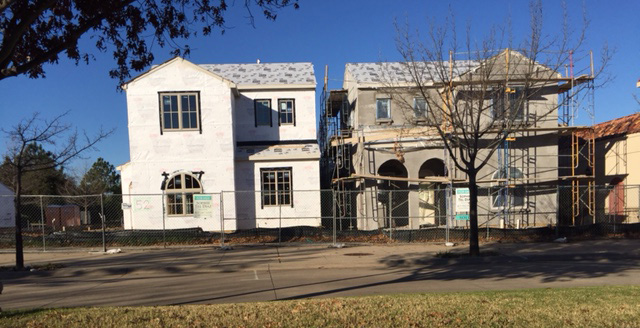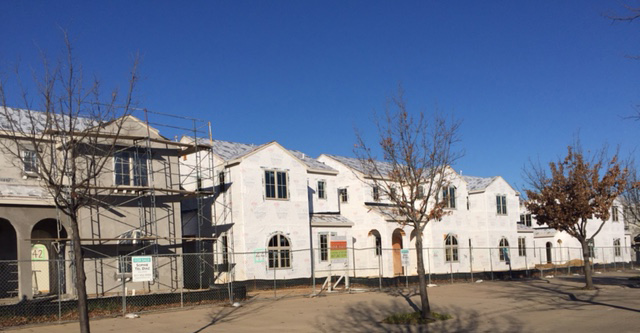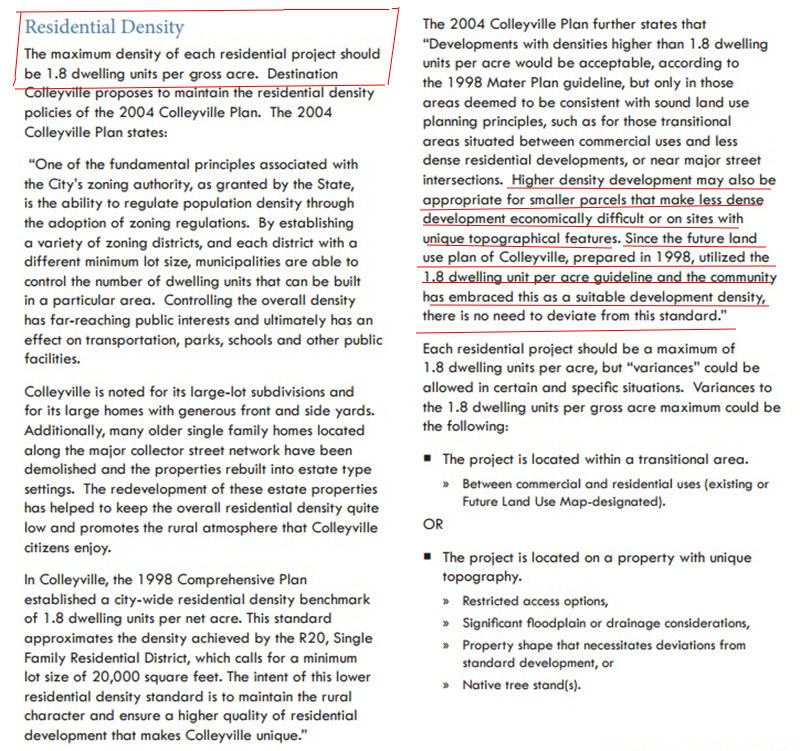 I will address the questions about the City Manager in the next column.