Colleyville, Texas April 13, 2016
A half-truth is a whole lie!
LNO has been contacted by numerous citizens concerning a particular political sign seen around Colleyville.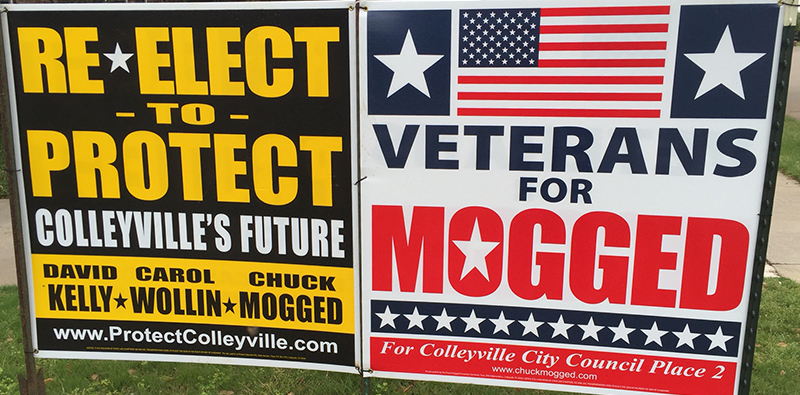 This sign seems to infer some Veterans Organization has Endorsed Chuck Mogged for City Council. Positioned next to a "ProtectColleyville PAC Sign.
After LNO contacted several Veteran Organizations; and received the message none of them endorse candidates for City Council races in Colleyville, Texas and not one had even heard of Chuck Mogged or any idea how and why he felt he could use "Veterans for Mogged."  Further, there is no evidence that Mogged has served in any capacity in the military.
LNO reached out to Mr. Mogged and ask what Veterans group he was endorsed by, however received no response.
Today, however, LNO received orrespondence that was sent to Mogged by a citizen as follows:

From: Dee Kelley Sent: Monday, April 11, 2016 11:20 AM
To: Chuck Mogged
Subject: election signs I am a 17 year citizen of Colleyville and have questions about your signs. What "veterans" are supporting you? Have they publicly endorsed you? What issues in Colleyville are specific to veterans (in the traditional meaning of war veterans)? Why are you supporting the high density project in Colleyville? I am not against apartments. I just want to keep the small town feeling of this town. Why are you supporting the $20 million Glade Road project when improvements can be made for less and still improve much more needed roads? Thank you for answering my questions. Dee Kelley
Chuck Mogged Responded as follows:

On Wed, Apr 13, 2016 at 5:19 PM, Chuck Mogged <CMogged@colleyville.com> wrote: Hello, Dee Kelly-
Several veterans came to me expressing their support for my candidacy because they liked what I've done for Colleyville and how I represented citizens on the Council. They asked if I had a specific sign showing support by veterans. As a proud father of a US Marine Corps 1st Lieutenant I personally understand what our nation's veterans stand for and was truly honored so many veterans were eager to support me.
You will find Veterans for Mogged signs displayed on the lawns of many Colleyville veterans throughout the city. I am sure if you respectfully approach any one of my veteran supporters, they would be happy to detail why they believe in my campaign.
I do not support the high density project in Colleyville. I don't know of anyone on Council who is. We adopted the density standards in the new Comprehensive Plan that were originally in the 1998 and 2004 Plans – 1.8 dwellings per acre. I know it is a long report, but on Page 115, the first paragraph tells you what the intent is, and the rest discusses the detail of what it means. I agree with you that we need to keep the small town feeling of this town – and have so voted as recently as this last month in denying a request on Beherns Court to split an R40 zoned 1.5 acre lot into two R30 lots of 0.75 acres. I believe the voters spoke clearly last May, and we are proceeding with the Glade Road project to improve traffic mobility, enhance safety, and fix the deteriorating surfaces with a solution for the next 40-50 years. Would be happy to discuss in person with you; please call me and we can find a time to get together.
Regards, Chuck Mogged Colleyville City Council, Place 2

A photo sent to LNO shows Mr. Mogged campaigning wearing a Marine Cap.  Certainly, Mr. Mogged has every right to be proud of his daughter's service to America in the Marine Corps, as would every citizen of Colleyville.  However, Mr. Mogged's explanation concerning the
"Veterans for Mogged"
  raises questions that exceed  simply a father's exuberance of a child in the service.  The explanation that;
"You will find Veterans for Mogged signs displayed on the lawns of many Colleyville veterans throughout the city. I am sure if you respectfully approach any one of my veteran supporters, they would be happy to detail why they believe in my campaign." 
Begs the question how about all these signs along the roads in the City; who should one ask about these?  LNO felt the proper course of action was to inquire to Mr. Mogged however he elected not to respond.  This action appears to be an attempt by a candidate to participate in "Stolen Valor," or at best a Half Truth, by making claims a group of very special citizens have somehow made a decision he should be endorsed for a seat on Colleyville City Council.  This is NOT the first time that Mogged has "stretched the truth during a campaign." as seen below.
Concerning his comments about the similarity of the Comprehensive Plans for 1998 forward; as it is said, "the devil is in the details," and when you change the density compliance figures from the original Master Plan from a "net"  to a "gross," the results change drastically in favor of higher density.
In the 2015 City Council election, Mogged can be seen putting up a sign for the same "ProtectColleyville  PAC," which was not properly registered with the Texas Ethics Commission. This time the stretch of the truth was about the percentage of accidents on Glade Road. Seen below debunked by no less than Colleyville's Police Chief in a memo to Jennifer Fadden concerning Mogged claim..as stated "it should also be noted that we also had 39 (accidents on Glade Rd.) in 2011, ";therefore from 2011 to 2014 was a 13% DECREASE."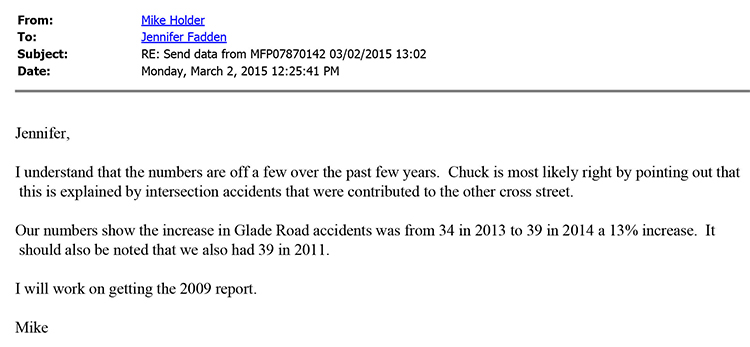 In the 2015 Election the ProtectColleyville PAC via Chuck Mogged's press release with that claim, was the message in a flyer that accidents on Glade Road had increased 31%, when in fact they had DECREASED 13% since 2011 and increased 13% from 2013 to 2014 and NEVER a 31% increase, as noted in the email from the Colleyville Chief of Police Mike Holder.  However, Mogged via half -truths, took the information out of context with full knowledge to put out his Press Release of 31% to "Play the Angle of Safety," as he revealed in another email from Mogged to Mona Gandy, Colleyville Communications Director.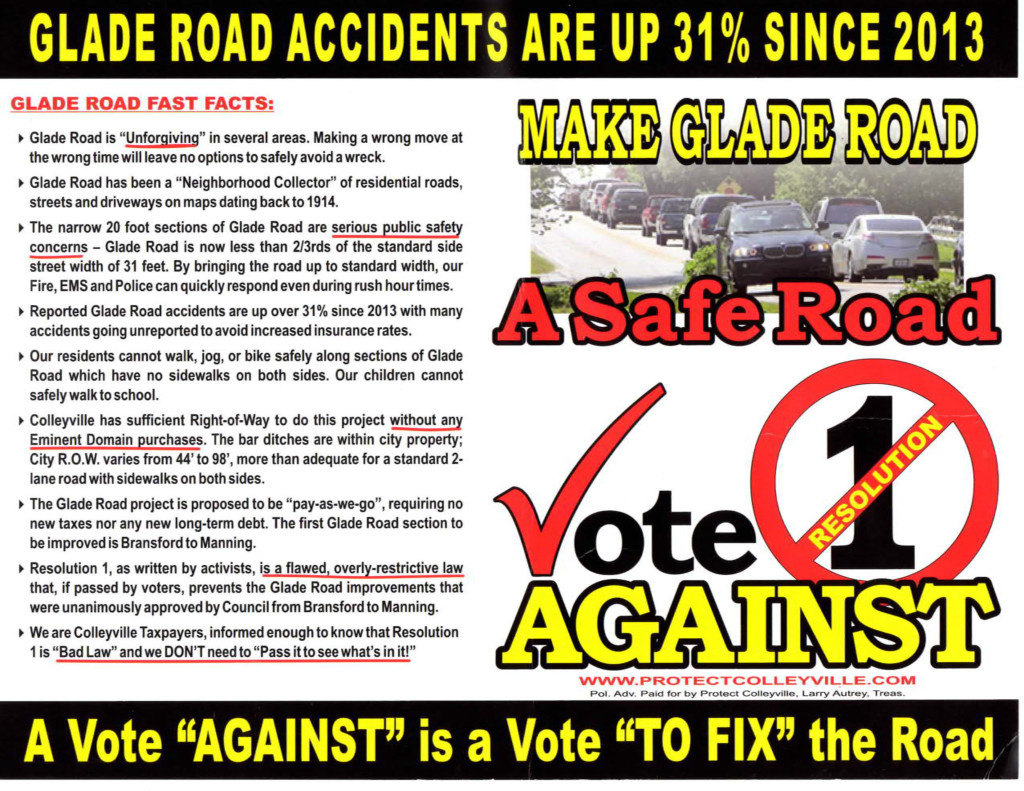 It seems the backers of the ProtectColleyville PAC simply do not play by the same rules as expected for any legitimate political PAC.  As of today, LNO was notified that a flyer from the PAC was placed illegally in numerous mailboxes, without the proper postal designation.  As one Citizen noted, "….it was delivered without having a stamp or a postmark…IF they hand deliver it and put in a mailbox it's a Federal Crime."
One can only hope that the "Half Truth" that was a "Whole Lie" concerning one of the candidates last year in a vile mailer, will not be repeated by elements of this group again this election season.
However, we seem to be off to another year of a similar effort in a desperate effort to protect the incumbents on Colleyville City Council.