Received: Tue 4/25/2016 10:12 AM
Excerpt from Linda Newton's Letter to the Editor (the entire letter can be seen by going to "Editorials" then click on Letter to the Editor)
"Last year political mudslinging reached a new low in the Colleyville city council campaigns. A few days before the election an anonymous seven page document maligning city council candidate Bobby Lindamood appeared in mailboxes. I have lived in Colleyville 40 years and have been on city council myself. I have taken part in many elections and I have never seen anything as nasty as the piece that showed up in my mail. As a result of that mailer Bobby Lindamood filed a defamation lawsuit against Councilman Mike Taylor, Jan Mogged (wife of Councilman Chuck Mogged), Jim Fletcher and the Protect Colleyville PAC. The defendants claimed it was a SLAPP (Strategic Lawsuit Against Public Participation) and asked that the suit be dismissed. That essentially means they claimed Lindamood was impugning them and squelching their free speech. Chuck Mogged and his supporters are now saying the suit was frivolous and that the judge found the defendants did no wrong. The judge's decision simply says "the Motion to Dismiss is granted in its entirety". Several weeks before last year's election, Jim Fletcher told my husband, Richard Newton, that Mike Taylor had copies of a deposition concerning Bobby Lindamood but that "they were not going to use it". About a week before the election a woman appeared at my door campaigning for Nancy Coplen, Mike Taylor and against the Glade Road referendum. She introduced herself as Jan Mogged, wife of Councilman Chuck Mogged. After a lengthy discussion I asked her why Coplen had aligned herself with Taylor rather than run an independent campaign. Mogged stated that Coplen didn't want to serve with Lindamood, Taylor's opponent. When I asked her why she responded, "you don't know what is going to come out about him!" When my husband and I tried to question her further she changed the subject."
Next we have the gleeful Chuck Mogged Posting on his website: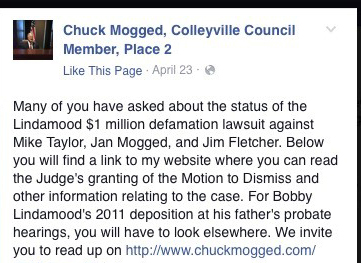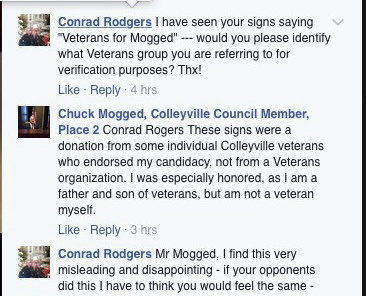 Next we have an actual sworn affidavit from Mike Taylor, who happens to "interpret" the meaning of the deposition transcripts versus the actual testimony; further "he had touched his step-sister "while he was married."  Taylor felt as if he had to "inform" the voter.
6. The morning of April 29, 2015,1 opened an email with three attached deposition transcripts, two of which were deposition transcripts from the lawsuit Lindamood Demolition, Inc. v. Bobby Lindamood, Jr., Billy Lindamood and JR's Demolition and Excavation, Cause No. DC-10-15789 in the 298th Judicial District Court of Dallas County Texas. The third deposition transcript, which is the one at issue in this case, is the unsealed transcript of Bobby Lindamood Jr.'s sworn deposition dated March 4, 2011 in the lawsuit, In re: Estate of Bobby Lindamood [Sr.], Cause No. PR093184-1 in Probate Court No. 1 of Dallas County, Texas. 7. 1 skimmed the deposition transcript in question and pulled out page 1, the cover page, and pages 37-42 of the sworn testimony. Pages 37-42 contained testimony regarding legitimate issues that an informed voter would be concerned about in regard to Bobby Lindamood's character because he described, in his own words,  an incident that included getting on the couch and touching ……………while he was married.
Just as a reminder; LNO finally broke the story of Mr. Taylor's past indiscretions, including DNA evidence that LNO had held for over 4 years.  Particularly interesting Taylor would include in his statement "while he was married,"  see    Taylor and Hutton
However, in contrast to the statement by Mogged in his website posting; full depositions of the parties were never allowed by this Judge.
LNO has previously covered the fact that it appeared the "Anti-Slapp" aspects of this case were not interpreted correctly by the District Judge.  The statutes were written to protect primarily smaller media providing information, for example about a developer, that, in turn, would file a lawsuit in order to keep the matter quiet.  This statute, as many that come out fresh from the legislature, is not entirely clear, and therefore has had a number of different interpretations at the lower court, but now we have an Appeals Court Decision!
On April 16, 2016 the COURT OF APPEALS, Second District of Texas, Ft. Worth Ruled on an interlocutory appeal from a ruling under the anti-SLAPP provisions.
In 2014, in Denton County, a 3-term incumbent Justice of the Peace, last name HAND, found himself in a runoff against an individual, last name HUGHEY.  HAND worked with a consultant  to create a flyer that concerned, among other matters, HUGHEY's history of voting in elections; the following flyer was mailed to Denton County residents.

The mailer was sent out a few days before the election (similar to that sent out about Lindamood last year in Colleyville), so there was virtually no time to respond to voters by HUGHEY.
HAND won the election by 52 votes out of over 6,000 votes (Lindamood lost the election by 174 votes out of 6,000).
HUGHEY sued HAND, (similar to Lindamood's lawsuit against, Mike Taylor, Jan Mogged and Jim Fletcher, et.al. for defamation).  HAND filed a General Denial under the Chapter 27 Anti-Slapp provision and later amended the "motion to dismiss"( similar to the Lindamood vs. Taylor et.al) lawsuit.
HAND (unlike Lindamood's Judge), the Denton County Judge DID NOT DISMISS the lawsuit.  The Appellate Court noted that "to prevail on a defamation claim, the plaintiff must prove that the defendant..must; (1) published a statement , (2) that was defamatory concerning the plaintiff, (3) while acting with…actual malice, if the plaintiff is a public official or a public figure.
"A statement is defamatory "if it tends to injure a person's reputation and thereby expose the person to public hatred, contempt, ridicule, or financial injury or to impeach any person's honesty, integrity, virtue, or reputation."
Evidence of damages:
"…Therefore, because we have concluded that HUGHEY produced clear and specific evidence to make a prima facie case concerning false and defamatory statements, we reject HAND's conditional argument concerning evidence of damage. "
" We conclude  that HUGHEY presented enough evidence under section 27.005(c) to maintain his defamation claim against HAND at this preliminary state in the litigation.  …."Having overruled HAND's sole issue, we affirm the trial court's order denying his motion to dismiss HUGHEY's claim for defamation.
In conclusion the DECISION of the court is that the Plantiff (in this case it would be Lindamood) only had to show there had been defamatory statements and that no argument for damages were necessary for this trial to continue.
Certainly, the vile attack of Mr. Taylor and his team (despite the fact Taylor says he felt it was important for the voters to know), but he (Taylor) had nothing to do with the distribution along with Jan Mogged, who was clearly aware of the intended flyer prior to the distribution.  The Judge clearly erred in dismissing this case as self-evident by a very similar case ruled on by the Court of Appeals.
This certainly could open the gateway for a projected appeal by Lindamood and by all appearances the Appeals Court would rule in his favor to open this case to trial.