From LocalNewsOnly  Archives;             November 3, 2003 to April 7, 2016
Recently an estimate was made of citizens appointed to various Boards by the City Council.  The high point of appointments had been 123 citizens, today's council and Mayor have appointed about 50% of this amount during the Kelly Administration.  In the past Mayor Joe Hocutt attempted to block  citizens he considered "undesirable," through a Mayor's veto power.
In addition to limiting appointments to key Volunteer positions, such as the P&Z, Mayor David Kelly tried to curtail any criticism via an alleged Change in Council Protocol.
However, using the FOIA request, LNO requested at when and what Resolution was used that allowed Mayor Kelly to change 50 years of council protocol.  The response was a Resolution from 1988 that the council has worked since that date; with no other Resolution or Changes.  Below is the Mayor's attempt to suppress the Colleyville Citizen's voice of Claudia Bevill.
The following was written by former Southlake Mayor and long time political leader Andy Wambsgann and is posted her via his permission. "I just reviewed this video and too be frank am disgusted if that is actually the policy/practice in Colleyville when it comes to suppressing critical verbal speech.  Whoever came up with the idea to only allow criticism in writing is an embarrassment to their community.  I don't know which competing political side is right and which is wrong on issues facing Colleyville as I live a couple of miles away and am engaged more with the issues in my community.  There are many smart friends/people in Colleyville and you will work those issues out."
"However while I have always tried to refrain from being critical of other cities, when it comes to how they run their business, this episode requires comment.  I have served most of my adult life in some form of public service at the local/national level–most recently as Mayor in Southlake and on council here and other positions.  In all my service, I don't remember a more disgusting scene where a soft-spoken respectful citizen is shut down for being critical of her city or its leadership."
" If that is a Colleyville policy to only allow critical speech or commentaryh to be in writing then every elected official that supports that needs to to resign because they are not serving their community well.  I recall being critiqued and criticized plenty of times during council meetings over 20 years and usually, the person complaining, was off base or just a mean spirited person but you let everyone have their say within the allotted time and move on.  What council or city leadership is so insecure and weak as to not allow critical comment from their own citizens?  This is unbelievable and unprecedented in my years of service.  If this is actual policy/practice in Colleyville then it needs to be changed immediately."
While at the following meeting,  Mayor Kelly did not interrupt any of the speakers that defended the free speech of Claudia Bevill.  One is left to speculate is it more about the election cycle or the backlash of citizens than a change of heart?  Mayor David Kelly is up for re-election, seeking to have 3 more  years, making his stint as Mayor 14 years.  The question is, if re-elected, will Mayor Kelly revert to his new found policy to suppress free speech?
In 2003, Mayor Joe Hocutt resorted to the technical ability to veto the will of council, as seen below in the November 2003 article.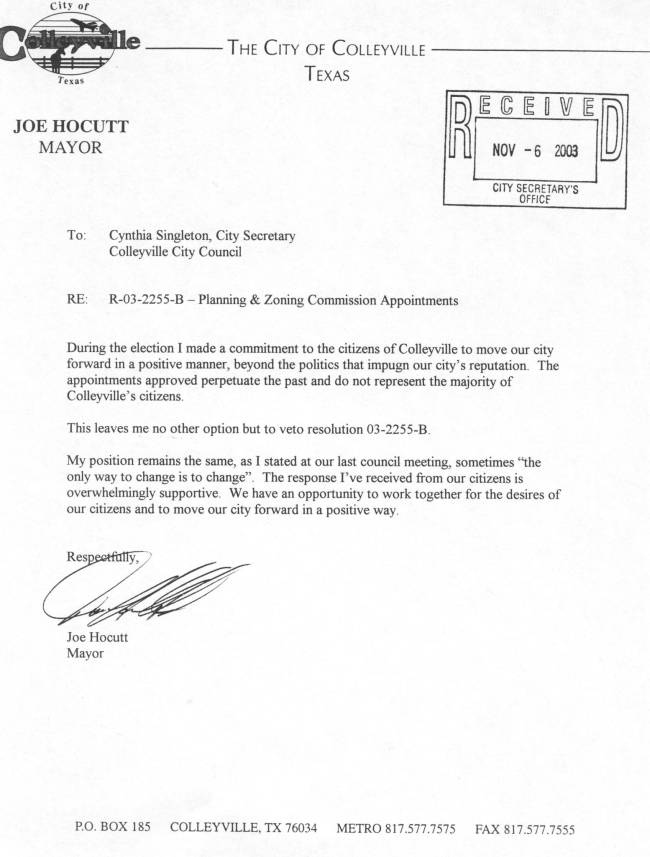 Colleyville's Mayor Joe Hocutt has vetoed the same city council appointments to the P&Z for the third time.  Being the first mayor in Colleyville's history to veto appointments, Hocutt became the first mayor to veto the same resolution twice in a row.  Hocutt has now trumped his own record, he has issued three more vetoes for a total of five vetoes over the past three city council meetings. The Colleyville City Council is now faced with the task of getting 4 votes to overturn his veto and/or the dilemma of continuing to stand on the principle that the majority of city council has the authority to make appointments.
When contacted for a comment LuAnn Edwards, who was vetoed for the third time, said the best she could sum up her feelings is to quote Councilman Ayers at the last meeting, "This is ridiculous."  She said that she resents comments by Hocutt inferring that she should not be any part of city government.  "I have the knowledge and the experience, I have  a six year record on the P&Z as being independent, regardless of what camp Joe Hocutt attempts brand me with, this is political not philosophical."  She said that in contrast to the comments and actions of Councilman Mark Skinner, in regards to his most recent opponent, Dave Dudziak, that she received the full support of her opponent, Frank Carroll for a P&Z position. "No one from the 1998 city council asked me if I was going to run again, they simply asked me if I could commit the time for the city for the good of everyone."  "Is this the attitude of the "past" the mayor is referring that is so bad for the city?", Edwards continued. Edwards said that during her tenure, council members did not speak in front of or attempt to influence P&Z members during public hearings.  The past was a situation where P&Z was allowed to do its job without interference.  Now apparently the mayor wants citizens to believe that the P&Z should simply be a mirror image of his position on every issue. She said, "Limiting input to one school of thought is not how cities end up with the best decision during the consideration process."  Edwards said she has no intention of removing her name from consideration, however does not know if she will reapply if the nominations are open again.
Colleyville Citizen Tom Hart on hearing of his third veto said that the city is now under siege from the "politics of paralysis." Hart said that he has received overwhelming encouragement to remain active in his efforts to serve the city.  Hart said, " In 1991 I served on the bond committee that passed the only bond in the history of the city.  Mayor Hocutt coaches kids on athletic fields I helped bring to the city."
Dave Dudziak said Hocutt will not give a valid reason why he is not qualified to serve, therefore it should be obvious to the citizens that "..what we have must be politics because the mayor can no longer claim it is philosophical."
At the last council meeting the biggest critic of Dudziak was Councilman Mark Skinner who went public that he would not vote for Dudziak because he will not commit to serve his two year term.  Dudziak opposed Skinner in the last election and Dudziak term would overlap Skinner's term on council.
Skinner did not address the fact that Mayor Joe Hocutt was appointed September 2000 and ran for city council in the following May election, serving less than 8 months on the P&Z.
The various political interest in Colleyville have been referred to as "camps".  At the last council meeting Councilman Jon Ayers offered a compromise by allowing the CEDC to be open for new applicants.  However, the compromise on CEDC apparently was not adequate to prevent a veto of the P&Z members.
This veto required Hocutt to strike down Dave Dudziak, Luann Edwards and Tom Hart with individual action on each resolution  versus one veto for all.
Ayers had said that surely the mayor could come to some reasonable conclusion to support at least one or more of the candidates, therefore, moving the city somewhat forward until the rest could be appointed.