Colleyville, Texas    May 2, 2016
An Editorial by Nelson Thibodeaux
Yes we have a new saying in Colleyville Politics; "a Moggedism."  Description of a Moggedism is an exaggeration, fabrication, misdirection, stretching the truth to the breaking point, or simply a statement that is false.
Lets begin with the Moggedism, "Veterans for Mogged."  Apparently Mogged has demonstrated such exemplary public service, as a City Councilman, to veterans that a waive of patriotic support suddenly cropped up from a group of Veterans who, according to Mogged, decided to get together and donate "Veterans Support Mogged" signs; well at least that is his response on his Vote for Me Facebook Page.  Here is a copy of a Facebook conversation with a Colleyville citizen.
Here is a copy of a Facebook conversation with a Colleyville citizen.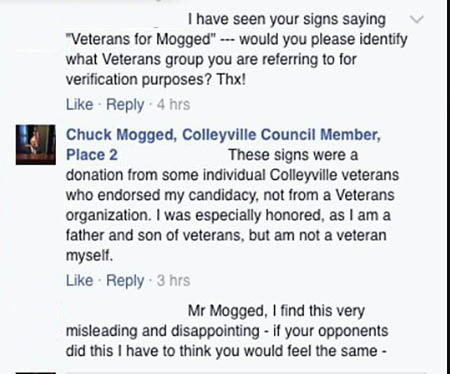 From Charles "Chuck" Mogged Campaign Facebook Page..a screenshot.
NOTE: "These signs were a donation from some individual Colleyville Veterans"
There are names on the list; names which included "Mark Henderson," the ProtectColleyville PAC author and emailer," when challenged by a citizen how he obtained their email, Henderson replied, "You do what you got to do and I will do what I have to do, conversation finished."  This is NOT a Moggedism because Henderson certainly supports Mogged, and apparently will do whatever it takes, including sending spam emails with inaccurate claims.
The reader may recall that Chuck Mogged stated, "My signs are in the yards of "Veterans" (a Moggedism), (they are primarily not in yards but on any open spot he could find), so you can stop by and ask them about their support (a Moggedism). The fact is, in a letter sent with the Official Seal of the United States (photoshop) on the letter (a Moggedism)  it  also stated "Chuck Mogged qualifications are unparalleled (a Moggedism).  There are 18 "Veterans" on the letter, therefore 50 signs "donated" (a Moggedism) by these Veterans are a lot more than the names listed.
Since Mr. Mogged suggested one stop by a Veteran with a sign, I did!  While this individual had a large "Veterans for Mogged sign," he indicated he most definitely DID NOT donate any signs or money for signs (apparently yet another
Moggedism
)!  I have known THIS veteran for many years.
So while this revelation was not solved on Mogged first donation/expenditure filing on April 6th, LNO checked the filing due on April 29th. A "donation" WAS  listed as "in kind".  So 50 "Veteran Signs", at  $1,084 "in kind" from at least one Veteran, Alfonso Chan, amazingly enough one of the lawyers defended Jan Mogged in the defamation lawsuit (another Moggedism).


Were there other Moggedisms you may ask? How about this scenario during last year's election, of which Mogged WAS NOT a candidate, but apparently a grunt for the"ProtectColleyville PAC crusaders."  Let's see how this Moggedism unfolded!
1.) Email from Chief Mike Holder to Jennifer Fadden concerning her response to Mogged about accidents on Glade Road; Clearly says GLADE ROAD WAS ONLY A 13% INCREASE AND THE SAME AS 2011. This was in order for Fadden to speak with Mogged about this issue before the election.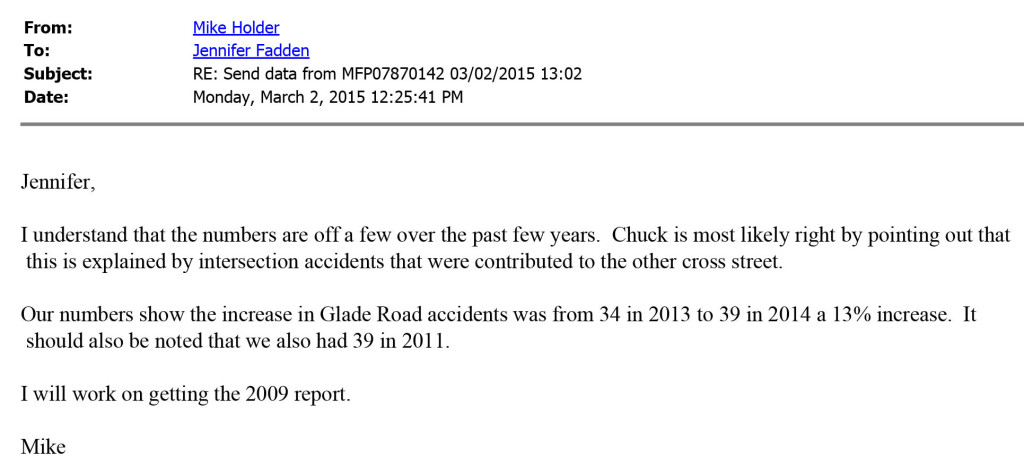 2.) Mogged gives life to his NEXT contemplated
Moggedism
.  Sends an email to Mona Gandy, Communications director, asking her to look over this contemplated press release, where he states, "I am (obviously) using the safety angle for capturing reader interest."  He appreciates "her advise and confidentiality."  Ms. Gandy is an EMPLOYEE of the City of Colleyville.  This type of request from a political operative for help is totally inappropriate and against the City Charter in Colleyville's City Manager style of government. Red underline added for emphasis.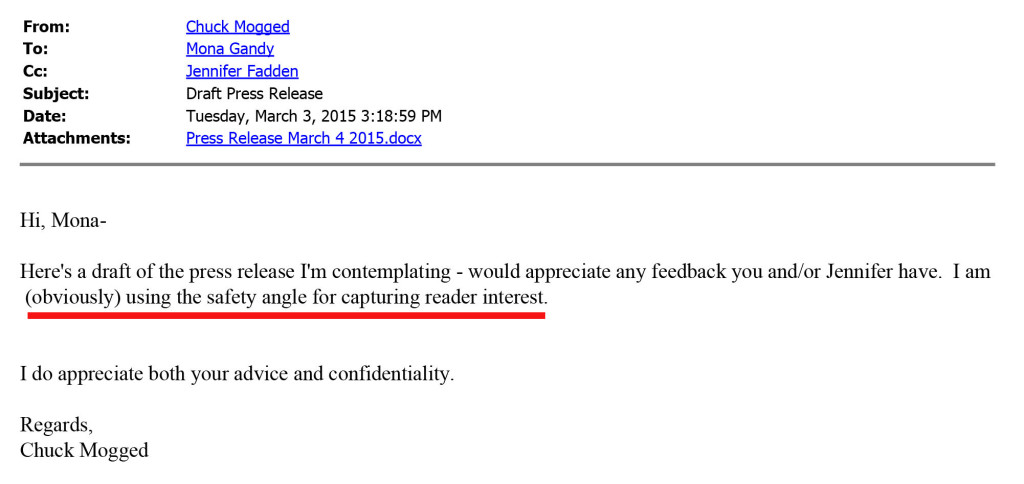 3.) Mogged comes out with a Press Release with misdirection to infer accidents on Glade Road up 31% when in fact Glade Road was up only 13% over 2014 and the SAME amount as in 2011, per Chief Holder's email above, made available to Chuck Mogged
.
  One can now begin to follow the birth of a Moggedism.  

Note the mixing up of Glade Road and the 31%..now wait for it to keep growing!

4.) Now comes the election push and note the growth of the Moggedism via his partners at "Protect Colleyville PAC" (Meaning Protect developers and realtors with more high density projects).  We now have evolved to a FULL BLOWN Moggedism note the 31% for ALL OF COLLEYVILLE has morphed into 31% on GLADE Road ONLY, instead of 13%, perhaps they accidentally reversed the digits?



5.) Wait, no apparently the digits were not "accidentally switched around, because in this photo is the Master of Moggedism, Mr. Mogged himself putting out signs with misleading information on behalf of himself and the PAC.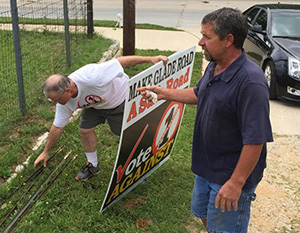 6.)  Now the "Coup de Grace" of All Moggedisms note above in the flyer Paragraph # 4 underline in Red… "without any Eminent Domain purchases,"  what is on the Council Agenda for the May 3rd City Council Meeting?   Right of Way Purchases for Glade Road!

Brings to mind the real definition of a Moggedism;