Submitted on 2016/05/02 at 11:48 pm | In reply to Terry Cheek.
Where on those signs does it state ALL VETERANS support this candidate? It says veterans period. It does not state a group of veterans, a collage of veterans. A school of veterans. It says veterans plain and simple. Stop with the ridiculous spinning of absolutely everything.. It's really getting tiring, and frankly, we are all tired of hearing it. Oh by the way. I love the way that you scratch out the persons name in the Facebook post above. Of course, we all know who it was Nelson. Why would you hide the name huh? Is he afraid to disclose the fact that he is a supporter of you?
Tammy Frye

Well Sherlock Holmes , I didn't disclose the name out of courtesy to a Colleyville Citizen.  However, the individual that was corresponding with Mogged has since given LNO the permission to reprint the Facebook discussion.  So "Of course, we all know who i was Nelson".."Afraid to disclose the fact that he is a supporter of you."  Tammy, I am not running for anything, just reporting my perspective with facts along with the news..so I appreciate those who read and contribute to LNO…..even you, it helps people understand local biases. Nelson Thibodeaux Editor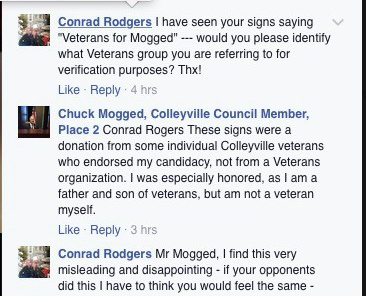 THIS letter appeared in the Star-Telegram, Ft. Worth's version of  New York Daily News, "pretty much left-wing, Bill O'reilly"
Colleyville vote Who's funding the slate of challengers in the Colleyville city elections? The scale and cost of this campaign far exceeds anything I've seen in my 24 years living in Colleyville — mass quantities of signs, frequent robocalls and almost daily 8-by-10 glossy election fliers. More important, what are the hidden agenda items being bought with those campaign funds? I'm against "bought" elections. I'm voting for the incumbents, Mayor David Kelly and City Council members Carol Wollin and Chuck Mogged. THOMAS E. RODGERS, COLLEYVILLE
Well  the first PAC disclosures have been made; and guess who is spending the most money!
Here is the first filing in PDF: ProtectColleyvilleHAHA1
The PAC says it took in $6,545.00; some of the donors:
Jim Fletcher  $1,000.00: lifelong Democrat one of the defendants in the ongoing Lindamood lawsuit from last election.
Stanley Hall  $1,000.00, lost to Councilman Putnam, supported by Democrat Battleground Texas group during his attempt at re-election.
Tom and Melissa Hart $300.00  Tom Hart formerly on Council supported Mike Taylor & Protect Colleyville, while Melissa ran social media to defeat citizens initiative. –
Dr. Louis Miller $1,100, passionate Democrat in forefront to defeat citizens initiative and elect Mike Taylor.
Henderson Revocable Trust $450, Mark Henderson the, "I'll do what I have to do" author for Protect Colleyville emails.
SOME EXPENSES:  $3,500 to Gardner & Brashear, Political Consultants based in Keller.
Here is the Second filing in PDF: ProtectColleyvilleHAHA2
The PAC reports it took in another $8,545 for at total of $15,340 to date and SPENT ANOTHER $11,407.21 seem to add up to at least $14,907.21…THIS FROM THE PAC ALONE NOT COUNTING CANDIDATE EXPENDITURES.
Seems one might agree with Mr. Thomas E.Rogers of Colleyville but it is NOT the Challengers spending this kind of money for a job that allegedly pays $0!
Here are some of the donors:
Larry Ahlers – $75.00, the former Treasurer of the PAC and Democrat Mark Veasey donor; whom it seems wanted to step out of the role as quick as he could.
Robert & Shelly Beall – $2,000 – you may recall them as alleged large donors to the O'Bama campaign AND the owner of the property where Spirit of Texas Bank is                         located and where Councilman Mike Taylor is a minority shareholder!
Dr. Joe Allen – $1,000, the Veterinary business must be good.
Mark Skinner – $500..no explanation needed here.
UNDER EXPENDITURES ANOTHER $6,464.78 TO Gardner & Brashear, for a total of $9,964,78 paid to Political Consultants.
So it seems the money from the PAC is spent heavily on POLITICAL CONSULTANTS..therefore, the Incumbents efforts are not through their own efforts but high paid political consultants.  It is an expensive undertaking to be a City Councilman in MR. ROGERS neighborhood.