GRAPEVINE, TEXAS,  July 23, 2016 /EINPresswire.com/ — GRAPEVINE, Texas
Simply sensational, entertaining, and uplifting!— Richard Tate, Acquisitions Editor
Author, Ralph Gary, author of the action and adventure novel, "Sometimes Dreams Come True," is set to meet with one of America's major screenwriters to discuss the potential of seeing his literary write-up on the big screen.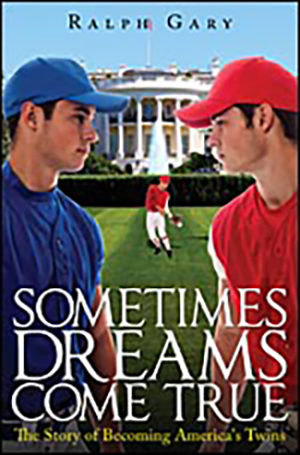 Tom and David's step-sister touchingly tells how two twelve-year-old Little Leaguer twins grew up separated in a divorce. Eventually the two are reunited and have many exciting adventures. Tom and David get framed in a crime, solve it, and almost lose one another in a tragic accident. After appearing with the movie-star son of the president they have to strive for the Little-League World Series championship and then survive a brutal kidnapping with the president's son, actually witnessed and followed on live TV all over the world. Will the president give in to the unreasonable demands to save them or hold fast to his pledge not to surrender to terrorists? A rescue attempt would mean almost certain death. Is he a father first or will his presidential duties take precedence? Their captivity is witnessed via an internet feed that angers and inspires the world. Many exciting adventures are followed as they adjust to emotional life-changing events and learn the meaning of love, happiness, purpose, and the American
Gary shares his exhilaration of the opportunity and shares his vision for the film, stating, "[It] would be an exciting two hours or so with many exciting adventures to hold a universal audience. The beginning covers how the boys meet their teenage step-sisters in unique ways, find each other, and develop positive character rates and habits. The book is narrated by their older sister similar to the way it is narrated in 'To Kill A Mockingbird.' Other stories include how one boy saves his sister from a fatal DUI accident, changing a negative self image, and a segment where one brother flees when he feels he is not wanted.
If you loved the movie, "Parent Trap" then Ralph Gary's "Sometimes Dreams Come True" will get you hyped. The book is a story about twin boys, separated as toddlers who find each other and switch places. The plot includes a lot of silly adventures, chaos, and of coming together as the boys end up becoming world heroes.
"The story is simply sensational, entertaining, and uplifting. The relationship between the two boys traverse into a massive amount of adventures as well as imparting a positive, feel good, and upbeat dispositions among its viewers as it imparts pertinent principles of life," says Richard Tate, Acquisitions Editor and founder of Grapevine's Tate Publishing.
Published by Tate Publishing and Enterprises, the book is available through bookstores nationwide, from the publisher at www.tatepublishing.com/bookstore, or by visiting barnesandnoble.com or amazon.com.
Ralph Gary's first novel touches on a love of history, baseball, and kids all while showing the inspiring and exciting adventures of boys who capture world attention and become America's Twins. The author worked as an attorney with the U.S. Treasury for thirty years and is a frequent speaker in national forums on tax law and historical subjects based on two prior highly rated biography-historical travel guide books, Following in Lincoln's Footsteps, and The Presidents Were Here.