Valuepenguin.com has named Colleyville the safest city in Texas in its 2016 survey of the state.
by Susan Gulliford 
Almost five million Americans moved to Texas between 2005 and 2013, and you can bet finding a safe community was a major priority for each one of them. With so much population growth, the ValuePenguin team analyzed the most recent FBI Crime Report to determine the safest places in the Lone Star State.
These 217 cities have populations of at least 10,000, and the crime scores ranged from 321 to over 7,000. Four out of the five of the safest places are suburbs of major cities with high percentages of well-educated, high-income professionals. All of the safest cities in Texas pride themselves on an excellent relationship between law enforcement and its citizens. You can review the report to see how the 217 cities rank.
5 Safest Places in Texas
These cities have an average crime score of 354, which is 82% lower than their typical peer in the state. With some of its lowest total violent crime rates, these five are the safest places in the state.
1. Colleyville
This mid-sized community (population of 24,915) 15 miles from Fort Worth offers safety for people and their property. It had the lowest rate of property crime rate for any city in this study, and Colleyville also had a mere 10 violent crimes reported in 2014. The police department has an e-tips program that helps citizens stop crime. It is a very affluent community where the median household income was $98,593 above the Texas median household income, and almost 65% of the population holds a bachelor's degree.
2. Memorial Villages
The safest small place (population of 11,848) comes in at number two overall in this report. Memorial Villages is a group residential community that is independent of Houston. The police department serves the villages of Bunker Hill, Piney Point, and Hunters Creek and has strong community engagement. It had the third-lowest rate of property crime and the fourth-lowest rate of violent crime.
3. Trophy Club
This small town is slightly over 30 miles from Fort Worth and about 33 miles from Dallas. Trophy Club had the second-lowest rate of property crime in the state and only seven violent crimes in the year analyzed. The police department offers a Vacation Watch/Close Patrol for its residents. It is another affluent community; the median household income is 2.4 times the median household income for Texas as a whole and almost 64% of the residents have at least a bachelor's degree.
4. Highland Village
Highland Village, a city of just under 16,000 in Denton County, comes in at number four. In addition to a low amount of violent crime, this analysis found that Highland Village had the fourth-lowest rate of property crime. The police department uses a Community Oriented Public Safety (COPS) model to deliver such good results to its residents. This community is the third one in the Dallas-Fort Worth metro area to make our list. Highland Village is another city where residents had a high median household income ($133,161 versus just over $52,000 for Texas), and the population is well-educated (almost 56% of residents hold a bachelor's degree).
5. Canyon
Canyon boasts that it is unlike any other city in Texas, and the community of 14,055 differs from other cities in this study because it is outside of Amarillo. The city is home to West Texas A&M University and near a number of tourist attractions, including beautiful Palo Duro Canyon State Park. In addition to a low level of property crime, the city reported only nine violent crimes in the year surveyed. With a median home value of approximately $144,000, it is more affordable than other cities on our list.
Population Breakdown
Although we adjusted for population in our crime rankings, it is still difficult to compare a small town to a large city. To account for this fact, we separated the safest cities into three categories: towns with populations between 10,000 and 20,000, midsize cities with populations 20,000 and 50,000 and larger cities with populations greater than 50,000. Here are our findings: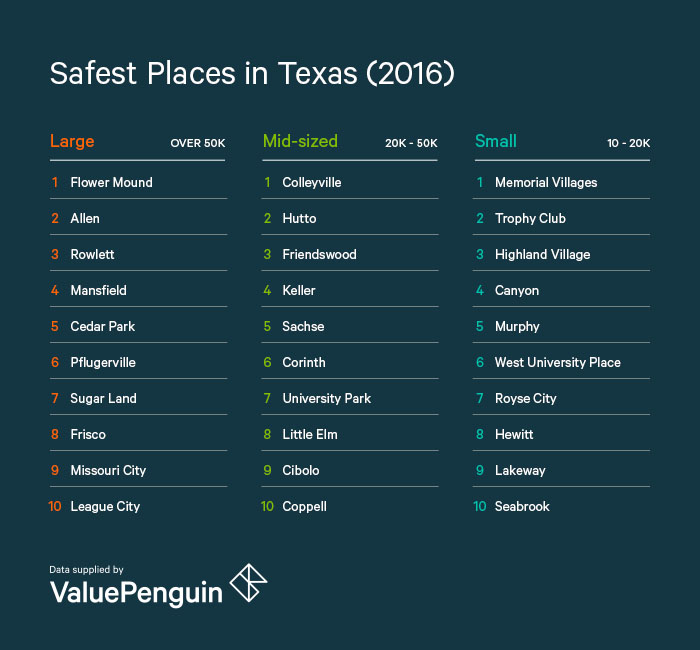 Full List of Places in Texas
Below is the entire list of places that we included in our "Safest Places in Texas" study. They are listed from the safest to the least safe, according to our analysis. The calculation for the crime scores can be found in the methodology section below. Take a look at the graph and see where your hometown ranks.

Year-over-year Change
You want an environment that is consistently safe, and the top five cities all delivered great results in both 2015 and 2016. Three of this year's top five cities — Colleyville, Memorial Villages and Highland Village — were in the top five last year. Trophy Club and Canyon, the new members of the top five, were among the top ten safest small cities in 2015.
Small cities with under 20,000 population took four out of the top five spots in both 2015 and 2016. However, small does not always equal safe. The two least safe cities had populations of less than 20,000. This result differs from 2015, when the least safe city was a large city.
Not everyone wants to live in a small city, and Texas offers some very safe large cities. Eight of the top ten safest large cities in 2016 were repeats from 2015. Flower Mound, a community of over 69,000 in the Dallas-Fort Worth metro area, was the safest large city in both years. You can see how communities compare here.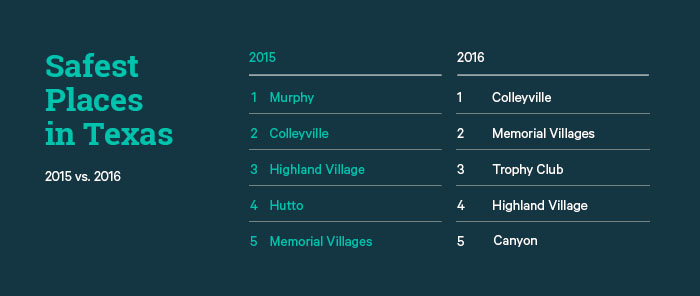 Methodology
To rank these places, we collected data from the 2014 FBI crime statistics by city, which provides the most recent crime data available. Not every town participates in this report and we also excluded towns with fewer than 5,000 residents because towns with small populations are more sensitive to crime score fluctuations for fewer crimes committed. The raw data report included property crimes (burglary, larceny-theft, motor vehicle theft, and arson), and violent crimes (murder/manslaughter, forcible rape, robbery, and aggravated assault) from all law enforcement agencies that chose to partake in the FBI Uniform Crime Reporting program.
We standardized the data to reflect violent and property crimes per 100,000, to account for population. Then, we aggregated a "crime score" by weighting violent crime at 80% and property crime at 20%. Though property crime is more prevalent, we figured that violent crime is more concerning to town residents. Then we adjusted the crime score for population size, giving more slack to larger cities. Finally, we ranked the cities based on their crime scores.
Here is an alphabetical table of all cities included with their ranks, making it easier to compare different cities. See where your city lies!
Rank
City
Population
Violent
Crime per 100K
Property
Crime per 100K
Crime Score
194
Abilene
 120,686
 473
 4,428
 3,212
162
Addison
 16,061
 417
 4,271
 2,498
208
Alamo
 19,054
 761
 6,529
 4,097
199
Alice
 19,689
 726
 5,226
 3,492
27
Allen
 93,889
 78
 1,201
 752
31
Alton
 15,311
 65
 1,652
 801
103
Alvin
 25,252
 265
 2,760
 1,682
207
Amarillo
 197,724
 680
 4,725
 3,943
122
Andrews
 13,153
 608
 2,357
 1,973
75
Angleton
 19,020
 273
 2,213
 1,415
190
Arlington
 382,976
 484
 3,515
 3,044
147
Athens
 12,823
 343
 4,219
 2,297
197
Austin
 903,924
 396
 4,142
 3,411
126
Azle
 11,426
 341
 3,711
 2,060
201
Balch Springs
 25,305
 921
 4,264
 3,499
146
Bay City
 17,480
 315
 4,153
 2,296
169
Baytown
 76,253
 316
 4,140
 2,639
210
Beaumont
 117,898
 891
 4,690
 4,185
130
Bedford
 48,977
 447
 2,644
 2,079
98
Beeville
 13,397
 209
 3,157
 1,648
45
Bellaire
 18,093
 138
 1,829
 1,014
217
Bellmead
 10,077
 1,697
 11,134
 7,175
157
Belton
 19,858
 201
 4,834
 2,424
42
Benbrook
 22,439
 125
 1,702
 958
198
Big Spring
 28,338
 762
 4,704
 3,452
68
Boerne
 12,853
 241
 2,311
 1,346
182
Borger
 12,974
 871
 3,607
 2,917
115
Brenham
 16,188
 327
 3,008
 1,818
176
Brownsville
 183,433
 304
 4,091
 2,794
156
Brownwood
 18,890
 360
 4,166
 2,397
154
Bryan
 79,267
 426
 3,180
 2,394
73
Buda
 11,020
 118
 2,958
 1,387
74
Burkburnett
 11,035
 190
 2,719
 1,407
64
Burleson
 41,733
 165
 2,190
 1,318
5
Canyon
 14,055
 64
 754
 419
70
Carrollton
 128,577
 129
 2,165
 1,370
114
Cedar Hill
 47,057
 198
 3,058
 1,798
37
Cedar Park
 63,681
 105
 1,515
 930
18
Cibolo
 24,846
 60
 1,139
 607
30
Clute
 11,305
 133
 1,433
 796
87
College Station
 101,483
 188
 2,309
 1,533
1
Colleyville
 24,915
 40
 570
 321
144
Conroe
 64,446
 320
 3,431
 2,265
93
Converse
 20,833
 422
 2,016
 1,600
20
Coppell
 40,746
 56
 1,215
 664
117
Copperas Cove
 33,366
 336
 2,868
 1,905
13
Corinth
 20,810
 91
 918
 554
206
Corpus Christi
 319,211
 656
 4,420
 3,877
186
Corsicana
 23,976
 501
 4,684
 2,928
72
Crowley
 14,413
 229
 2,401
 1,379
204
Dallas
 1,272,396
 665
 3,589
 3,814
55
Deer Park
 33,523
 137
 2,040
 1,172
80
Del Rio
 35,564
 135
 2,607
 1,432
125
Denison
 22,838
 385
 3,126
 2,034
112
Denton
 125,248
 271
 2,412
 1,782
136
DeSoto
 52,038
 282
 3,407
 2,140
96
Dickinson
 19,429
 278
 2,707
 1,638
209
Donna
 16,374
 1,014
 5,747
 4,131
76
Dumas
 15,010
 253
 2,378
 1,416
140
Duncanville
 39,859
 314
 3,527
 2,200
92
Eagle Pass
 28,036
 128
 2,993
 1,559
196
Edinburg
 82,349
 359
 5,367
 3,345
108
El Campo
 11,455
 436
 2,584
 1,758
138
El Paso
 680,273
 393
 2,142
 2,165
123
Ennis
 18,743
 299
 3,425
 1,974
65
Euless
 53,674
 119
 2,327
 1,326
97
Farmers Branch
 32,478
 188
 2,891
 1,643
12
Flower Mound
 69,572
 49
 923
 542
104
Forest Hill
 12,781
 250
 3,216
 1,732
39
Forney
 17,167
 186
 1,474
 940
44
Fredericksburg
 10,898
 64
 2,202
 993
89
Freeport
 12,104
 330
 2,470
 1,548
9
Friendswood
 38,012
 55
 866
 498
48
Frisco
 141,940
 82
 1,767
 1,079
177
Gainesville
 16,036
 486
 4,708
 2,798
57
Galena Park
 11,159
 251
 1,963
 1,201
187
Galveston
 48,961
 523
 4,195
 2,948
152
Garland
 236,414
 272
 3,255
 2,335
33
Gatesville
 15,991
 94
 1,701
 873
91
Glenn Heights
 11,869
 371
 2,325
 1,552
116
Grand Prairie
 185,273
 260
 2,502
 1,866
66
Grapevine
 51,135
 121
 2,353
 1,336
189
Greenville
 25,983
 550
 4,591
 2,999
151
Groves
 15,729
 604
 3,141
 2,332
105
Haltom City
 43,856
 246
 2,750
 1,734
106
Harker Heights
 28,484
 267
 2,844
 1,742
120
Harlingen
 65,808
 222
 3,129
 1,935
139
Henderson
 13,693
 453
 3,462
 2,181
95
Hereford
 15,158
 310
 2,619
 1,613
17
Hewitt
 14,166
 113
 988
 598
67
Hidalgo
 13,446
 364
 1,792
 1,342
4
Highland Village
 15,908
 44
 679
 359
25
Horizon City
 19,564
 46
 1,457
 704
215
Houston
 2,219,933
 991
 4,694
 5,495
216
Humble
 15,588
 680
 10,476
 5,533
127
Huntsville
 40,059
 527
 2,386
 2,068
172
Hurst
 38,709
 369
 4,405
 2,699
7
Hutto
 20,567
 63
 773
 442
119
Irving
 231,708
 221
 2,715
 1,931
59
Jacinto City
 10,794
 93
 2,742
 1,255
185
Jacksonville
 14,755
 712
 4,168
 2,924
118
Katy
 15,238
 289
 3,439
 1,922
10
Keller
 43,711
 55
 856
 499
102
Kerrville
 22,728
 312
 2,592
 1,673
131
Kilgore
 14,789
 345
 3,631
 2,089
188
Killeen
 139,211
 608
 3,378
 2,988
183
Kingsville
 26,329
 725
 3,711
 2,923
49
Kyle
 32,649
 205
 1,584
 1,085
200
La Marque
 15,303
 490
 6,397
 3,498
51
La Porte
 34,852
 201
 1,676
 1,126
50
Lake Jackson
 27,536
 127
 1,943
 1,088
19
Lakeway
 13,554
 133
 974
 622
184
Laredo
 250,994
 389
 3,859
 2,924
56
League City
 92,790
 106
 1,947
 1,177
26
Leander
 33,112
 115
 1,102
 706
193
Leon Valley
 10,961
 374
 6,450
 3,210
137
Levelland
 14,042
 434
 3,468
 2,159
94
Lewisville
 102,439
 197
 2,421
 1,608
16
Little Elm
 34,603
 118
 835
 594
110
Live Oak
 15,160
 218
 3,351
 1,765
90
Lockhart
 13,185
 190
 3,003
 1,550
158
Longview
 81,659
 333
 3,603
 2,424
211
Lubbock
 241,826
 862
 4,390
 4,219
195
Lufkin
 36,327
 432
 5,550
 3,319
36
Lumberton
 12,228
 213
 1,390
 916
35
Mansfield
 61,935
 95
 1,505
 904
170
Marshall
 24,749
 618
 3,584
 2,661
133
McAllen
 138,122
 131
 3,582
 2,110
60
McKinney
 152,806
 148
 1,851
 1,266
2
Memorial Villages
 11,848
 34
 667
 327
192
Mercedes
 16,488
 619
 5,095
 3,192
173
Mesquite
 144,396
 299
 4,049
 2,706
121
Midland
 127,344
 320
 2,565
 1,962
43
Midlothian
 20,348
 138
 1,681
 961
134
Mineral Wells
 16,770
 262
 3,948
 2,111
101
Mission
 81,871
 116
 2,938
 1,671
53
Missouri City
 70,853
 178
 1,640
 1,140
165
Mount Pleasant
 16,136
 483
 4,084
 2,532
6
Murphy
 19,914
 65
 748
 434
141
Nacogdoches
 34,096
 323
 3,581
 2,208
100
Nederland
 17,571
 359
 2,498
 1,669
132
New Braunfels
 64,622
 282
 3,251
 2,106
79
North Richland Hills
 68,309
 176
 2,257
 1,431
203
Odessa
 113,619
 940
 3,712
 3,777
109
Orange
 18,995
 379
 2,606
 1,764
174
Palestine
 18,579
 587
 4,118
 2,760
179
Pampa
 18,520
 567
 4,428
 2,857
181
Paris
 24,844
 559
 4,375
 2,907
153
Pasadena
 153,540
 385
 3,016
 2,362
63
Pearland
 102,516
 151
 2,008
 1,309
40
Pflugerville
 55,101
 111
 1,546
 943
149
Pharr
 74,555
 390
 3,199
 2,319
129
Plainview
 21,765
 244
 3,818
 2,079
81
Plano
 277,822
 165
 1,975
 1,435
191
Port Arthur
 54,178
 629
 3,933
 3,054
148
Port Lavaca
 12,414
 685
 2,884
 2,302
85
Port Neches
 12,726
 440
 1,870
 1,490
99
Portland
 15,879
 139
 3,376
 1,651
29
Prosper
 13,916
 122
 1,430
 795
205
Raymondville
 11,113
 1,107
 5,075
 3,845
71
Red Oak
 11,352
 106
 2,977
 1,379
84
Richardson
 105,744
 169
 2,274
 1,483
113
Richmond
 11,921
 403
 2,785
 1,792
77
Rio Grande City
 14,065
 242
 2,460
 1,422
32
Robinson
 11,488
 252
 1,045
 834
202
Robstown
 11,742
 1,133
 4,369
 3,622
167
Rockport
 10,208
 304
 5,261
 2,596
46
Rockwall
 41,688
 98
 1,823
 1,024
83
Rosenberg
 33,598
 274
 2,158
 1,472
58
Round Rock
 112,199
 125
 1,951
 1,237
34
Rowlett
 58,474
 128
 1,363
 894
14
Royse City
 10,491
 162
 753
 563
11
Sachse
 22,434
 85
 905
 541
69
Saginaw
 21,607
 227
 2,226
 1,358
166
San Angelo
 98,477
 330
 3,845
 2,579
213
San Antonio
 1,428,465
 539
 5,418
 4,662
161
San Benito
 24,392
 279
 4,510
 2,468
160
San Juan
 35,982
 542
 3,168
 2,431
128
San Marcos
 56,623
 318
 3,096
 2,076
54
Santa Fe
 12,701
 173
 2,110
 1,150
52
Schertz
 36,961
 176
 1,769
 1,130
24
Seabrook
 12,816
 70
 1,428
 702
107
Seagoville
 15,660
 140
 3,608
 1,749
143
Seguin
 27,031
 351
 3,655
 2,243
124
Sherman
 39,522
 359
 2,910
 1,998
168
Snyder
 11,610
 646
 3,833
 2,608
28
Socorro
 32,624
 129
 1,180
 765
142
South Houston
 17,494
 463
 3,430
 2,241
22
Southlake
 28,640
 24
 1,446
 688
159
Stafford
 18,224
 428
 3,989
 2,429
62
Stephenville
 18,947
 190
 2,254
 1,289
47
Sugar Land
 85,055
 116
 1,646
 1,041
38
Sulphur Springs
 15,967
 225
 1,315
 932
111
Taylor
 16,449
 371
 2,705
 1,766
135
Temple
 71,049
 246
 3,408
 2,131
155
Terrell
 16,466
 559
 3,443
 2,394
212
Texarkana
 37,687
 862
 6,350
 4,484
145
Texas City
 46,273
 324
 3,570
 2,271
23
The Colony
 40,228
 134
 957
 688
163
Tomball
 11,214
 383
 4,691
 2,521
3
Trophy Club
 11,129
 63
 593
 342
61
Universal City
 19,570
 230
 2,069
 1,283
15
University Park
 24,219
 17
 1,247
 576
175
Uvalde
 16,411
 457
 4,771
 2,782
82
Vernon
 10,589
 217
 2,786
 1,471
171
Victoria
 65,726
 514
 3,470
 2,663
150
Vidor
 10,954
 475
 3,862
 2,327
180
Waco
 129,944
 443
 3,855
 2,878
41
Watauga
 24,348
 94
 1,774
 944
88
Waxahachie
 32,053
 90
 3,070
 1,546
78
Weatherford
 27,427
 171
 2,527
 1,426
164
Webster
 11,099
 252
 5,226
 2,522
214
Weslaco
 37,458
 1,207
 7,083
 5,447
8
West University Place
 15,509
 13
 1,090
 478
86
White Settlement
 16,855
 178
 2,913
 1,532
178
Wichita Falls
 104,949
 406
 4,057
 2,852
21
Wylie
 45,323
 95
 1,094
 686