Austin, Texas July 26, 2016
Texas Crime Stoppers, operating within the Office of the Governor's Criminal Justice Division, has announced a cash reward of up to $15,000 for information leading to the identification and arrest of the person or persons responsible for the murder of Travis County Sheriff's Deputy Sergeant Craig Hutchinson. The reward is being offered through the Officer of the Governor's Fallen Hero Reward – Texas Remembers program launched in January 2016. Sergeant Hutchinson was killed early Monday morning at his Round Rock home.
"My deepest condolences go out to the Hutchinson family during this unimaginably difficult time," said Governor Abbott. "The past few weeks have highlighted the incredible dangers our law enforcement officers face both on and off duty, and we must never forget the sacrifices they make in order to keep us safe. At this time, it is imperative that the authorities receive any and all information that will aid in bringing swift justice for Sergeant Hutchinson."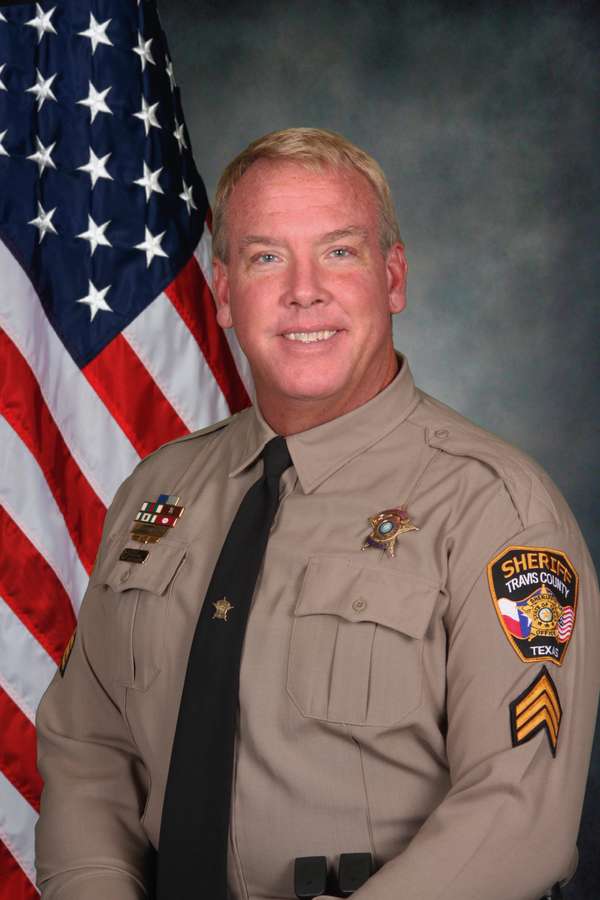 Slain Travis sheriff sergeant had "distinguished career," local law enforcement officials said. Travis County Sgt. Craig Hutchinson made a radio call that he had "prowlers in his yard" before he was found fatally wounded in his home's backyard, said Travis County sheriff's office spokeswoman Kristen Dark during an afternoon update into the deputy's shooting death early Monday. Hutchinson's shift had ended at 1 a.m. Monday but he went back on duty when he made the radio call at 1:22 a.m., so the sheriff's office considers Hutchinson to have been killed while on duty, Dark said.
Hutchinson, who had been with the sheriff's office since 1984, started his career as a Travis County corrections officer, then spent time in the department as a patrol deputy, criminal investigator, a training academy instructor, a detective and ultimately a patrol sergeant, Dark said. He was set to retire in September.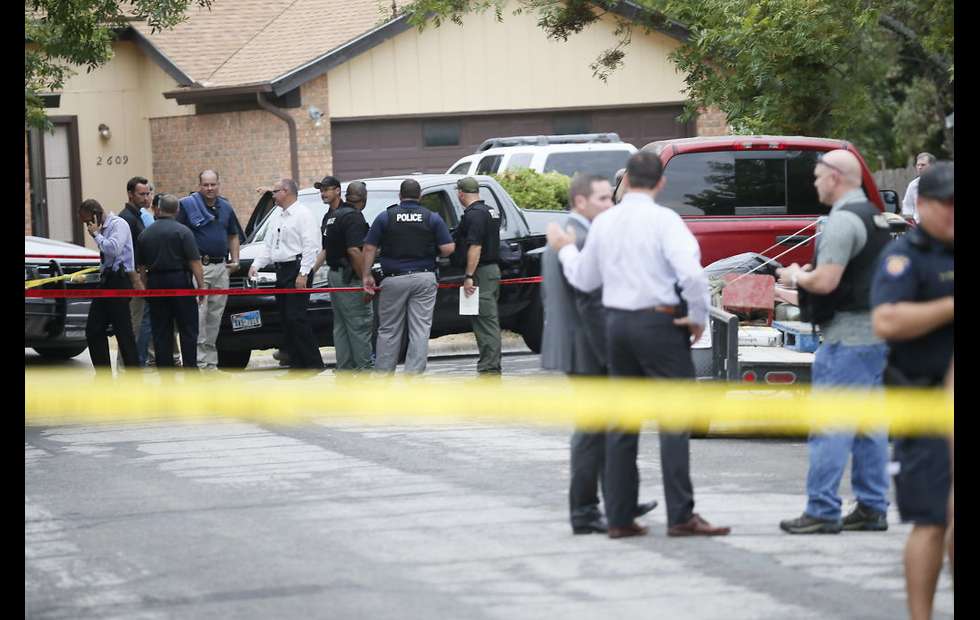 The scene outside a Round Rock home where a Travis County sheriff's deputy was reportedly shot. Photo by Mark Wilson/AMERICAN-STATESMAN
"He had quite a distinguished career with our agency," Dark said. "He has … taught many, many, many of the men and women that work for our agency. … He has a litany of awards to his credit and commendations from other law enforcement agencies. He also has all kinds of letters of appreciation that came from the community that he worked with."
Hutchinson is survived by his wife, two biological children, three step-children, two grandchildren and his mother, Dark said.
Round Rock police are asking anyone with information about the incident to call them at 512-671-2767.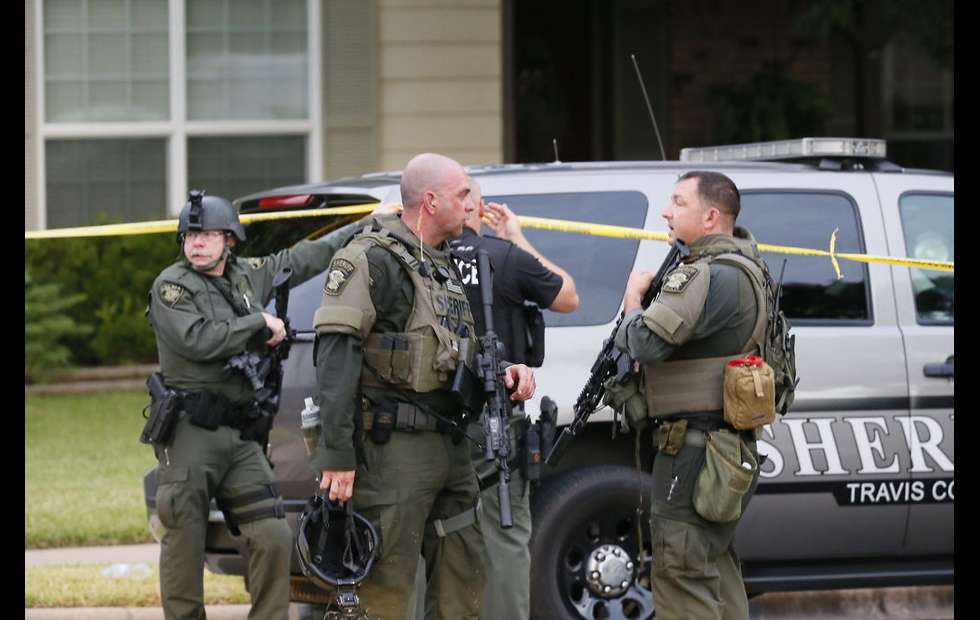 The U.S. Marshals Service is offering a $10,000 reward, and a Lakeway municipal judge is offering an additional $5,000 for information that leads to the arrest of the person or people responsible for Hutchinson's killing.
The Round Rock Police Department is leading the joint investigation with the sheriff's office, the Texas Department of Public Safety and the Texas Rangers, said Round Rock police Lt. Andy McKinney.
2 p.m. update: Kevin Madison, presiding judge of the Lakeway Municipal Court, and his wife, Shirley, are offering a $5,000 reward for information leading to the arrest of suspects in the shooting death of Travis County sheriff's deputy Sgt. Craig Hutchinson.
Madison said he has served with the court for around 18 years, but worked for the sheriff's office for two years in the 1980s after attending law school.
"I loved the guys and gals that worked there and have great respect for Sheriff Hamilton," he said.
Madison said he hopes the reward will encourage others to add to the pot and increase the incentive for someone to come forward.
"What a senseless, tragic, unnecessary loss," he said. "A loss of a life over a lawnmower or some tools is just unbelievable. Instead of running away they shoot this poor deputy. Someone is going to know who these two guys are."
7:25 a.m. update: Authorities have identified the Travis County sheriff's deputy who was killed early Monday as Sgt. Craig Hutchinson, a veteran officer of 32 years who was set to retire in September.
Travis County Sheriff Greg Hamilton said Hutchinson called in on the radio that people were running out of the backyard of his home in southwest Round Rock around 1:22 a.m. Hamilton said officers arrived to find the deputy shot in the yard about 10 minutes after the call.
The sheriff said the shooting appears to be part of a robbery and that investigators so far do not think the incident was an ambush or a targeted attack. He said there was no word on any suspects but that the area had seen other burglaries recently.
Hamilton reflected on the life of the deputy, noting that Hutchinson was his field training officer.
"He taught me everything I know," he said. "This guy was a big teddy bear."
Hamilton later recalled how when he started at the sheriff's office in 1985, "I worked in the jail with him. He went out on patrol before I did," Hamilton said. "He was my field training officer, so this is very near and dear to me."
Hamilton said Hutchinson, known within the agency as Hutch, was loved by everyone.
"He was about 6-foot-4 and weighed about 275 but he was a gentle bear… I loved that guy to death."
The investigation is expected to span much of the day.
Residents in the area near Oak Meadow Drive and East Messick Loop say they're shocked this happened here.
Gary Thompson lives just around the corner from where Hutchinson was gunned down.
He said he has lived in the neighborhood for around 25 years, and frequently saw Hutchinson either in his yard or passing by.
He said he would always wave and constantly seemed cheerful and friendly.
"I think everybody liked him," he said. "He was a great guy."
Charles Millard said Hutchinson was one of several law enforcement officers in the area.
He said at least four lived a short distance from his home, a couple of blocks away from the scene of the shooting, and that he was surprised anything like this could happen in the area.
6:50 a.m. update: A Travis County sheriff's deputy who was shot in his home in Round Rock early Monday has died at a local hospital, according to the Travis County Sheriff's Association president.
Austin police says their officers and Round Rock police are temporarily shutting down the southbound lanes of Interstate 35 as the body of the deputy is escorted from a hospital in Round Rock to the Travis County medical examiner's office on 15th Street in Austin.
6:35 a.m. update: Law enforcement officers from multiple Central Texas agencies are responding to reports of an officer down in Round Rock.
Authorities at the scene said police received reports of the incident around 1:20 a.m. near Oak Meadow Drive and East Messick Loop.
A spokesman for the Travis County Sheriff's Office confirmed the officer down around 6 a.m., but declined further comment.
Authorities will brief reporters shortly to discuss the specifics of the incident.
Dozens of police vehicles have filled the residential neighborhood off McNeil Road where the incident took place. Several officers in the area are wearing tactical gear and many have rifles.
McNeil has been completely shut down while authorities investigate.
Earlier: A Travis County sheriff's deputy was shot in his home in Round Rock early Monday and authorities are searching for two suspects.
Round Rock police are telling neighbors to stay inside their homes while multiple law enforcement agencies investigate.
The home is near Messick Loop and McNeil Road in the Cimmaron neighborhood in southwest Round Rock. Morning commuters are being encouraged to avoid the area.
Austin police Chief Art Acevedo asked the public via Twitter to "please keep our Travis County Sheriff's family in your thoughts and prayers. Sad, troubling time we live in. Austin police stands with our friends."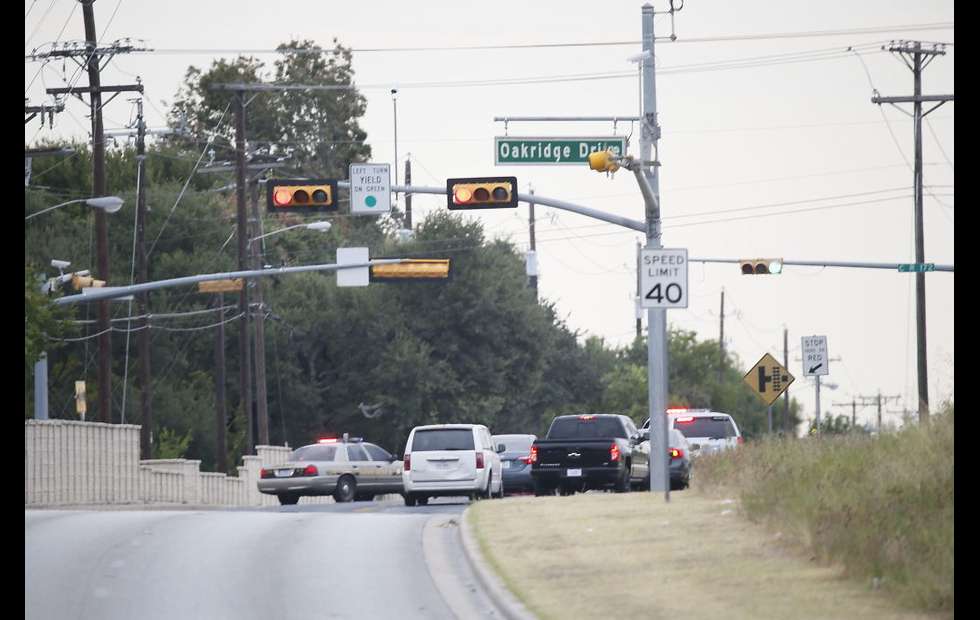 The $15,000 reward from the Office of the Governor is in addition to a $10,000 reward offered by the U.S. Marshals Service and a $5,000 award offered by Lakeway municipal Judge Kevin Madison, bringing the total award amount to as much as $30,000 for information leading to the arrest of the assailant or assailants in Sergeant Hutchinson's murder.
Texas Crime Stoppers is a program within the Office of the Governor under the Criminal Justice Division that encourages, supports and fosters the development of local crime stoppers organizations as a way to prevent crime.
To be eligible for the cash rewards, anyone with information on fugitives can provide anonymous tips in three different ways:
Call the Crime Stoppers hotline at 1-800-252-TIPS (8477)
Text the letter DPS – followed by your tip – to 274637 (CRIMES) from your cell phone
Submit a web tip by clicking the link  in the "About" section of the Texas 10 Most Wanted Facebook page under "Submit a Tip")