DFW is in luck! Orchid City Cafe in Arlington is the first restaurant in North Texas to serve Rolled Ice Cream, the latest dessert craze to hit New York City and Los Angeles. A product "roll-out" timed to coincide with the advent of summer, the Asian fusion restaurant serves four taste-tempting flavors of the new Thai inspired dessert.
"I traveled to New York to experience this new food concept and I found the texture and favor to be amazing! People stood in long lines to taste this artfully- made dish," said Martin Doan, Orchid City Cafe owner and restauranteur.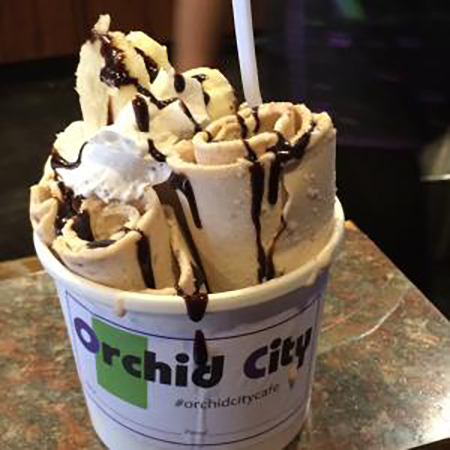 Rolled ice cream flavors: Strawberry Cheesecake (Strawberries, cream cheese, graham crackers) Mega Matcha (Strawberry, white chocolate, green tea) Grease Monkey (Banana, Nutella) Oreo Mudslide (Oreos and cream) Orchid City Cafe located at 2135 Southeast Pkwy. in Arlington, TX 76018. 817-468-3777, OrchidCityCafe.com (FB & Twitter/OrchidCityCafe)
Hours of operation are Monday-Thursday: 11:00am-9:00pm Friday-Saturday: 11:00am-9:00pm Sunday: 12:00pm-9:00pm
The Cafe uses a stainless steel "cold plate" at a temperature of -24 degrees and spatulas to prepare fresh-from-scratch ice cream priced at $6. Whole milk, eggs, sugar and all natural ingredients are transformed into a smooth and creamy frozen treat before your eyes. A metal scraper rolls the chilled ice cream into scrolls and the dish is topped off with fresh fruit, whipped cream or toppings.
Kris Martin, Publicity, 214-287-1068, krismartinpr@gmail.com
Martin Doan Bio
Martin Doan is a native Texan born and raised in Fort Worth. His Father is a war Veteran that fought against communist Vietnam. He was brought to America for additional military training when Vietnam fell to the communists in 1975. That same year Martin's Mom fled the oppression In Vietnam on a small boat with her nephew.
Martin's parents met in Fort Worth, got married, and raised six kids (five of their own and one nephew which was like a big brother). As a curious child and the oldest of his siblings, he often watched his Mom prepare foods for family and friends and he learned the joy of fresh-from-scratch cooking methods. Martin's parents often worked long hours to make ends meet so Martin was left to care for his brothers, copying the dishes he learned while watching his Mom cook.
The joy of quality food preparation and presentation has always been at the heart of Martin's desire to bring culturally diverse dining experiences across DFW.
Driven by the want to move his family out of poverty, Martin opened his first restaurant in 2005, the year he received his marketing degree from UTA. He was always hard at work and striving to excel in the food industry. Martin's brilliant mind, great passion for business and food, and his inquisitive nature keep him constantly searching for the next big foodie item. To date, his restaurant concepts include The Crab Station (Dallas, Carrollton); Orchid City (Arlington); The Draft House (Dallas, Little Elm); Blaze's Sports Grill (Arlington); and Doan's Seafood Grill (Arlington).
Martin Doan is the proud father of a three year old boy named, Savio Huy, and a loving husband to Olivia. As a hobby, Martin enjoys competing in obedience and protection training with his dog, Onyx.