Southlake, Texas  July 28, 2016
SPIN! Pizza Southlake Town Square at 1586 E. Southlake Blvd Gets Summery Adding Grown-Up Beer Floats, Soda Floats, Three New Sangrias and Four BBQ Pizzas 
It's Summery at SPIN! Neapolitan Pizza with lots of new menu items including Grown-up Floats featuring hard sodas added because they're a perfect match for ice cold creamy gelato, Soda Floats with soda fountain or flavored sodas, mouthwatering flavors of three new Summery Sangrias, and four BBQ pizzas.
For those 21 and over, SPIN!® introduces Grown-Up Floats featuring hard sodas poured at the table over a generous scoop of SPIN! Pizza's all-natural Tahitian Vanilla gelato Italian ice cream. Three new beers — Not Your Father's Root Beer, Coney Island Orange Cream Ale and Best Damn Cherry Cola – make "perfetto" Grown-Up Floats.
For the younger crowd and those who prefer their floats minus alcohol, new Soda Floats are a cool way to get Summery. Choose from any fountain soda, root beer, or one of five flavors of Izze sodas – Sparkling Pomegranate, Sparkling Apple, Sparkling Grapefruit, Sparkling Clementine, and Sparkling Blackberry.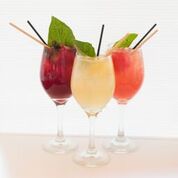 If you're a wine drinker, SPIN!'s new Summery Sangrias are a deliciously refreshing drink on a hot day. Infused with the flavors of the season, SPIN!'s newest homemade sangrias are served with a frozen fruitsicle (fresh frozen fruit on a stick) and fresh herbs. Try the new Summerberry, Pineapple Peach Basil, or Watermelon mint made with watermelon pureed in-house. Of course, SPIN! will still serve its freshly homemade white, red and blood orange sangrias as well. Summery Sangrias are $5.95 a glass and are available at special prices during happy hour.
What would summer in Southlake would be without barbecue? SPIN! has added a trio of new BBQ pizzas made with local barbecue sauce. The Burnt Ends and Caramelized Onions pizza includes spicy Calabrian peppers and fresh mozzarella along with barbecue sauce. The Spicy Calabrian Shrimp pizza is topped with get-your-attention shrimp, roasted potatoes, Calabrian peppers, and fresh mozzarella. For vegetable lovers, there's a Bellas & Veggies BBQ pizza covered with roasted portabella mushrooms, roasted corn, roasted red peppers and Calabrian peppers. SPIN! perennial favorite BBQ Chicken & Roasted Pineapple Pizza rounds out the selection of BBQ pizzas with its added caramelized onions and fresh mozzarella toppings.
All of the BBQ pizzas are available as 12 inch pizzas, as well as a Mini Mia personal size pizza with a salad, and as a personal Mini Mia size pizza during happy hour.
As always, SPIN! takes the unique step of boosting flavors by roasting its pizza toppings in herbed olive oil in its stone hearth ovens each day. All of SPIN!'s hand-spun stone-fired pizzas can be served on traditional thin-and-bubbly crust, rustic whole wheat, or gluten-free crust. SPIN!'s pizza dough is made fresh daily and its gluten free crust is renowned for its flavor and texture.
SPIN! also serves a tremendous selection of fresh salads topped with made-from-scratch dressings, homemade soups, signature Panini and Italian deli sandwiches, appetizers, small plates, and gelato ice creams made in small batches with real fruits and nuts.