Grapevine, Texas   January 30, 2017
Through the district's energy reduction efforts and partnership with Cenergistic, all GCISD traditional campuses have earned the U.S. Environmental Protection Agency's (EPA's) ENERGY STAR certification. Cenergistic Regional President Gary Clark presented the district with a plaque during the Monday, January 23, 2017 board meeting.
"We strive to be ever-mindful of how we manage all resources in the district," said Dr. Robin Ryan, GCISD superintendent of schools. "Through the true team effort among all staff members of the district to help us reduce energy consumption, we aim to continue making good habits and supporting our community and environment."
The district partnered with Cenergistic two years ago to bring in an energy specialist dedicated to monitoring energy use, checking equipment, facility use and adjusting systems to maximize efficiency. One of our goals established with Cenergistic was to obtain energy star certification from EPA.
"Recognition from ENERGY STAR is a reflection of GCISD's success in implementation of the energy program and good stewardship of our natural resources," said Kent Hall, GCISD energy specialist.
Earlier this school year, we announced that the district has saved $618,620 in projected energy costs since our Cenergistic partnership began. This equates to eliminating 645 passenger cars from roadways for one year.
ENERGY STAR is a voluntary program that helps businesses and individuals save money and protect our climate through superior energy efficiency.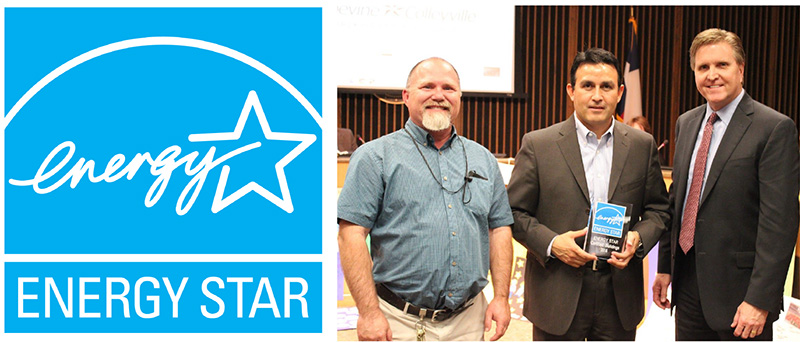 Cenergistic Regional President Gary Clark (far right) and GCISD Energy Specialist Kent Hall (far left) present GCISD Board of Trustees President Leon Leal with the ENERGY STAR plaque, in recognition of the district's earning the ENERGY STAR certification.