January 19, 2017, by Nelson Thibodeaux
Keith Thibodeaux was born on December 1, 1950, in Lafayette, Louisiana. (His family would move to Bunkie, La., when Thibodeaux was two years old.) He was the oldest of five children born to Lionel and Mary Ann (Chitty) Thibodeaux. Even though he did not come from a musical family, his earliest memories are of listening to music and keeping time by beating on pots and pans with sticks, knives, and forks. Afterwards, he graduated to banging on metal trash cans in the family's back yard. By age three, Thibodeaux was playing drums professionally.
According to Keith, he never had a lesson. "My talent for playing the drums was a gift from God. Dad bought me a toy drum one Christmas, and I eventually destroyed it. I wanted a real drum and he bought me a snare drum. Dad continued to buy me one drum after the other."
Keith began performing at local Lion's Club meetings and high schools in the area. His uncle made arrangements for the young drummer to make an appearance on the Horace Heidt Traveling Variety Show when it came to Lafayette, La., in 1954 for a talent contest. Keith  won the contest and Heidt hired him as a regular on his show two weeks later. (Heidt's show aired on television each Saturday night.) Lionel Thibodeaux quit his job at United Gas Company and accompanied his son as they toured the U.S. and Canada.
But it wasn't until two years later that the father and son would walk into Desilu Studios in California and change television history. That was the day Keith Thibodeaux auditioned for the part of Little Ricky.
The story goes that when Keith walked into the studio in 1956, he was unaware that over two hundred youngsters had already auditioned for the part of Little Ricky, the new TV son of Lucille Ball and Desi Arnaz. After being introduced to Lucille Ball, the redhead asked Lionel Thibodeaux if his son had studied acting. When she was told that he had not, Lucy impatiently asked, "Well, what does he do?"
"He's a drummer," the his father replied.
Desi Arnaz walked in at that point and introduced himself. It was then that someone noticed a set of drums on the adjoining set of "The Danny Thomas Show". Everyone walked over to the drums and an air of excitement came over Lucy and Desi as Keith began to play. Desi walked over and asked if he could play. They alternated back and forth on the drums for a while before Keith heard Lucy exclaim, "This is the kid! This is him! This is Little Ricky!"
Not only did the Keith have the musical talent to portray a bandleader's son on television; he also resembled his soon-to-be TV dad. Apparently, that was enough for Desi and Lucy, and "the drummer from Bunkie, Louisiana" was signed on as Little Ricky. Desi, however, did not think that most people would be able to pronounce the Cajun name of Thibodeaux , (shoot a lot of people in Colleyville can pronounce it) and suggested that the youngster change his stage name to Richard Keith. Even though it was never listed in the credits, Thibodeaux would use the stage name during his tenure on the show.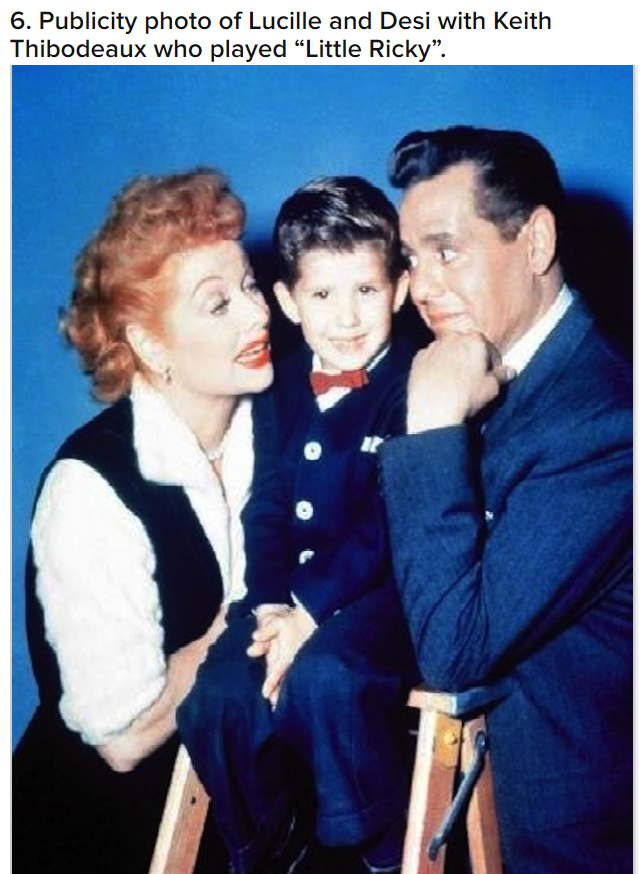 Keith became quite close with Lucy and Desi while working on the show. He was a frequent guest at the Arnaz household, and spent a lot of time with the couple's children, Lucy and Desi Jr.
"We were childhood friends. In fact, I was one of the few trusted people that Lucy allowed to play with their kids. I spent time at their summer home, rode horses at their ranch, and swam at their beach house. I even spent a Christmas with them at Palm Springs one year."
Keith said, he thinks of Desi Sr. as a very talented man who did not get his due in Hollywood.
Watch the clip to the end to see "Little Ricky."
"He basically lived in the shadow of Lucy. He really had a lot to do with the formation of the show. He set up the three-camera sitcom arrangement that shows still use today. I felt very secure around him. We really had a rhythmic connection since he played the Congas and I played the drums. We also connected because he had a foreign name and I had a name that they had to change because nobody could pronounce it."
Keith auditioned for "The Andy Griffith Show" and won the role of Johnny Paul Jason, Opie's best friend. It wasn't a big part, but Keith made several appearances on the show over the next four years. As it turned out, he was more comfortable working on a television series that was set in the south.
"I would rather have played a character like Opie than Little Ricky. Little Ricky was the All-American boy in a New York kind of way, but I'm an old southern boy. I liked Huckleberry Finn and Tom Sawyer, and that is the kind of character that I would like to have played. That would have been more in tune with who I really was."
Keith appeared on a dozen or so episodes of The Andy Griffith Show. One was titled "Andy Discovers America". In that episode Andy gets in hot water with Opie's schoolteacher when he criticizes her history curriculum in front of Opie and his pals. Keith appeared as one of the wide-eyed kids who is captivated by Andy's revised version of Paul Revere's famous ride. Another episode is titled "Opie and His Merry Men". Opie and his pals befriend a lazy hobo who tells them that lawmen cannot be trusted. Keith is seen wearing a Robin Hood-type hat, and appears as a member of Opie's merry men. The hobo claims to have a game leg, but takes off running when Andy offers to get him a job that will accommodate his bad leg.
Keith got along well with all the cast members, but was closest to Ron Howard (Opie).
"We used to go and get hamburgers together in the commissary, or play catch with a baseball when we weren't shooting. I was four years older than Ron and found out that he looked up to me. I didn't know it until I did my first episode, but my former teacher, Catherine Barton, was also Ron's teacher on the set of "The Andy Griffith Show". She had told Ron some stories about me when she was teaching me on "I Love Lucy". Ron asked them to cast me in episodes with him whenever they could."
Well after the show was completed Keith received his last $8,000 Royalty check in 1971 after he turned 21 and spent it in a couple of weeks.  With his Rock and Roll band David and the Giants where he was introduced to the drug culture and slipped into drugs and excessive alcohol until the group broke up in 1974.
Keith, who still plays the drums, ditched acting and joined his wife Kathy, a professional ballet dancer, as the executive director of Ballet Magnificat! in Jackson, Miss.   On an ABC show  a few  years ago, featuring the cast members still alive, Keith said he seldom watches "I Love Lucy," but continues to be proud of what it has become.
"It's held up all these years," he said. "I just think that to be associated with the show, it's a good thing. I can say, in a humble way, that I don't think it's ever been matched."
While I have no idea where Keith has since the last I checked I couldn't reach him in Mississippi,  I did have lunch in Houston with Lionel Thibodeaux about 20 years ago and the topic of conversation went back to the I Love Lucy days with his reminder; "you know Keith was actually Little Ricky on "I Love Lucy."
As far as a relationship, well I guess most of the Thibodeaux clan pretty much stemmed from a bloodline in Louisana somewhere traced back to the year of 1756 in Pointe Couppe Parish, and New Roads, Louisana, (about 2o miles from Baton Rouge), in my case.  So while visiting with Lionel in Houston way back, we never were sure, but Heck he said, "Keith and you must be at least 3rd or 4th cousins stemming somewhere from back in the Thibodeaux "clan."