April 19, 2017  Colleyville, Texas 76034
The following is a response to an Editorial concerning Jon Bullock's vote for Hilliary Clinton published, April 19, 2017
Lead photo, Jon Bullock ran against Republican Kenny Marchant in 2012.
The following response from Jon Bullock has not been edited;
Jon Bullock Responds – My Voting Record LNO recently published an editorial that may have given you the wrong impression regarding my voting record and political leanings. So I wanted to give you all some background and set the record straight. At a recent candidate forum, I provided an intensely personal explanation of why I voted the way I did in 2016. I had hoped that simply telling the truth would put the issue to rest.
Unfortunately, it seems that the explanation got lost in the shuffle. I am not going to subject my family to any further discussion of our personal business. That is closed. However, in the interest of telling the whole truth, I wanted to give you some background. I became a Republican in 1971. The first president I voted for was Richard Nixon. In the 1980's I supported Ronald Reagan, as well as George H.W. Bush. (Patty and I are still contributors to the Bush Library at Texas A&M.) In 2008 I worked on the John McCain Presidential campaign.
While working, at my own expense, on the McCain campaign in South Carolina I met Senator Lindsey Graham, and was impressed with his straightforward style, balanced economic approach and detailed grasp of Middle-Eastern politics. In 2012, fed up with partisan gridlock, I attempted to run for US Congress as an Independent candidate. (Luckily, I did not quit my day job.)
In 2016, I supported Senator Lindsey Graham's bid for President. (Luckily, he also did not quit his day job.) I subsequently supported almost every other Republican candidate, all of whom were defeated. But in the general election, for many reasons, including the personal reasons I referred to above, I could not in good conscience support the Republican nominee, and I supported his opponent.
Now that he is President, my prayer is for him to guide our country with dignity, honor and wisdom. I have friends across the political spectrum. I have many Republicans (some of whom are Republican precinct chairs), Democrats and Independents supporting me. Mark Bauer is a good friend, and he is helping me with my campaign, but he is not my Campaign Manager. If you want to check voting records, you will find that I have voted in pretty much every Republican primary for the past 26 years. I also have been a long-time member of the Northeast Tarrant County Republican Club. I strive to be open-minded and to listen to opposing views.
It is especially important to put partisan politics aside when dealing with city issues. But I knew this might matter to some of you and I wanted you to know the whole truth. Thank you. Jon Bullock Candidate for Colleyville City Council, Place 3
LNO Response:
LNO appreciates the response of Mr. Bullock.
However, when running for a political office, I find the statement,"I am not going to subject my family to any  further discussion of our personal business,"  somewhat off the mark.  When you run for office, be it "non-partisan" or not, many would agree that exploring a candidate's political affiliation and previous voting record , "not personal business."
The  headline of the column was; What Texas Does Not Really Have is "Non-Partisan" Municipal Elections, therefore an emphasis on the partisanship of a candidate, any candidate, should be open for examination.
LNO accept's Mr. Bullock's remainder of his explanation on it's face.
However,  note Mr. Bullock's decision to support the "Protect Colleyville PAC," in 2015, especially considering the vile accusations by this group, in the Colleyville Council election.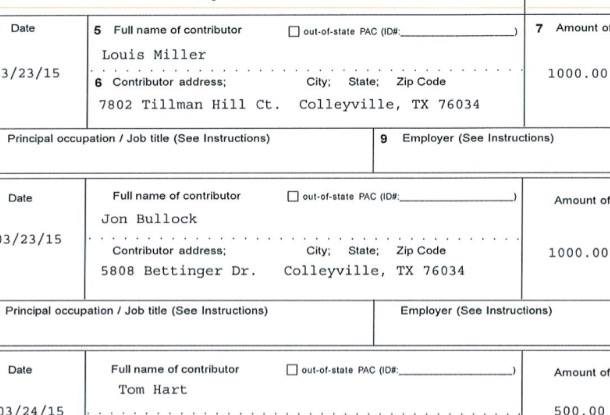 Voters may recall that in the 2015 election of Mike Taylor and Nancy Coplen to City Council, perhaps the most despicable and vile attack on Bobby Lindamood highlighted the campaign and the Protect Colleyville PAC,  wherein Mr. Bullock contributed $1,000, per the PAC's filings, was noted as being involved.  In the resulting defamation lawsuit Lindamood included the PAC.
Voters may recall that the mailer, in larger red letters, provided an alleged highlight summary of the legal document.  However, the highlighted embellishment introduced supposed facts about a prostitute in Las Vegas, an affair with an underage minor and marriage infidelity that were neither substantiated or even referenced as such in the select information provided.  While not clearly stated in the mailer, all of the alleged indiscretions occurred about 20 years prior to the lawsuit.
Lindamood's lawsuit pointed out that a group of individuals came together and organized for the specific purpose entity known as Protect Colleyville.  The group raised funds from donations, set up a website at protectcolleyville.com, paid for advertising, sent out mailers and placed large signs in the city.  Further, in the court documents filed it states, "Defendant PAC has spent in excess of $500 in mailings, billboards and a website, and therefore is in essence a PAC."
The supporters of the PAC celebrated and put out the word that the Judge had given the defendants a "summary judgement," and at some point Lindamood agreed to pay some attorney fees to end the bleeding of money to attorneys.  However, the defendants refused Lindamood's offer.  As such, Lindamood and the defendants both filed an appeal with the Ft. Worth Appeals Court.  This is the same court that recently overturned a lower court in a case, (in favor of the plaintiff), that was clearly much less egregious than the claims filed in the Lindamood original lawsuit.
Therefore, the agreement by Lindamood has been withdrawn and, he along, with the defendants, which originally included the Protect Colleyville PAC, Councilman Mike Taylor, Jan Mogged and Jim Fletcher, of Colleyville, will await the ruling of the Appeals Court to see if Lindamood gets his day in court.
Letter to Editor
COMMENTS ON THIS ARTICLE