Colleyville, Texas April 17, 2017
an Opinion Column by Nelson Thibodeaux
Note comment below main copy.
In the last two election involving Colleyville voters, there has been a major rejection of the old political style of ex-Mayor David Kelly.  However, over the last three elections in Colleyville an obvious and distinct pattern has emerged, that of the ongoing efforts of Mark Bauer and his loyal Democrat followers to back candidates who,  join up forces or at minimum candidates who would like to use the Democrat's group of campaign workers from "Battleground Texas," (meaning to turn Texas "blue"),  for their advantage.
From my perspective Mark Bauer and his friend and council candidate, Jon Bullock are both affable folks that I have no personal animosity whatsoever.  I respect they have a political stance, much different than mine, but ce la vie, "that's life."?  A colleague at LNO and long time activist, Democrat supporter, Linda Baker, LNO Police Reporter and occasional columnist, is an unapologetic, uber strong  Democrat.  Other than the fact she has her politics wrong,(in my opinion), she is one of my dearest friends, who is an incredible writer , with a keen intellect and exceedingly funny.
In fact, I have a lot more issues with those who show up at Republican functions and then attempt to derail the meeting with their nonsensical arguments, while portraying they are someone they are not.
So this ain't personal, just transparency.
Colleyville maintains a clear cut "conservative majority" among it's 20,000+ citizens and the evidence is the overwhelming Republican  support in partisan elections.
"However, a conservative Republican majority, if uninformed, will not be enough to stop" phony conservatives," Christopher Paxton, Empower Texas.
So what happens when the shoe is on the other foot?  Well lets take Austin, Texas
In Deep Blue Austin the apprehension about having a Republican on the City Council had the local liberals in a state of anxiety.
J.D. Gins, is the executive director of the Travis County Democratic Party.J.D. Gins, in 2104 stated he, "believes the Travis County Republican Party is recruiting candidates to run for Austin City Council and fears if elected they will be able to build a platform to later run for state representative. Then the Democratic Party will have to spend a lot of money fending them off.
"There's no way the GOP can't see this as the only way to build a base in Travis County," Gins said in an  interview."
Andy Hogue, communications director for the Travis County Republican Party, said in his interview, "Since it's the first day of filing (to get on the ballot) we're reluctant to say who our favorite candidates are but we're grateful to have a chance to elect some conservative candidates to challenge the monolithic liberal regime we've had for decades."
Hogue said the Republican Party has offered no training to council or mayoral candidates.
However, in a state that is predominately  "Red,"  the Democrats do have an obvious new tactic to advance their ideology: that is to target non-partisan races.  When you are a distance second, the most loyal subjects are hard at work to "superstitiously," get their candidates elected locally.  There is no better example than Colleyville, Texas.
The lack of party identification make voters less likely to screen candidates on the basis of political philosophy or ideology. As a result, Democrats, in municipal elections, tend to field some of the most ardent left-wing candidates to assume elected office in our conservative state.
"Victory requires that voters are aware and understand the importance of defeating  left-wing candidates in  Democratic "test races." What Texas doesn't need are more liberals, of any party, who ignore fiscal prudence and misunderstand the role of government, at any level.
Ultimately the best candidate in this race is not simply determined by party affiliation, however, partisan actions inform a great deal of a candidate's record and political philosophy. Candidates who claim conservative values and defend past service to the Democratic Party have some serious explaining to do to principled conservative voters." Christopher Paxton, Empower Texas.
This observation by Empower Texas seems to be perfectly in line with the local political antics of one Mark Bauer.  However, while Mr. Bauer throws out the "Tea Party Bogey Man, and Empower Texas," as some sort of subversive group, it is interesting on Bauer's public Twitter feed page, he doesn't seem to flinch while using the local Rotary Club (note Banner in Background), to tout the very uncharitable remarks about President Donald Trump.  Mark is front and center below: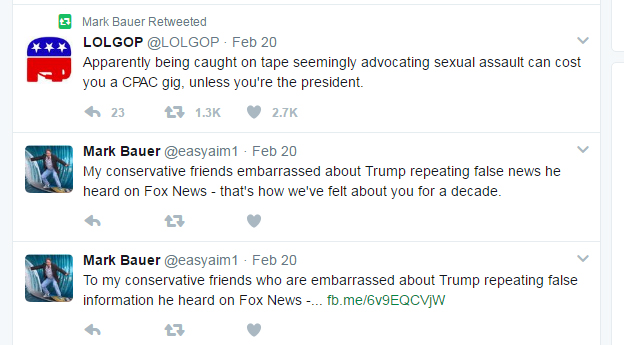 Now comes "the Tea Party" has almost taken over" the City Council.  Let's see he must mean Council Members Nakamura, Lindamood, Putnam and Mayor Richard Newton, while perennial candidate Mike Taylor and Council member, Nancy Coplen, who is out knocking on doors for Jon Bullock, get a pass!
Here is another email sent out to the masses, where it continues to appear many emails were only given to the City of Colleyville during the Mayor David Kelly regime,while others seem to be surreptitiously lifted from local charity groups, with the Tea Party and Empower Texans as villains.
I personally have known Richard Newton for many years, including years prior to the Tea Party's launch.  You know those terrible Tea Party advocates that happen to feel the government is too intrusive and taxes too high!  A belief that I share as a conservative, but have never been an actual "member" of the Tea Party.  Fact is, while I support their basic foundation, I may be a little "too liberal" considering my social issues stance.
In a message dated 4/14/2017 6:59:46 P.M. Central Daylight Time,

mbauer@coltsoft.com writes: I'm asking for your help.

The local Tea Party has almost taken over the entire Colleyville City Council and we have an important election in just two weeks. There are several candidates running who are fighting against the Tea Party's narrow interests and the outside influence of Michael Sullivan's Empower Texans. I'm supporting Jon Bullock for City Council.

I've known Jon for almost 20 years and his is a tireless volunteer for our city. He has lead the local Rotary Club, is the President of the GCISD Education Foundation, serves on the board of the North Texas Shield, and has raised thousands of dollars for GRACE and other 501(c)3 organizations that serve the disadvantaged in our area. We'll be block walking Colleyville homes this Saturday morning to support Jon and we'll have phone banks every day next week in preparation for early voting that starts on April 24th. Come join us tomorrow morning (Saturday) – we have the maps, addresses, and script.

We just need you for two hours to help us distribute door hanger literature. what: Block Walk for Jon Bullock when: Saturday, April 15th meet at 9:30 am for breakfast and to get your addresses and script Block walk: 10:00 am – Noon where: Black Walnut Café 1205 Church St, Colleyville, TX Email me or call if you have any questions. Mark Bauer (817)xxxxxxxx
mbauer@coltsoft.com
A response from one Colleyville Citizen
From:xxxxxxxxxxxxx To: mbauer@coltsoft.com Sent: 4/14/2017 11:17:25 P.M. Central Daylight Time
Subj: Re: Jon Bullock for Colleyville City Council
Dear Mark,
I know the folks you are labeling Tea Party, and they have worked with me on several issues in which I have been involved. I don't care if they're the Schmea Party, Mark! They listen to voters, they work as a team to get things done, and they are getting through to City employees in a way that no one has seen for a long time. Neither Richard, Chris, Tammy or Bobby have in any way exhibited narrow points of view or interests to me. What all four have demonstrated is that they are focused on one thing: fair representation of Colleyville citizens. Most of my neighbors–including my HOA–are very pleased with what Richard Newton, Chris Putnam, Tammy Nakamura, and Bobby Lindamood have done for them. Of considerable interest to my neighbors are: the need for "pocket parks" in east Colleyville, control of out-of-control developers and builders, making sure that City employees listen to and are responsive to the council members who represent us, providing adequate stormwater drainage control, and ensuring that Glade Road retains its rural character during the upcoming upgrade process. I'll be blockwalking for Kathy Wheat (check out her vitae and George's–you'd be impressed!) tomorrow, so may see you around. Regards,
The same PAC group, "Protect Colleyville" that backed their candidates with scare tactics,(like the flyer below) last May's city election,  when all three of their candidates were soundly rejected with a 62% vote.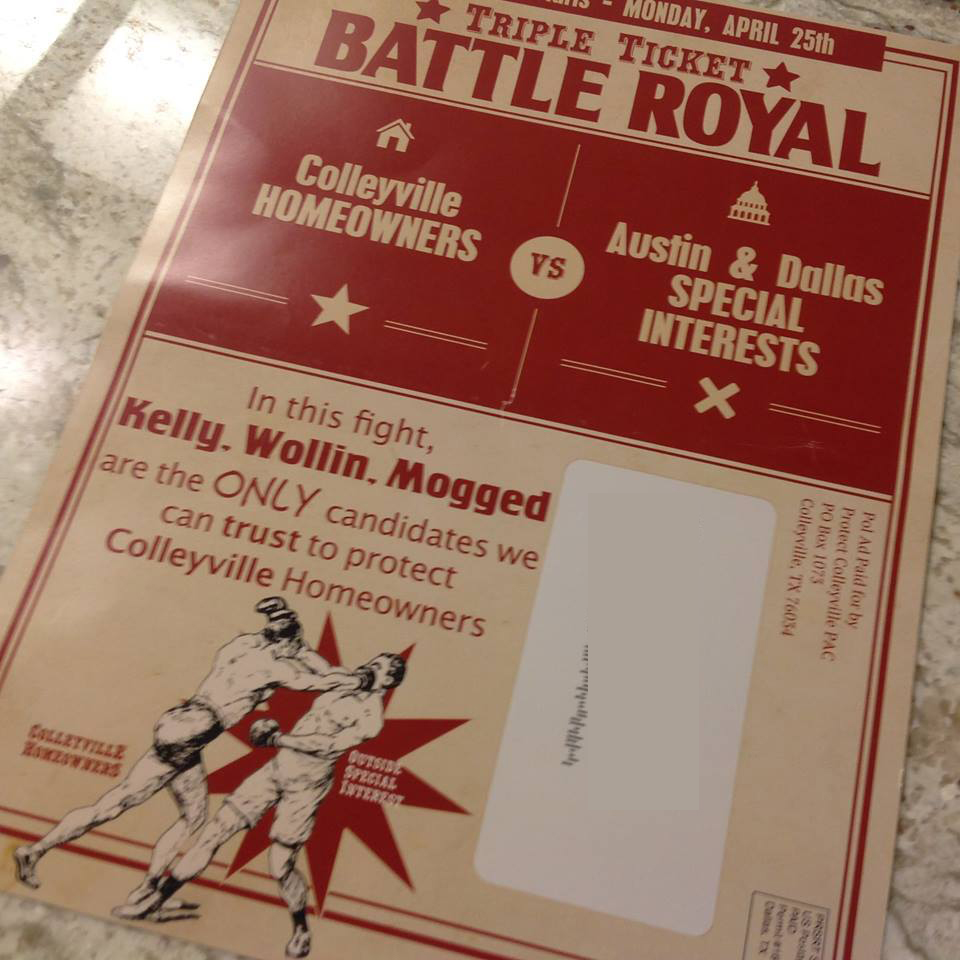 So while Colleyville's municipal election is officially "non-partisan," it would seem to the most casual observer that the Democrat liberal contingency support, Jon Bullock and Chad LaPrelle seen on the left and right below at a Meet and Greet.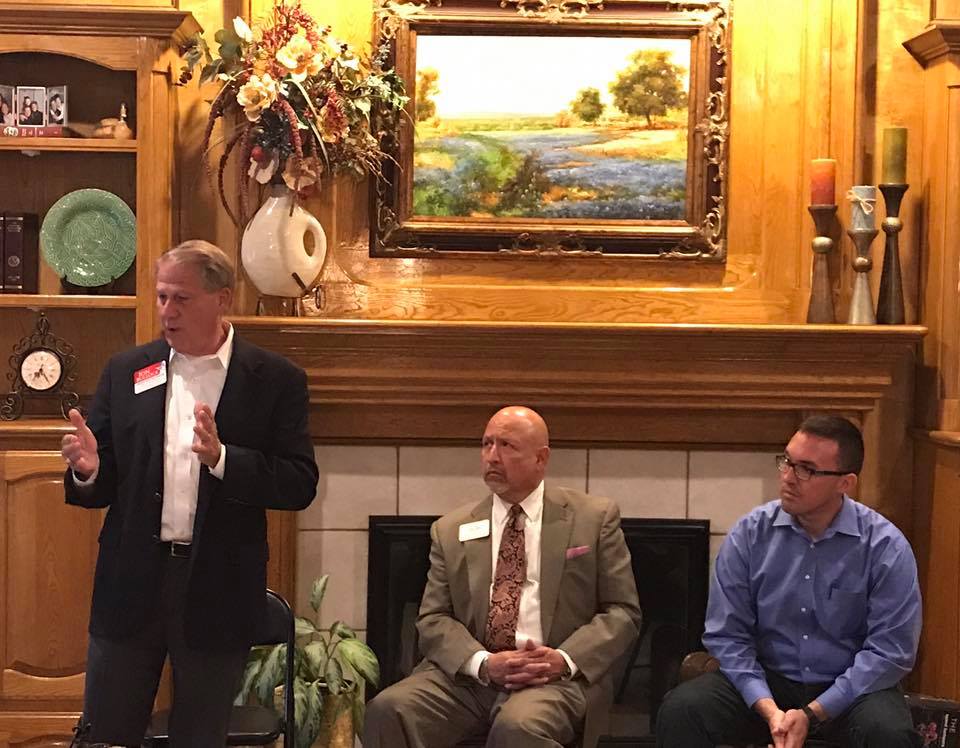 Jon Bullock who ran as an "Independent" against Congressman Marchant. The same independent who acknowledged being a Hillary Clinton voter and whose campaign is managed by the leading liberal activist in NE Tarrant.
So while not a "partisan" election, let's simply be clear where these two stand.  LaPrelle has already stated that he is against the current council that favor only a few?  This sorta sounds like another time when his step-father served 11 years, without interruption, as Mayor of Colleyville before losing to the current Mayor Richard Newton with the new Mayor receiving 62% of the vote!
The final candidate Mike Sexton, has while responding to LNO's written questions, refused to come to an interview with LNO "unless I have the questions in advance."  I don't think was the same criteria for the other speaking engagements? Oh, well, I don't know the man, wouldn't know him if I ran into him, however, his attempting to wedge a spot on council by claiming he is a "unifier,"
doesn't seem credible while he only claims the title, but will not respond without questions in advance, while LaPrelle refused to even answer the basic questions the other 4 candidates submitted and Jon Bullock was out of town with his Rotary Club, so missed our deadline for an interview, although we agreed to extend for the following week.
Oh well, I simply cannot reconcile the fact that Mr. Bullock was a staunch supporter of Hillary Clinton, but now wants to lead on a City Council where 82% voted for term limits, to you know, if not to "drain the swamp", at least keep out  masqueraders in the swamp.
Conclusion; that is why LNO is endorsing Kathy Wheat Place 3 and George Dodson Place 4 for the upcoming city council election, early voting beings April 24 at Colleyville City Hall and 
ELECTION DAY
Saturday, May 6, 2017
7:00 A.M. – 7:00 P.M.
BRANSFORD ELEMENTARY SCHOOL
601 GLADE ROAD, COLLEYVILLE
The following is a response to this Column received April 19, 2017
Jon Bullock Responds – My Voting Record LNO recently published an editorial that may have given you the wrong impression regarding my voting record and political leanings. So I wanted to give you all some background and set the record straight. At a recent candidate forum, I provided an intensely personal explanation of why I voted the way I did in 2016. I had hoped that simply telling the truth would put the issue to rest.
Unfortunately, it seems that the explanation got lost in the shuffle. I am not going to subject my family to any further discussion of our personal business. That is closed. However, in the interest of telling the whole truth, I wanted to give you some background. I became a Republican in 1971. The first president I voted for was Richard Nixon. In the 1980's I supported Ronald Reagan, as well as George H.W. Bush. (Patty and I are still contributors to the Bush Library at Texas A&M.) In 2008 I worked on the John McCain Presidential campaign.
While working, at my own expense, on the McCain campaign in South Carolina I met Senator Lindsey Graham, and was impressed with his straightforward style, balanced economic approach and detailed grasp of Middle-Eastern politics. In 2012, fed up with partisan gridlock, I attempted to run for US Congress as an Independent candidate. (Luckily, I did not quit my day job.)
In 2016, I supported Senator Lindsey Graham's bid for President. (Luckily, he also did not quit his day job.) I subsequently supported almost every other Republican candidate, all of whom were defeated. But in the general election, for many reasons, including the personal reasons I referred to above, I could not in good conscience support the Republican nominee, and I supported his opponent.
Now that he is President, my prayer is for him to guide our country with dignity, honor and wisdom. I have friends across the political spectrum. I have many Republicans (some of whom are Republican precinct chairs), Democrats and Independents supporting me. Mark Bauer is a good friend, and he is helping me with my campaign, but he is not my Campaign Manager. If you want to check voting records, you will find that I have voted in pretty much every Republican primary for the past 26 years. I also have been a long-time member of the Northeast Tarrant County Republican Club. I strive to be open-minded and to listen to opposing views.
It is especially important to put partisan politics aside when dealing with city issues. But I knew this might matter to some of you and I wanted you to know the whole truth. Thank you. Jon Bullock Candidate for Colleyville City Council, Place 3