Mon 5/1/2017 10:10 PM
Dear Mr. Bullock:
We received the attached mailer from you in which you attempt to excuse your vote for Hillary Clinton because of her opponent's attitude and behavior toward women and because you have two daughters.  I found your email both disrespectful and disingenuous.   Disrespectful because you obviously assume that the citizens of Colleyville are not very bright and are ill-informed and that the dimmest and dumbest among them are the women voters.  Disingenuous because your preferred candidate is hardly the paragon of protecting women's rights as you  posture.
NO INTEGRITY
First, if you truly voted for Clinton on this ground I question your judgment.  You may wish to protect your daughters but what about our sons and soldiers at Benghazi?  What about the security of our country when your candidate knowingly violated the law by setting up a private email server and then lied about it to Congress?  What about Whitewater?  What about her secretly cheating in the debates and getting questions early?  What about the billion dollar payments to "Friends of Bill" after the Haiti earthquake? What about the Clinton Foundation and the financial shenanigans engaged in by it with other countries?  The list of Clinton scandals, malfeasance and personal misconduct is endless.
HYPOCRACY
I would pose a question to you since you have sought my vote.  Would you have let your daughters visit the White House had your candidate won?  Would your answer change if you knew your candidate's husband was going to be home?
As a staunch defender of women's rights how do you explain a vote for someone who has been an enabler for one of the most prolific sexual harassers and serial adulterers to ever occupy public office.  Not only did she enable him but she defended him and attacked the women who complained about him calling them bimbos and no doubt worse in private.  Of course the truth came out and I have yet to see her apologize to Ms. Jones, Ms. Flowers and all of the others she attacked to protect someone who makes Donald Trump look like a protector of women's rights by comparison
WOMEN ARE NOT TWO ISSUE MORONS
It seems that liberal politicians think that all you have to do is say "I am against sexual harassment and in favor of abortion" to get the female vote.  As the last election demonstrated, women are not that shallow, self-absorbed or stupid.  Putting such intellectual giants  as Rosie O"Donnell, Katy Perry, Cher and Barbara Streisand to the side, thinking women have much more substantive concerns than liberals seem to think.  We care about our economy, our military and the defense of our country, the integrity of our borders and the Constitution of the United States-which is not an outdated piece of paper as your candidate and her clone, Obama, seem to think.
Likewise the liberal buzzword "divisive" does not automatically invoked the liberal knee-jerk negative response.  Liberals call everything divisive with which they disagree.  Fortunately our country survives the liberal handwringing over divisiveness to forge a strong republic hopefully inoculated to the platitudes of the liberal media and its minions.
ABOUT YOU CORRESPONDENT
A final word lest you think that this email is from someone who has done nothing for her fellow man.  I taught migrant workers in the Rio Grande Valley who came to Texas legally and worked hard for their education while working in the fields to feed their family.
I chaired the Women's Shelter Board of Directors for several years and simultaneously chaired the committee which arranged the merger with the Women's Haven resulting in the creation of SafeHaven, the leading center for protecting women against domestic violence in the North Texas area.
Suffice it to say I have devoted 25 years to volunteer work for Meals on Wheels, the Heart Association, served on the Board of the Children's Advocacy Center, and was President of Mid-Cities Supporters of the Shelter, again a much more serious endeavor than overreacting to some boorish statement by a candidate.
Finally, I was the Executive Director for a rehabilitation center serving handicapped and mentally challenged young people and adults.
GET REAL
Since you voted for Clinton knowing these facts I have to seriously question both your justification based on protecting women's  rights as well as your judgment.  With that in mind I would be concerned that you would follow the leadership of the soundly rejected former Mayor Kelly and his former cohorts as well as the current spokesman for those positions, Mike Taylor, in confiscating citizens land along Glade Road, squandering our tax dollars on road improvements which improve nothing such as was planned on Highway 26, increase our taxes by not reducing the rate even though property values increase, opposing term limits and financial transparency for all city staff, and the mistreatment and rudeness displayed by that group to the citizens of Colleyville who did not agree with them.
I will be voting for George Dodson and Kathy Wheat for City Council in the hope they will continue in the path of Mayor Richard Newton, Mayor Pro-Tem Chris Putnam, Councilmen Bobby Lindamood and Councilwoman Tami Nakamura for the betterment of Colleyville.
Bonnie L. Carroll
Colleyville, Texas
Tue 5/2/2017 1:45 PM
Mike Sexton  Lipstick on the Protect Colleyville PAC Pig
With early voting now completed LNO now can confirm what has been suspected for some time. The Chad LaPrelle candidacy for city council place 4 was a complete fraud – a decoy to draw fire away from their real candidate, Mike Sexton, in what is now an open and public collaboration with Bullock and his Protect PAC supporters.
Sexton duped many in town by trying to play "the man in the middle who can mediate factions" when all along he was perpetuating an elaborate con the voters. His campaign has been quietly supported by the Protect PAC camp which was validated yesterday by comments from former councilmen who run the Protect strategy. Protect quietly instructs their voters not to vote for LaPrelle but Sexton because they know candidates they publicly support risk losing by wide margins such as seen in last year's slate 62% – 38% slate election that ushered in a new Mayor and council majority.
Sexton plays both sides in the meantime while counting on the same Protect/Democrat coalition that sustained the past administration for over a decade to deliver him a victory this weekend. Sexton has attempted to con and manipulate voters since the outset of his campaign.
He started by trying to convince many conservative elected officials including State Reps, a Senator and several of our own council people active in the conservative movement that he was "one of them, a committed conservative Republican" to garner their support for his campaign.
This first con was exposed when some of Sexton's own friends and neighbors outed him as a vocal liberal democrat. Sexton initially claimed to be "a republican primary voter" which is the standard game played by liberal candidates in non-partisan elections to confuse voters. When caught in his lie he then quickly changed his story and claimed to have voted for Libertarian, Gary Johnson. He did finally publicly acknowledge being an Obama voter because it was too difficult to hide after defending Obama and his policies publicly for many years.
Sexton also told many people he met with prior to the campaign that he was running for city council "as a stepping stone to higher political office". He has never publicly denied stating this to multiple people. The point here isn't that Sexton is a liberal democrat. It's that he and the Protect PAC have engaged in a willful and deliberate fraud on the voters, as well as the many elected officials who took the time to meet with him.
Sexton's employment history is also a source of great mystery and bears questioning by voters. It seems to be acknowledged that Sexton has been unemployed for some time, and there is no record of the triathlete training "business" he claims to have sold being any kind of going concern. Sexton's own LinkedIn Profile  https://www.linkedin.com/in/tridaily/ reveals two stints of less than a year in Pharma/Sales. His longest noted employment stretch at a bona fide company was four and a half years at "Enterprise Rent a Car" and there's a five-year gap in employment history.
It begs the question – what qualifies Sexton to represent our taxpayers other than being a likable con man? With last year's overwhelming election results Colleyville seemed to have fully moved past the days of these type of self-serving politicians running our city. The Sexton/Protect con on our voters should be offensive to every person who isn't mixed up in the shameful cabal of bitter, angry long-time city insiders who remain apoplectic that Colleyville's own citizens voted in record numbers last May to end their decade-plus closed system.
Jessie Smith
Colleyville
In Response to the Protect Colleyville Hearing Article, the following individual , Jill Horton Tate, on Facebook a statement and link to a TEC Resolution TEC Resolution Re-Posted Here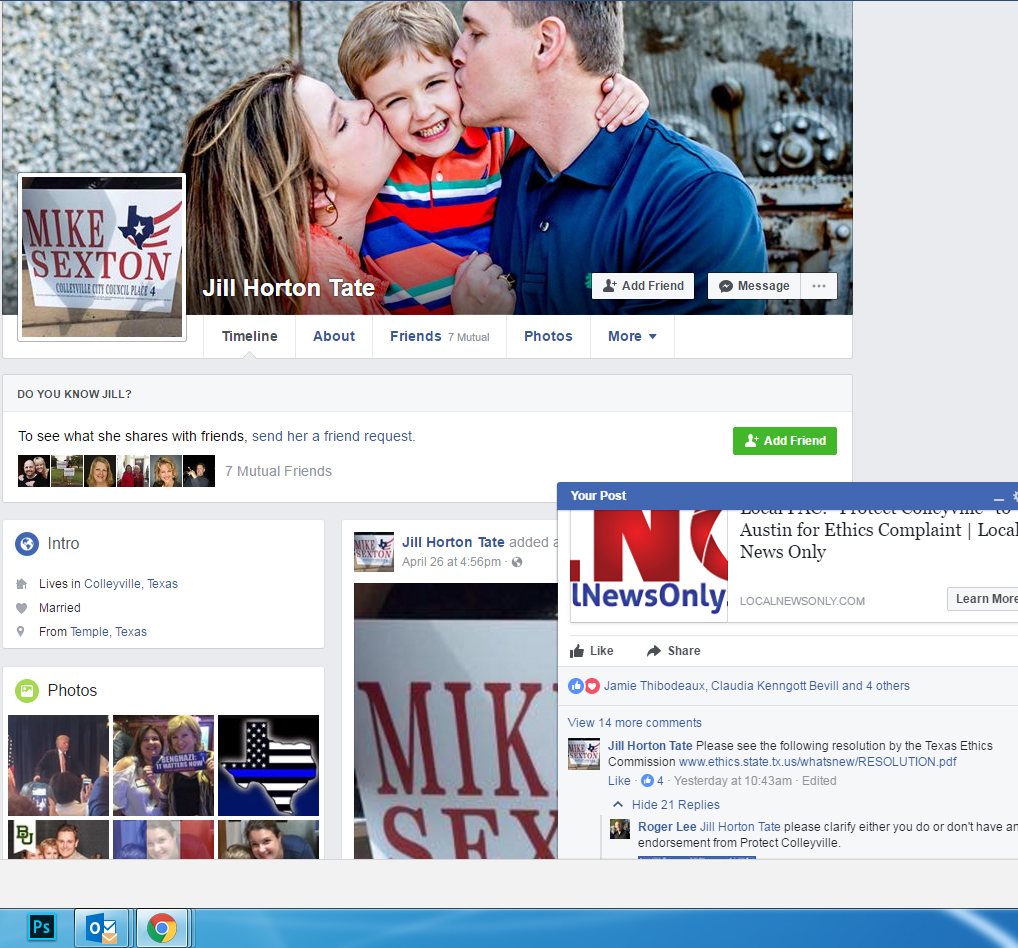 TEC Resolution Posted Here: RESOLUTION Ethics commission
Mon 5/1/2017 11:06 AM
Thank you. I really have worked hard to separate myself from all PAC activity and I am disappointed that I am being dragged into anything related to it. They have many supporters who are voting for me, but so does Preserve and that doesn't equal PAC support either.
The assertion is almost the equivalent of saying a police officer is voting for me and supporting me so I have the police departments endorsement. I have run a clean, above board campaign the entire time and will continue to run on the issues and my platform. Thank you for the response and I will respectfully ask for you to discontinue adding me to articles that relate to any PAC activity.
Thank you Mike Sexton.
Wed 4/26/2017 11:58 PM
This story keeps going. The McCusker site was taken over they did a reverse merger on a otc pink sheet and are selling stock. Who ever took over the website transferred it from anothe buisness where they were scamming people the address on the website and Company is a leading developer of customer support ..
McCusker Holding Corp   4508Colleyville Blvd Colleyville, TX 76034 …
For commercial use permission, contact McCusker & Company Inc. at the above address and your …McCusker and Company is a leading developer of customer support … McCusker Holding Corp 4508Colleyville Blvd Colleyville, TX 76034 …
For commercial use permission, contact McCusker & Company Inc. at the above address and your … The web site is down right now? The ticker is ORRV on the market. Per the bbb they are rated f fake linked in profiles the folks on Ihub believe in it because they can make money. they have been tweeting it for months about a merger just a big scam Local Man..Solicitation of Minor, Listed at Company where Owner Arrested for DWI and Owner lives in City Manager owned Property .
Dirk Diggler
Note: LNO notes that the Company's site does list a reverse merger, however LNO has no independent information concerning the status of this group
Mon
4/24/2017 10:39 AM
Hi Nelson, I enjoy your newspaper and your election coverage but I would like to raise a couple points with you.
1. Disparaging someone's voting record is unAmerican and not in line with the values our founding fathers encouraged for our nation. As a longtime moderate republican, I find the Trump regime detestable and incredibly harmful to the Republican Party and to our nation. I'm hardly alone in my view.
Trump is a populist and totalitarian. Not a Republican. The Clintons were DINOs. 2. You may want to hire a proof reader. Sincerely, John Vanderdix
Thank you John for your comments; yeah a proof reader would be nice but hasn't been in the budget as a FREE site for 17 years, so yes we do make more than our share of grammatical mistakes and typos, however. I don't believe LNO was "disparaging" a voting record, only the efforts from those who want to mask their voting record in an effort to be elected.
Editor
2017/04/21 at 6:56 pm
Speaking as a resident who has lived here most of my life, I am extremely concerned with what I see the "Protect Colleyville" PAC attempting to do to the peaceful, conservative Colleyville!
Due to the hard work of the early residents' vision for the future of Colleyville, the residents united and ran the high density developers out of town, and implemented the half acre minimum per residence, and NO to high density!
Because of their foresight, Colleyville is STILL a desirable place to live and raise a family. Colleyville does not need "change." In my opinion, anyone associated with the "Protect Colleyville" PAC has a motive other than to protect Colleyville! Their deception is evident if one researches the past elections' antics. Colleyville needs Kathy Wheat and George Dodson to keep her the beautiful city that we all enjoy!
Kathy Hadley, Colleyville
2017/04/20 at 9:33 am
Last night in the "forum" the candidates talked about the past and acted as if it's ancient history. But this week two glaring items came up suggesting it's not the past. He claims he is not supported by the PAC but rather a few friends whom are part of the PAC.
When clicking on the unsubscribe button on the emails, you were directed to a logo of Protect Colleyville. Then yesterday another blow up occurred when it became apparent that the same Protect Colleyville folks were actually the ones running the forum rather than the league of women voters. Jon's own comments detailed by John Zeitlin demonstrate he was very aware of the charade and in fact gave insight of their plan to try to rebuild that PAC by using the chamber's credibility.
His support for the long list of RINO loser republicans, then his vote for Hillary gives plenty of insight into his judgement. His consistency in not being honest with us regarding his involvement in the PAC, and his refusal to correct the falsehoods being told by his supporters all over town give us insight into his integrity.
I used to think he was a nice guy, and I suppose he is, but I trust him about as much as I do Mike Taylor
David Medlin, Colleyville.
2017/04/19
Jon Bullock Responds –
My Voting Record LNO recently published an editorial that may have given you the wrong impression regarding my voting record and political leanings. So I wanted to give you all some background and set the record straight.
At a recent candidate forum, I provided an intensely personal explanation of why I voted the way I did in 2016. I had hoped that simply telling the truth would put the issue to rest. Unfortunately, it seems that the explanation got lost in the shuffle. I am not going to subject my family to any further discussion of our personal business. That is closed.
However, in the interest of telling the whole truth, I wanted to give you some background. I became a Republican in 1971. The first president I voted for was Richard Nixon. In the 1980's I supported Ronald Reagan, as well as George H.W. Bush. (Patty and I are still contributors to the Bush Library at Texas A&M.) In 2008 I worked on the John McCain Presidential campaign. While working, at my own expense, on the McCain campaign in South Carolina I met Senator Lindsey Graham, and was impressed with his straightforward style, balanced economic approach and detailed grasp of Middle-Eastern politics. In 2012, fed up with partisan gridlock, I attempted to run for US Congress as an Independent candidate. (Luckily, I did not quit my day job.) In 2016, I supported Senator Lindsey Graham's bid for President. (Luckily, he also did not quit his day job.)
I subsequently supported almost every other Republican candidate, all of whom were defeated. But in the general election, for many reasons, including the personal reasons I referred to above, I could not in good conscience support the Republican nominee, and I supported his opponent. Now that he is President, my prayer is for him to guide our country with dignity, honor and wisdom. I have friends across the political spectrum. I have many Republicans (some of whom are Republican precinct chairs), Democrats and Independents supporting me. Mark Bauer is a good friend, and he is helping me with my campaign, but he is not my Campaign Manager.
If you want to check voting records, you will find that I have voted in pretty much every Republican primary for the past 26 years. I also have been a long-time member of the Northeast Tarrant County Republican Club. I strive to be open-minded and to listen to opposing views. It is especially important to put partisan politics aside when dealing with city issues. But I knew this might matter to some of you and I wanted you to know the whole truth.
Thank you. Jon Bullock Candidate for Colleyville City Council, Place 3
2017/04/18 at 8:28 pm
Do you ever get tired of bashing David Kelly?
I'm guessing not ? I'm neither a supporter or detractor of his, but do get a little worn out on your apparent obsession with him.
Brian Makins
In reply to Brian. First of all,
I was not "bashing" David Kelly during his early terms as Mayor; as a matter of fact, LNO and Editor we were supportive of his early inclusive style. However, he "morphed" into a gavel banging Mayor attempting to suppress public voices in the City Council chambers.
The nickname he was often referred during his last years on City Council was "Little Caesar" The comments in this Opinion piece was inspired by the fact he has thrust himself back into the political spotlight by his thinly veiled attempt to get on the Colleyville City Council superstitiously through his step son Chad LaParelle.
Chad may be a fine police officer in Frisco, but that does not qualify him to be a placeholder for his step-dad (David Kelly) on Colleyville City Council. The November election for the City Charter Amendments passed with 86%. Kelly is barred from seeking the Office of Mayor for, at another 2 years.
However, Mr. Kelly COULD have run for a council seat this election cycle (he is not barred from running for another position on City Council), if he was so anxious to get his influence back on City Council. But alas, he throws Chad into the fracas whom has proven to have limited grasp of city issues. Chad took up the "battle cry" the current majority of council only serves a few; however this ignores the fact the new majority has greatly expanded involvement on city committees by citizens, when in fact, under Kelly, citizen participation was at a low point to the point that terms were virtually ignored in order to keep the same group in power on critical committees.
Editor@localnewsonly.com