When a gunman allegedly shot five people at a congressional baseball practice in Alexandria, Va., his actions also impacted his hometown in Illinois.
USA Local Community News, June 15, 2017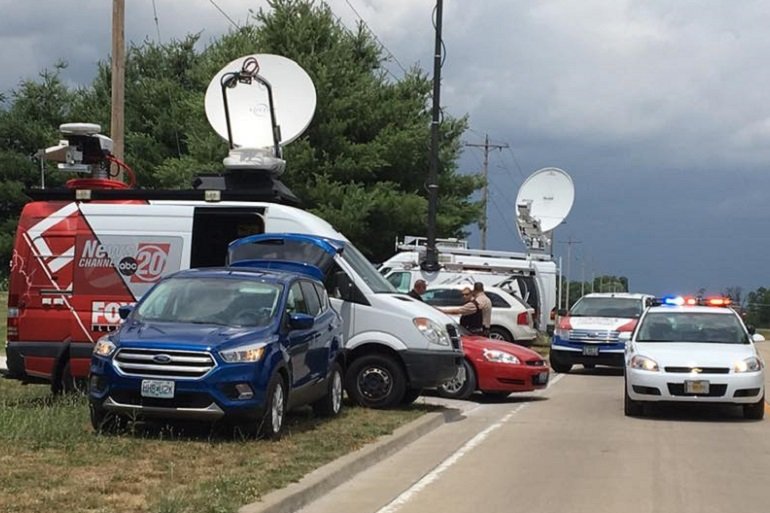 News vans converged on the Belleville, Ill., home of James Hodgkinson, who allegedly shot five people at a congressional baseball practice in Virginia on Wednesday.
When Mark Kern woke up Wednesday morning, he never could have anticipated the kind of day he ended up having. It turns out he shared his hometown with James Hodgkinson, who is alleged to have shot five people at a congressional baseball practice in Alexandria, Va., Wednesday.
Hodgkinson, who died from his injuries, lived in St. Clair County, Ill., which is just east of St. Louis. He had once worked as a contractor for the county itself.
For Kern, who chairs the county board, that meant his day was spent answering questions about Hodgkinson's past. He received so many media calls, he says, that a "smart aleck" friend called his cellphone and announced himself as Wolf Blitzer, the CNN host.
Kern hopes that the shooting will prompt discussion about increasing funding for mental health.
"Community mental health programs are vitally important," he says. "I'm not saying that would have stopped this. What I'm saying is, it helps and it certainly makes a difference in the community."
The state of Illinois hasn't passed a budget since 2014 and is notorious for being billions of dollars in arrears on bills that have been authorized, including payments to health providers.
"The state continues to cut funding for community mental health services," Kern says. "That, added to that the fact that payment for private agencies that provide these services are either delayed or nonexistent, is putting these agencies out of business."
Governing spoke with Kern about what it was like for county officials to suddenly find themselves facing a media storm stirred by events that took place 800 miles away. This interview has been edited.
My understanding is that Hodgkinson had been a contractor for the county and dealt with lead paint issues, but then he had some personal problems.
He supposedly did a really good job at what he did. In 2003, an employee came to work and [Hodgkinson was] standing there going through a desk. He said he was looking for a check. She said checks are mailed out.
He raised his voice and got vocal and he was told to leave. There used to be a bank on the first floor of that building and he caused a ruckus in the bank also. It was then determined that he would be barred from doing business with St. Clair County, and he was.
He came back in 2012 and asked for paperwork to be reinstituted as one of the independent contractors that we use for that service. He never turned the paperwork back in. He wouldn't have been approved.
Is that common, for the county to bar contractors because of their behavior?
If you're going through a desk — he [didn't] work there. That would be like going through your office or your home. That is inappropriate, unacceptable behavior. He got loud and vocal and he was barred from service.
But you know, we really need to take a look at cuts that are occurring in mental health funding throughout the state of Illinois. They're the ones that provide prevention, outreach, early identification services, treatment and support for people who have mental health issues, which it's pretty obvious to me that this person did. But whenever cuts are made, it always seems that mental health services are one of the first things in line. Honestly, the funding should be increased, not decreased.
What kind of shape is the county's mental health budget in?
We have a local levy, but services have certainly been impacted. Of course, the $6 million the state owes us for probation services, which we may or may not ever be paid for, impacts the amount of money we're able to provide for mental health services in the county.
How else has the county been affected by this event? I went by the alleged shooter's house, and there must have been a half-dozen deputies there.
It impacts the whole place. The sheriff told me he's talked to People magazine and Time magazine.  The county clerk gets requests: "We want this guy's voting record." The state's attorney's office gets into it, because people are FOI'ing [making Freedom of Information requests for] criminal records or perhaps county contractor records.
It's imperative that you have a message, which is really what we tried to do. There are too many ways to get incorrect information out there. That's why we put out a written statement. We did make it clear that we never had complaints about the way he provided his services. It was just the way he came into that office.