What were you doing in 2005?  LocalNewsOnly.com was covering local news!
Colleyville, Texas  June 9, 2017

Highlighted June 17, 2005 when Colleyville's Police Chief Tommy Ingram and Colleyville Citizens welcomed home troops from Iraq.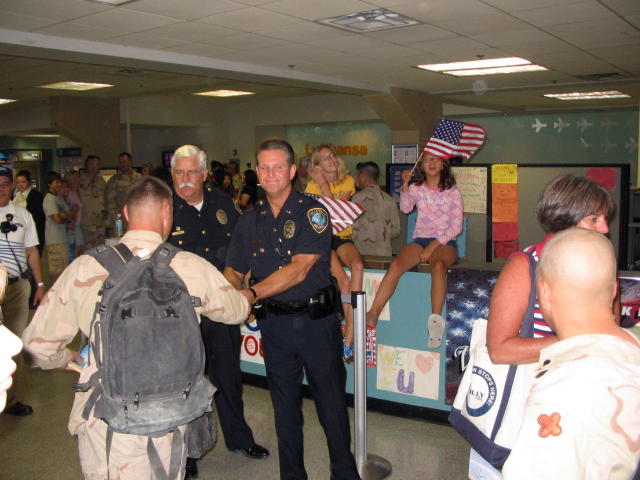 In 2005, City Manager Bill Lindley presents Lt. Cunningham with a 30 year pin as Police Chief Tommy Ingram looks on and other officers wait to surprise the Lieutenant with gifts.
Colleyville lost Lt. Cunningham from a heart attack in September 2013.
September 10, 2013 Colleyville, TX
Services Set for Lt. Cunningham
Police Lt. Norton Rodney Cunningham passed away unexpectedly on September 8, 2013. He was 61 years old. 
See activities in Local cities from LocalNewsOnly Archives from June 2005
Front Pages from LNO Covered Cities 12 years ago.
Colleyville, Texas,  June 2005 Front Page
Grapevine, Texas, June 2005 Front Page
Kelly, Texas, June 2005 Front Page
North Richland Hills, June 2005 Front Page
Southlake, Texas, June 2005 Front Page