Powered by Safeco Insurance® Make More Happen Award,  Community Support on Social Media Increases Total Donation
SOUTHLAKE, Texas (June 19, 2017) — Metroport Meals on Wheels will receive a $10,000 donation from CavnarSmith Insurance Agency in celebration of the agency earning a 2017 Safeco Insurance® Make More Happen Award for demonstrating extraordinary volunteerism to make positive change happen in their community. The donation will assist with the non-profit's mission of providing nutritional support and other services for seniors living in north Texas communities.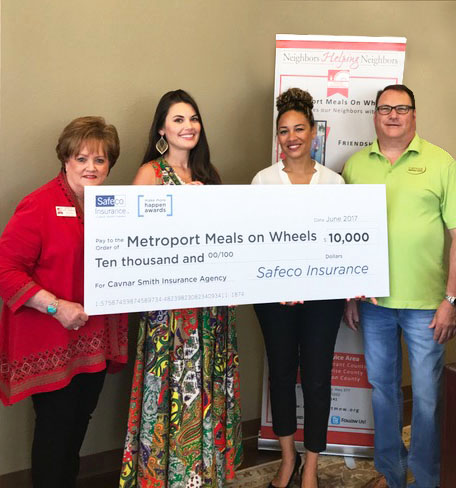 Metroport Meals on Wheels was awarded a $10,000 donation from Mosaic Insurance Alliance through the 2017 Safeco Insurance® Make More Happen Award program. (L to R)- Mary King, Metroport Meals on Wheels Executive Director; Amy Robinson, Metroport Meals on Wheels Marketing & Communications Director; LeTesha Wheeler, Safeco Insurance Central Territory Manager and Brad Cavnar, CavnarSmith Insurance agency owner.
CavnarSmith Insurance Agency originally received $5,000 for Metroport Meals on Wheels through a submission process, and this year, Safeco offered agents an additional opportunity to help the causes they care about most. Brad Cavnar, an independent agent for CavnarSmith Insurance Agency, and Metroport Meals on Wheels had a story about positive community change featured on Safeco.com. Together, they were able to raise an additional $5,000 by their story being shared on Facebook, Twitter and LinkedIn at least 50 times.
"We appreciate the community support to raise the additional funds and we are honored to be able to provide Metroport Meals on Wheels with an even larger donation," said LeTesha Wheeler, Safeco Insurance Central Region territory manager. "Safeco's Make More Happen Awards recognize agents who are committed to making a difference in their local communities, and we want to encourage them and citizens in their area to directly support local charities." Read their full story and more about the awards program at www.safeco.com/make-more-happen/winners
Safeco's Make More Happen Awards focus on non-profits in the areas of health and safety, education and civil service. CavnarSmith Insurance Agency was originally selected for a Make More Happen Award based on a photo and application demonstrating its commitment to Metroport Meals on Wheels, which is based in Roanoke, Texas and serves seniors living in over twenty surrounding cities.
Metroport Meals on Wheels combats isolation by forming relationships with participants; with the $10,000 donation, the organization is able to provide a year's worth of meals for an additional nine seniors who could not otherwise afford them.
Throughout 2017, Safeco will select a total of 23 independent agents for the awards and donate up to $230,000 to the charitable organizations they support. The Make More Happen Awards are a part of Safeco Insurance's Agent Giving Program.
 About Safeco Insurance
In business since 1923, Safeco Insurance sells personal automobile, homeowners and specialty products through a network of more than 10,000 independent insurance agencies throughout the United States. Safeco is a Liberty Mutual Insurance company.
Boston-based Liberty Mutual Insurance is a diversified insurer and the fifth largest property and casualty insurer in the U.S. based on 2015 direct written premium data as reported by the National Association of Insurance Commissioners. Liberty Mutual is ranked 73rd on the Fortune 100 list of larges