Hotel Debuts New Guestrooms, Boardrooms, Great Room and Public Areas 
DFW Airport (June 14, 2017): Hotel renovations are not new; however, a total hotel rejuvenation is more than just redecorated rooms. The DFW Airport Marriott South Hotel, located in the Centreport Business Park near Dallas/Fort Worth International Airport, has invested $10 million since last July to completely rejuvenate the 17-year old property from top to bottom.
Guests at the hotel will experience modernized guest rooms with fresh new design and color scheme, updated bathroom layout, and new in-room entertainment platform. All the public areas have also been completely re-created including a new Great Room gathering area for meals, cocktails, and socializing. In addition, the hotel has created four rooms that can be converted from junior suites to board rooms.
"We're excited to debut our new space," said Jan Vanco, general manager. "Our guests will enjoy a totally refreshed and renewed experience, from an impressive sense of arrival – including an integrated great room in the lobby, to an updated modern guest room, and a re-imagined restaurant and bar. We look forward to showing off this complete rejuvenation to our guests."
Great Room, Restaurant and Other Public Guest Areas
As guests enter the lobby they will be quickly transported to a contemporary oasis of a new hotel with touches of local influence. Guests will then continue into an area with new seating groups that will encourage guests to relax and enjoy a quiet moment, hold a small meeting, gather with friends, or view a variety of sporting events on multiple high definition entertainment centers.
This area will flow seamlessly into a new restaurant concept inside the hotel. Doc's Bar & Kitchen will offer contemporary cuisine, outstanding service, and local vibes. The menu will represent the rich culture of the local community, and items will be sourced from local farms, butchers, and bakeries. Doc's will be a modern eatery using regional inspiration and featuring live local entertainment. The rest of the atrium will feature multiple seating areas, which will be ideal for relaxing time by oneself, or a meeting with associates all while being surrounded by the modern finishes of a new hotel and exceptional design.

Guest Rooms
The hotel's 302 guest rooms feature a brand new, modern design. New paint and carpet brighten up the space. The layout has been reconfigured to provide roomy and comfortable spaces with completely remodeled bathrooms and built-in storage featuring refrigerator, coffee maker, safe and ironing board. Amenities include spa-like, waterfall showers, plush mattresses with pillow-top bedding and down comforters, executive work stations, 42" wall-mounted HD televisions with online capabilities, and wireless internet.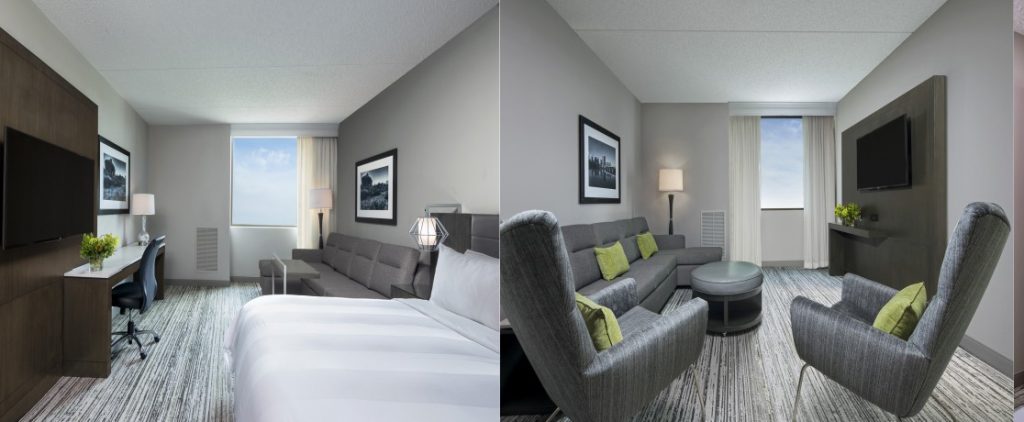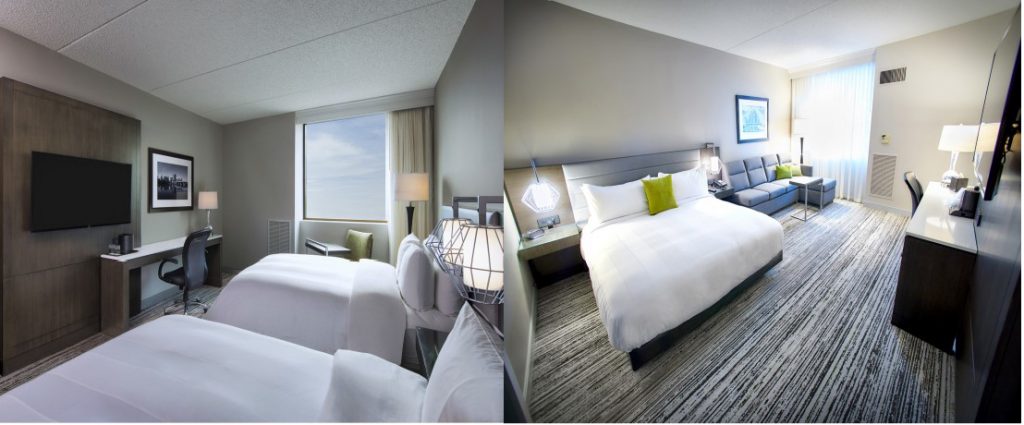 New Boardroom Configuration
The hotel has added four first level contemporary suites that have the flexibility to be configured either as Junior Suite guest rooms or as a meeting room for small groups of up to 20 people. The rooms have a 60-inch flat screen HD televisions, which will be perfect for a board meeting or for enjoying a nice, relaxing evening in the room. The rejuvenation of the guest rooms and Junior Suite/Board Rooms has been completed. The Great Room and restaurant renovations are scheduled to be complete June 30.
About DFW Airport Marriott South Hotel
Opened in 2000, the DFW Airport Marriott South Hotel, with its 302 guestrooms, is the premier full-service, luxury hotel along the State Highways 183 and 360 Corridor. The hotel is in the Centreport Business Park, and it is conveniently located just three miles from Dallas/Fort Worth International Airport, less than 30 minutes away from both downtown Dallas and downtown Fort Worth, blocks from the Trinity Railway Express railway station, and is just minutes from area attractions such as AT&T Stadium, Globe Life Park, Six Flags Over Texas, and more. For reservations and more information, visit www.dfwairportmarriott.com.