City begins construction project at Westcoat Drive and John McCain Road
Two road construction projects, one on Westcoat Drive and the other on John McCain Road, began this week.

The projects will install fresh asphalt on both roads. Work on Westcoat Drive will run from John McCain Road to McDonwell School Road. Construction on John McCain Road will stretch from Pleasant Run Road to Westcoat Drive. To ensure efficient and safe projects, traffic in these zones will closed to through traffic. Residents, emergency services, trash and recycling, and mail services will still have access.

The City has established detour routes, which are guided by detour signage.
Eastbound McDonwell School Road will detour to L.D. Lockett Road. From L.D. Lockett Road the detour will take drivers to Pleasant Run Road and then to John McCain Road.
Westbound John McCain Road will detour from the Pleasant Run Road roundabout, to L.D. Lockett Road, to northbound Westcoat Drive to McDonwell School Road.
Through traffic is encouraged to take Precinct Line Road to L.D. Lockett Road if they do not reside in this area.
City staff estimates construction ending and the roads open to all traffic by Friday, June 30.
Learn more about the construction projects throughout the city: John McCain waterline, Bedford Road retaining wall, Glade Road asphalt, Bransford Road maintenance.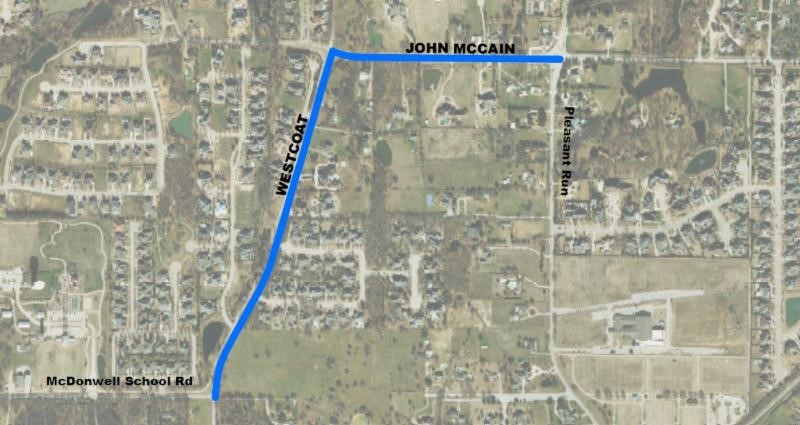 Colleyville ranks in Texas's safest cities
SafeWise completed its annual ranking of the safest cities in Texas and Colleyville is near the top.

Colleyville came in at No. 2 on the home safety and security website's 2017 ranking. SafeWise used the most recent FBI Crime Report statistics along with population data to rank cities based on the number of violent crimes and property crimes.

SafeWise uses the data to calculate the likelihood of violent and property crimes occurring out of 1,000 people. For violent crimes, Colleyville received a likelihood of 0.55, and a likelihood of 5.14 for property crimes.

Trophy Club came in at the top in this year's ranking. The City of Murphy came in at No. 3 followed by Little Elm and then Hutto.