Colleyville, Texas July 8, 2017
Editorial by Nelson Thibodeaux, Editor LNO
A great majority have never appeared before or attended even a hearing in a Texas Justice of the Peace courtroom.  Fact is to be a Justice of the Peace, you simply have to be elected by the voters, no previous requirement or acquaintance with the law is mandated.  The description of a Texas Justice of the Peace;
"A judicial officer with limited power whose duties may include hearing cases that involve civil controversies, conserving the peace, performing judicial acts, hearing minor criminal complaints, and committing offenders. Justices of the peace are regarded as civil public officers, distinct from peace or police officers."
Matter of fact the Texas Secretary of State list the following qualifications to serve as Justice of the Peace;
1.) Must be a US Citizen, 2.) Must have lived in Texas for at least 12 months, 3.) Must live in the District you serve for at least 6 months, 4.) Must be at least 18 years of age.

However, the JP Court is the "People's Court," where individuals or even corporations are not required to have a high priced attorney to argue their case, they can appear on behalf of themselves in JP Court.  There is no requirement for any background in Texas law; however there are JP Schools for the newly elected.  Needless to say this office attracts a wide variety of folks.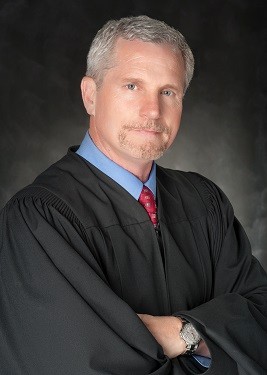 Judge Swearingin is a 1994 Graduate with honors from Texas Wesleyan University's School of Law and had been a practicing attorney, licensed by the State of Texas since 1994.
For example, there is my friend Judge Ralph Swearingin, in Tarrant County Precinct 1, who has a life dedicated to service to the community and serving the law. He has been Judge of the Tarrant County Precinct 1 Justice Court since  January 2007. Judge Swearingin brings years of law enforcement experience, legal knowledge and judicial experience to the Justice Court.
Prior to entering the judiciary, Judge Swearingin held a career in policing with more than 30 years of diverse law enforcement experience including 19-years at the command level.
He is a recipient of the Fort Worth Police Department's Medal of Valor, is a 1988 graduate of the 155th session of the FBI National Academy, holds a Master Police Officer Certification from the Texas Commission on Law Enforcement Officer Standards and Education and retired from the Fort Worth Police Department in December 2006.
A mediation advocate, Judge Swearingin has implemented in-court mediation, a complete packaged pilot program, which uses in-court attorney mediators as an approach to resolve civil suits between parties. This "In-Court Pre-Trial Mediation Program" received the Texas Association of Counties' 2009 Best Practices Award for Court Innovation.
From 2011-2012, Judge Swearingin was appointed by the Chief Justice of the Texas Supreme Court to serve on the "Task Force for Rules in Small Claims Cases and Justice Court Proceedings". The 16-member Task Force submitted months of their Court Rules work to the Texas Supreme Court. These new Texas Rules of Civil Procedure were then adopted by the Supreme Court in early 2013.
Judge Swearingin's professional credentials include: Certified Mediator; and Advanced Credentialed Mediator by the Texas Mediators' Credentialing Association; Member of the College of the State Bar of Texas and the College of Justice Court Judges of Texas; and presenter and regular speaker, training judges throughout the State for the Justice Court Judges Association of Texas.
Under Judge Swearingin, the Precinct 1 Justice Court was one of the first, and currently one of the very few, Justice Courts within the state to implement e-filing of civil cases in Justice Courts. The court's goal is to be a paperless court by the end of 2017. Judge Swearingin was recognized by the Texas Justice Court Judges Association as Justice Court Judge of the Year for 2015.
Judge Russell Casey
However, this is in stark contrast to recent antics of Justice of the Peace for Precinct 3, Judge Russell Casey.  Judge Casey's Precinct includes all or part of Colleyville, Southlake, Keller Hurst, Euless, Bedford a small area, in Haslet and North Fort Worth, as well as Trophy Club, Roanoke and Westlake.  So for the most part Judge Casey's Precinct reigns over the immediate reading and coverage area of LocalNewsOnly.com.  Judge Casey, on his web site, notes the following concerning his accomplishments.
"From the thousands of Judges and Attorneys across the state, when the Texas Supreme Court needed a leader for one of largest court Reforms in Texas history, they Chose Judge Russ Casey.

As of August 31, 2013, the Justice Courts and the Small Claims Courts in Texas have been combined. The goal was simple enough- keep what was working and change what wasn't. The difficult part was that to reach this goal the entire Justice Court system had to be redesigned. Millions of cases across the state would be affected and it had to be done right.  From the thousands of Judges and attorneys across the state, the Texas Supreme Court chose Judge Russ Casey as chairman of the task force. As chairman, Judge Casey was in charge of rewriting the book on how Justice Courts are conducted in Texas."

Even my Dallas Morning Watchdog Friend Dave Lieber was quoted as saying, "
"Pinstriped lawyers be darned. Now the rest of us have a fighting chance"          – Dave Lieber  Dallas Morning News
The Precinct 3 JP web site continues,
"The process was long and difficult, but worth the effort. Texas now has a true People's Court. Designed specifically for people to be able to represent themselves, even corporations are not required to have an attorney. Designed to be straightforward, low cost, and common sense-oriented; Texas's Justice Court is being heralded by conservatives across the nation as a model for what a People's Court should be. In a state filled with conservative judges, being considered one of the cream of the crop is a big deal. Judge Casey is recognized as one of the best JP's in the state by his fellow Judges. The state of Texas is the shining star of the nation. It is the best place in the world to run a business and the raise a family."
However, the accusation by Judge Casey that an employee in his office had conducted malfeasance concerning deposits of cash from the JP's Court, to the potential accusations of sexual misconduct by the Judge, LNO contacted Judge Casey concerning the status of the employee and received the following;
From: Russ Casey [mailto:Russ@xxxxxxxxxxxxxxx]
Sent: Wednesday, January 18, 2017 5:29 PM
To: Editor <editor@localnewsonly.com>
Subject: Dear Nelson, On August 15, 2014 I placed an employee on paid administrative leave pending an internal audit.
I had become aware that this employee had claimed multiple mileage re-imbursements, and instead of having me authorize them, she had a subordinate authorize them. I felt that these were phantom mileage claims as I did not remember the employee taking the trips that were claimed.
The audit took approximately two months. The audit  discovered that this employee had also on 81 occasions during the previous year, failed to make the daily deposits timely. In fact many of the deposits were up to nine days late and in some cases subsequent deposits were made before the deposit was taken to the bank. The employee was scheduled to be interviewed by the Tarrant County District Attorneys office in regards to these findings  on October 22, 2014. Instead of appearing for the interview the employee sent an email to the HR department claiming that she had been sexually harassed.
This placed her under Texas and federal whistle blower act protections. Tarrant County Human Resources did an extensive investigation and found no evidence of sexual harassment. The DA requested a special prosecutor from the state AG and the  grand jury investigation returned a no bill from the grand jury. The day before the whistle blower act protections expired she filed her lawsuit against both Tarrant County and myself.
There was a settlement in the lawsuit in which no money was paid to the employee. The employee is still working for Tarrant County but is no longer in my department.
From: Editor Sent: Thursday, January 19, 2017 11:52 AM To: Russ Casey
Subject: RE: follow up question
Russ, Once again thank you for your timely response.  LNO would like to follow this story to it's conclusion. We appreciate your response and would humbly ask that you inform LNO would the audit is closed with the conclusions. Nelson, Editor LNO
Response from Judge Casey:

I will do that.
From: Editor Sent: Thursday, January 19, 2017 10:57 AM To: Russ Casey

Subject: RE: follow up question

Russ, Thank you for your quick response.  We have readers that still harbor suspicions over the incident. From LNO's perspective it is clear that a Grand Jury did not Indict, therefore any criminal sexual harassment charges should be dismissed from the public discussion. A  civil Federal Lawsuit followed that did not have a decision rendered by the court for either party instead a "settlement" where no money was paid.

The follow up question is; After reading the audit of your office, it seems clear that malfeasance and failure to follow county policies were evident and apparently, the employee responsible was Martha Kibler. However, Kibler is still employed by Tarrant County, albeit it in another office. The question is why is this employee still employed by Tarrant County? It would appear the settlement, with no money paid to Kibler, is a quid pro quo; whereby, she agrees to drop the lawsuit, the county doesn't push for any punishment against Kibler and instead agrees to transfer her to another department? This of course is only supposition and, therefore, I humbly ask for your comment thereof. Nelson
Response from Judge Casey;
Nelson, I am not able to comment in regards to your question. The investigation in regards to the audit has not been closed.

Russ
However, after requesting again from Judge Casey the final status of the order, there has been no reply.  Of course, during this period a Federal Lawsuit was filed against Casey; read the following in PDF here: kibler-v-tarrant-conformed (003)
As well as an Opinion and Reprimand by a the Judicial Court in Texas
In a Texas Judicial review of Judge Casey issued the following Opinion
:17-0001-scr-opinion-issued-judge-casey-05-09-2017

Including an official Reprimand
Official Reprimand Caser by State Commission on Judicial Conduct
Map of the Precinct 3 District JP_3 MAP
With some time before the March 2018 primary, it is not known if Russell Casey will seek re-election with the burden of the reprimand and accompanying media coverage.
However, watch LocalNewsOnly.com next week for an individual for a report on a new player with an impeccable history of serving his country with distinction who is likely to be the premier candidate to replace Judge Casey, should he decide to run.