Clear Lake City, Texas   September 7, 2017
There must have been a lot of head turning, on IH 45  last week, when five Grapevine Police Cars, in a Caravan were seen headed South on the Interstate toward the Houston area.
One 9 year veteran of the Grapevine Police Department; was among the volunteers, who put their name in the hat to travel South with a commitment to provide over- worked local Police Departments, back up in their districts.  One Officer felt it was a unique opportunity to work with other police officers who were under stressful conditions in their home cities; and he simply did not want to miss being one of those volunteering to make the commitment.
Officer Brian Watts, who was not currently serving as a patrol officer, volunteered to leave his wife and 3 children for a two week call to help fellow police officers.  Officer Watts said, "We are all police officers with similar training and certified peace officers by the State of Texas.  Protocols may be a little different, but at the end of the day, the comfort of local residents, devastated by Hurricane Harvey, " was utmost in the mind of Officer Watts.  Officer Watts and four other Grapevine Officers traveled south to take up their positions in assigned districts Monday a week ago.
Officer Watts was assigned to the Clear Lake District Police Station and met up with his Houston PD Partner, Officer Scott, (seen in the photo below on the far left).  Officer Watts confirmed the devastation he has seen in the area was like nothing he ever witnessed before.  He said that he is patrolling with Officer Scott on 12 hour shifts, two per vehicle.  Driving around the area, the streets are covered high, in neighborhoods, on both sides of the street with debris being cleaned out of the homes, from dry wall, mattresses, furniture and virtually everything imaginable that could be ruined by water, some that had water more than 4 ft. inside of the homes.
Officer Watts said that residents, while working to rid their homes of damaged goods and materials, would thank the officers for giving them the comfort knowing they were watching the neighborhood for anyone hoping to take advantage of their misfortune.  "The residents say that, "they don't feel abandon," according to Officer Watts.  The neighborhoods are also closely patrolled at night by the officers.
Officer Watts said one of the most amazing sites was the day they came up behind a truck with a trailer driving in the neighborhood. Upon further investigation the Officers met a 12 -year-old volunteer named Alec, who traveled from the Atlanta, Georgia area with his dad. The father, Noe Guajardo, is a firefighter from Gainesville, Georgia.
The father and son explained they had started collecting cleaning supplies and bottled water over the weekend then Alec streamed video on Facebook live and, in turn, the two received even more donations from friends.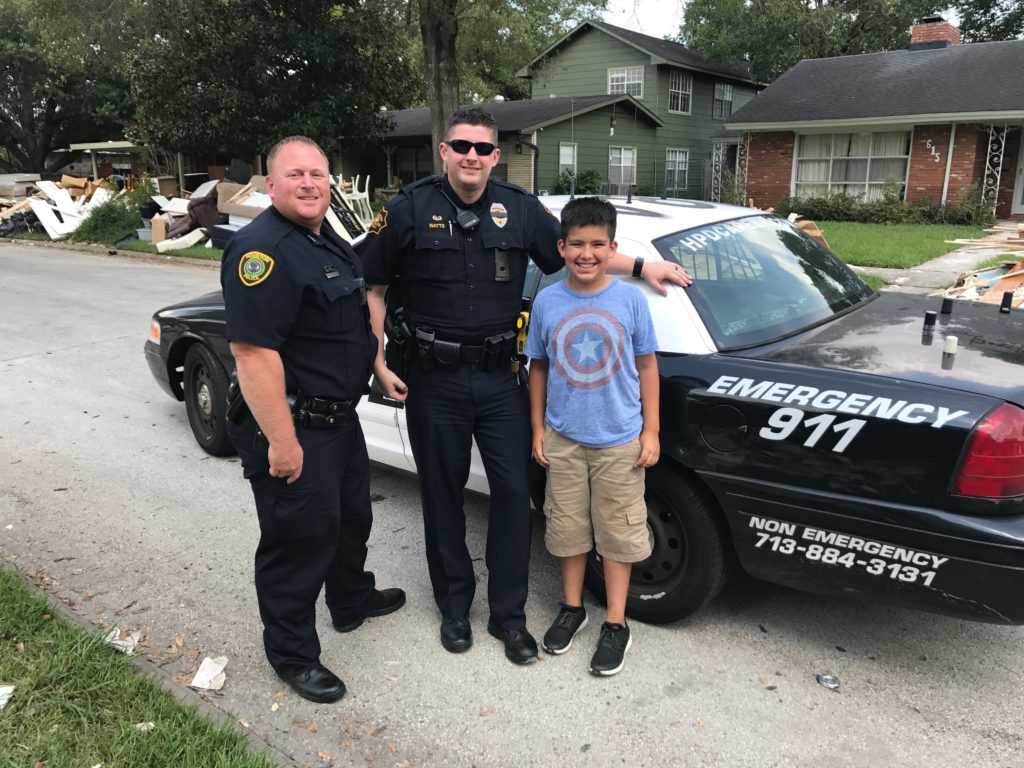 They had driven 16 hours to Houston in their truck and box trailer, then started going door-to-door handing out cleaning supplies to storm victims.  Tuesday, Grapevine Police Officer Watts and his HPD partner, Officer Scott, met Alec.  Officer Scott is on the left, Grapevine Officer Brian Watts, in the middle and the enterprising young man from Georgia, Alec Guajardos on the right in the photo above.
Mr. Guajardos, stated as a firefighter, he felt compelled to travel to the Houston area and do something of kindness to help the residents.  He said that Alec ask his Dad if he could also help and if he could travel with his Dad.
The officers were so taken by the kindness and generosity of this 12-year-old boy, he asked to have a picture taken with Alec.  The Guajardos are already back in Georgia (the dad drove straight through, then reported immediately to work for his next shift as a firefighter).