DEPUTY CONSTABLE MARK DIEBOLD'S FUNERAL ARRANGEMENTS
Deputy Constable Mark Diebold's visitation and memorial service information is as follows:
Visitation:
Monday, September 11, 2017
6:00 – 8:00 p.m.
Greenwood Funeral Home
3100 White Settlement Road
Fort Worth, Texas 76107
Funeral Service:
Tuesday, September 12, 2017
11:00 a.m. – 12:00 p.m.
Ceremonial Honors to follow
Capstone Church
4823 SW Loop 820
Benbrook, Texas 76126
Deputy Constable Mark Diebold seen in featured image having tea with the child he help birth.
Tarrant County, Sept 8, 2017
The Tarrant County Constable Ruben Garcia, in conjunction with all Tarrant County Constables and Sheriff's Office, is saddened to report the death of Deputy Constable Mark Diebold during tactical team qualifications this morning. Deputy Diebold had just finished qualifications when it appears that he had a heart attack, but the official cause of death is still unknown.
Members of the tactical team immediately started CPR and contacted emergency response for an ambulance. Emergency services arrived and transported Deputy Diebold to Alliance Medical Center in Fort Worth, where he was pronounced.
Deputy Diebold is survived by his wife and children.
Sheriff Waybourn was asked to speak for the Constable during this time of grief. When asked he said, "We are all one family. No matter what happens we have our brothers and sisters to rely on for support. No only to support each other, but to rise up and support Mark's family. They need us more now than ever. Mark was an amazing person, and his light will be missed."
From ABC News, August 2, 2016,
The Halls told ABC News that Destiny went into labor in the early morning hours of July 18.
While speeding to the hospital, Caleb Hall was flagged down by Diebold who insisted on escorting the couple.
But during the drive, the baby started coming unexpectedly.
"[Destiny] said, 'Pull over, I'm having the baby' and I said, 'No!'" Caleb recalled. "When she told me that it was happening, we were behind Officer Diebold and he had his lights and sirens going. I kind of had a small glimpse of hope that maybe we would make it."
The Halls pulled into a gas station parking lot where Diebold assisted in Evelyn's birth.
Couple's Newborn Photos Honor Deputy Who Helped Deliver Their Baby
Evelyn Joy Deborah Hall weighed 6 pounds, 11 ounces.  She and Deputy Constable Diebold having tea to celebrate her birthday below.
Funeral arrangements for Deputy Diebold will be announced once finalized by the family. Special thanks to Fort Worth PD for their support during this time of grief.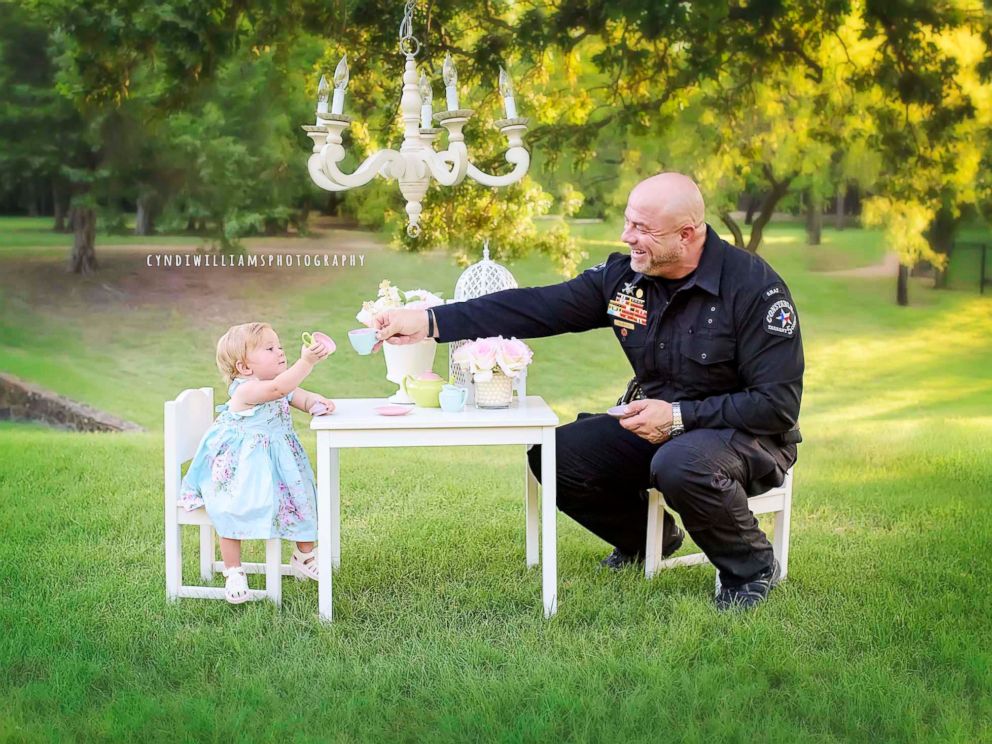 Funeral arrangements will be announced once finalized by the family. Special thanks to Fort Worth PD for their support during this time of grief.