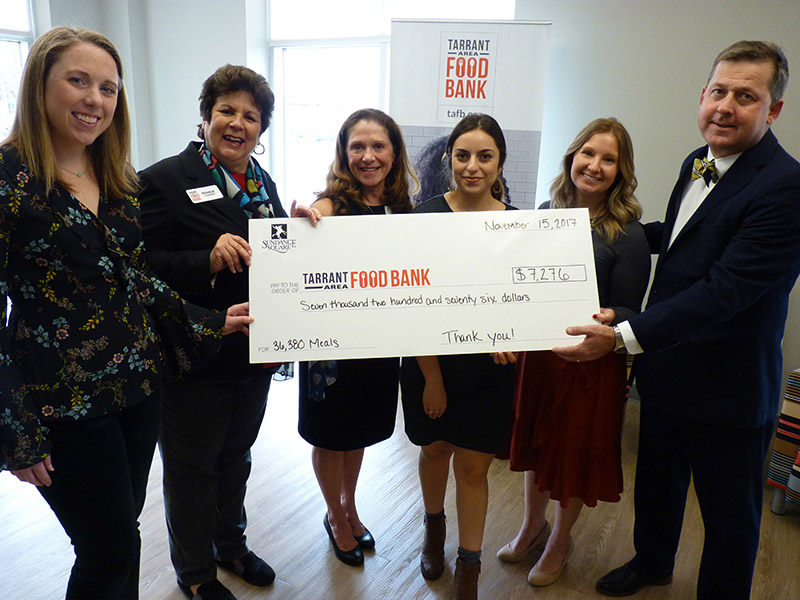 Left to right: Kathryn Bennett of Sundance Square; Francie Cooper of Tarrant Area Food Bank; Tracy Gilmour, Seehum Isa, and Mary White of Sundance Square; and Stephen Raeside, Director of Development, Tarrant Area Food Bank.
FORT WORTH (November 21, 2017) – Sundance Square recently hosted Spooky Sip & Shop, a shopping and wine tasting event, which resulted in more than $7,200 raised for Tarrant Area Food Bank. The funds will be used to provide approximately 36,000 meals for families in the community.
"We had a great time showcasing the shops in Sundance Square, offering great wines provided by In the Sack, and featuring delicious bites from a few of Sundance Square's favorite restaurants," said Tracy Gilmour, director of marketing for the 35-block development. "We are so glad that this event has helped the Tarrant Area Food Bank and will help feed families during the holidays."
Bo Soderbergh, executive director, Tarrant Area Food Bank, says that the gift from Sundance Square and local shoppers is coming at the perfect time. "With the holidays just around the next corner, we're pleased to receive this donation because it will help us make sure that no one has to go hungry this holiday season."
Sundance Square is a vibrant, award-winning entertainment district spanning 35 blocks in downtown Fort Worth. The multi-use development attracts more than 10 million visitors each year.  A one-acre outdoor plaza features restaurants, shops, water features, stage, four 32-foot umbrellas, and covered seating. For more information about Sundance Square, visit sundancesquare.com or follow the multi-use development on Facebook.com/sundancesquare or Twitter@sundancesquare.
TARRANT AREA FOOD BANK (TAFB), based in Fort Worth, holds the belief that all people deserve regular, nutritious meals. TAFB works to empower communities to eliminate hunger by providing food, education and resources through innovation and collaboration. Through a network of 270 Partner Agencies, TAFB serves 13-counties in North Texas. Learn more at tafb.org and on Facebook, Twitter, LinkedIn and YouTube.