Colleyville, Texas November 21, 2017
A Letter to the Editor by Cindy Miller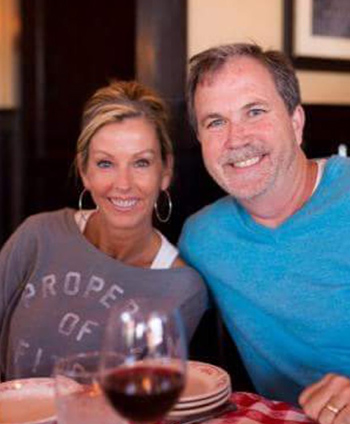 (Note: LNO has only confirmed that Mr. Kellar is an inmate in the Texas Prison System; the descriptions are solely that of Ms. Miller)
Tarrant County Resident Convicted for a SECOND Time 
You never know who your friends or neighbors are!  A costly lesson that my husband Mike Miller has learned.  He went into a business venture with Randy Kellar, only to find out after approximately a year and a half, that Randy was embezzling from him.  After my husband realized this, he Googled Randy Kellar's name, and guess what, this wasn't Randy's first offense.  He had been convicted of a third-degree felony, theft of property for embezzling from Greg Pabich, who was another long-time friend, and had been sentenced to 10 years' imprisonment, probated sentence.  This meant, he served no prison time for his previous offense, but was on probation for 10 years!
Just months after his probation ended, he began stealing from my husband's company.  The betrayal we felt was great, as we thought Randy and his wife Judy were our friends.  When confronted with the thefts, they stated they would return the stolen funds, but that never happened!  Instead they sold their expensive Colleyville home, located at 513 Harmony Lane, moved in the middle of the night and went into hiding.  They then purchased a new home in Ft. Worth, under a newly created LLC to avoid detection, and went about their lives living off my husband's hard-earned money.
I'm happy to report that we found Mr. Kellar, filed charges and he was indicted for his criminal activity.  Randy pled guilty and accepted a plea deal in exchange for a reduced prison sentence.  Restitution was a mere $50,000, but I guess it's better than nothing!  Randy now sits in a Texas prison serving a 4-year prison sentence for theft of property! TDCJ inmate #02128364, SID# 07203208.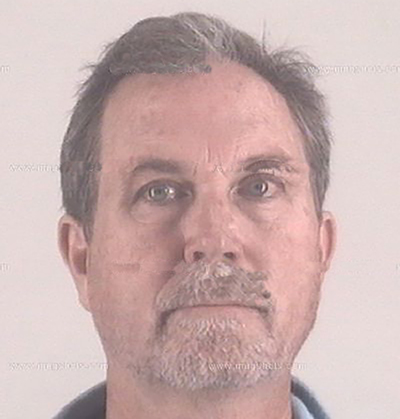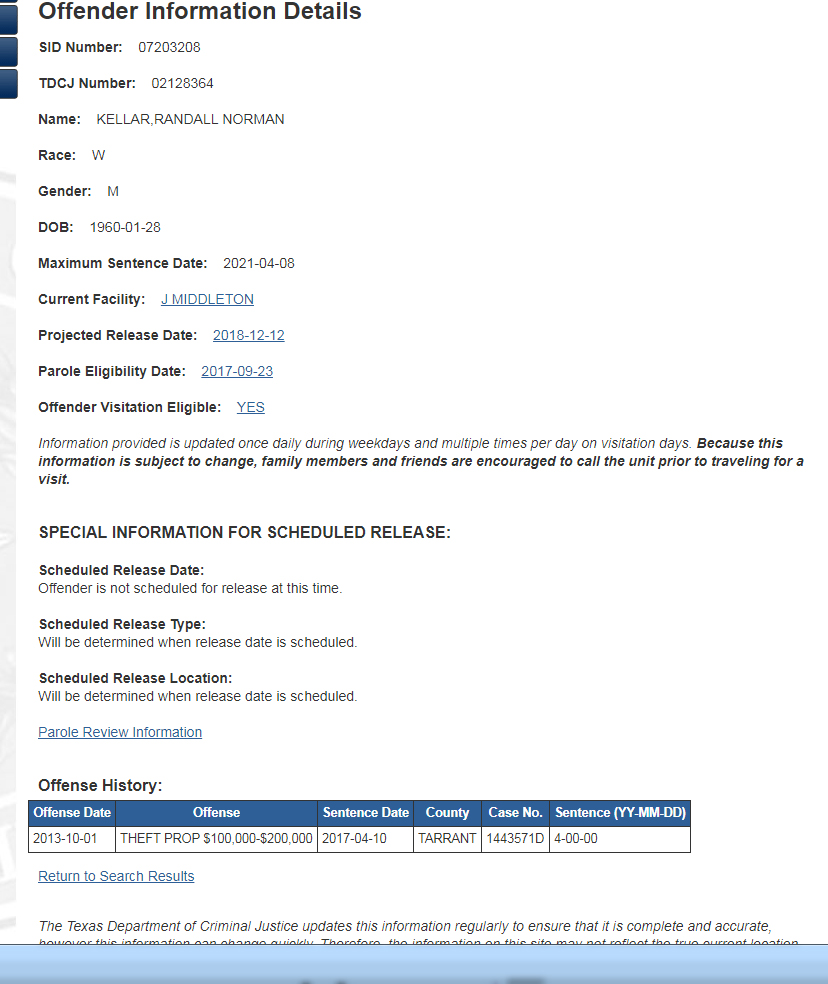 On October 16, 2017 the Texas Board of Pardons and Paroles granted Randy parole.  Fortunately for our community, it was conditional on him successfully completing an in-prison rehabilitation program for a minimum of 6 months, after which he will be released to parole supervision until his discharge date of April 8, 2021!  His rehabilitation program is scheduled to begin sometime in January, 2018, and he'll be released as early as October of 2018!
Randy's greed cost my husband and Greg hundreds of thousands of dollars, and allowed him and his family to live lavishly for years!  He professed to be a devout Christian, yet was a wolf in sheep's clothing!  He'd quote scripture from the Bible as well as any pastor, yet this wasn't genuine.  Word of advice, be cautious of anyone that seems too perfect and Godly. If they need to tell you how Godly they are, they are probably frauds!
Parole Review Information
| | | |
| --- | --- | --- |
| Name: | SID Number: | TDCJ Number: |
| KELLAR,RANDALL NORMAN | 07203208 | 02128364 |
Parole Review Status
Not in Parole Review
The offender is currently not in the review process. Offender was approved for release.
Last Parole Decision
Approved on 10/16/2017
Approved with completion of a program prior to release.