Southlake, Texas   Dec. 16, 2017
Editorial by Nelson Thibodeaux
This past Wednesday evening Jamie and I were invited by Dawn Stahl, wife of Associate Pastor Brad Stahl of the Gateway Church in Southlake to attend a prior event to the public opening of Chasing Lights.
Only Saturday and Sunday remain on the calendar to catch this amazing event at the Gateway Church in Southlake. Tickets are FREE but you must reserve your tickets by clicking on the image below.
The entire musical including lyrics, music score, stage production, and performers are all members of the Gateway Church.  However, do not confuse this with an amateur musical.  In fact, if hyou have ever attended Broadway Plays in New York City; you still haven't seen the production value this musical offers you.
If you don't see any other Christmas spirited musical, see this one!  YOU WILL NOT BE DISAPPOINTED.  In fact, if you are like me, you will be totally amazed at the special effects, the quality of the performers, as well as the message.
Don't miss this one.. Click on the image below and get your tickets!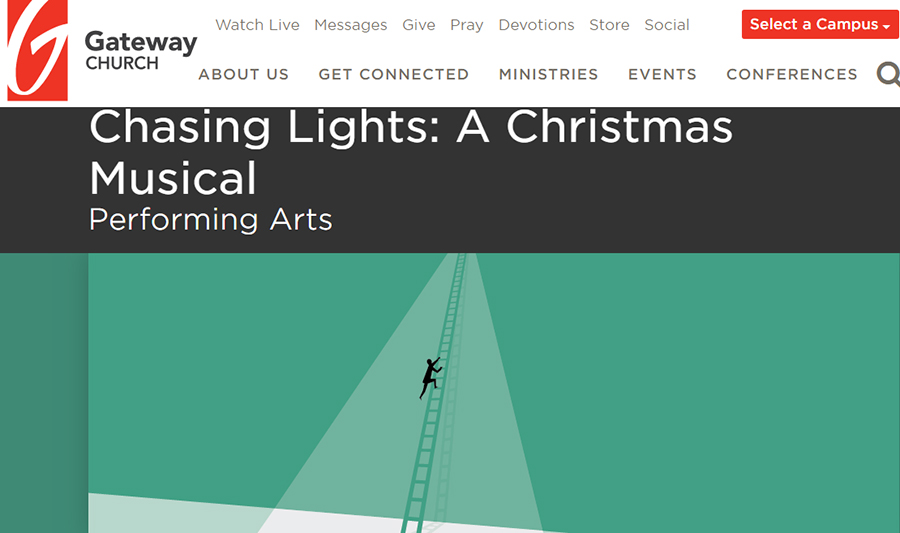 Saturday, December 16 | 10:00 am, 1:00 pm, 4:00 pm & 7:00 pm
Sunday, December 17 | 10:00 am, 1:00 pm & 4:00 pm