Seen in photo – G.K. Maenius, Tarrant County Administrator and Tarrant County Judge Glen Whitley and 
Tarrant County Texas,  December 22, 2017
Editorial by LNO Editor, Nelson Thibodeaux
Note: LNO posted a Guest Column from Ross Kecseg, of the Empower Texans Organization on December 13, 2017.  LNO follows this organization and in general, finds editorial agreement on many political matters, as such, LNO posted the following Guest Column.

However, in response to the column, one might tend to assume that, in addition to the alleged millions of dollars lost, that Tarrant County Judge Glen Whitley somehow personally profited as the Vice Chair of the Conference of Urban Counties (CUC), which in turns oversees the ongoing software effort known as TechShare.
An initial response from Pct 3 County Commissioner Gary Fickes, he stated, "Glen Whitley DOES NOT have any ownership or financial interest in any such company. CUC (Conference of Urban Counties) is an organization that represents large counties and those counties adjacent to them. It's the same as TML-Texas Municipal League and TAC-Texas Association of Counties. It's a voluntary organization and no one except their staff is paid. All elected officials volunteer their time. This is no different than multiple cities or counties working together on issues like insurance, purchasing, drainage, roads, fire stations, and jails. Yes, they had a bad vendor, that doesn't mean you junk everything they've done. The ET article is filled with half truths, and misinformation."
Tarrant County Judge Glen Whitley was out of town, however, his office contacted LNO with an opportunity for a one-on-one interview on Thursday, December 21st  concerning CUC and TechShare.
First concerning any impression that Judge Glen Whitley may somehow profit from Tech Share or CUC as Vice Chair, Whitley states emphatically, " I have never received compensation from CUC or TechShare."
The CUC website states that, "TechShare, is a program of the Texas Conference of Urban Counties, established in 2004 to help counties implement advanced technology solutions. By collaborating, counties save money by sharing the cost of research and development. These projects can produce applications, systems, or other technology assets to enable more efficient processes for administration of justice. Counties outside of the program can "purchase" the software from the counties that originally funded development. The money used to develop the software is not retained by the TechShare program.  We are committed to building county-owned technology solutions to support local communities through cost-effective collaboration."
Who is eligible to join? Any local government entity that can participate in an inter-local agreement under Texas law is eligible to participate in the TechShare program. When two or more Texas counties decide to develop or acquire a technology asset through TechShare, there's an opportunity to recover some of the original funding when additional counties join the program.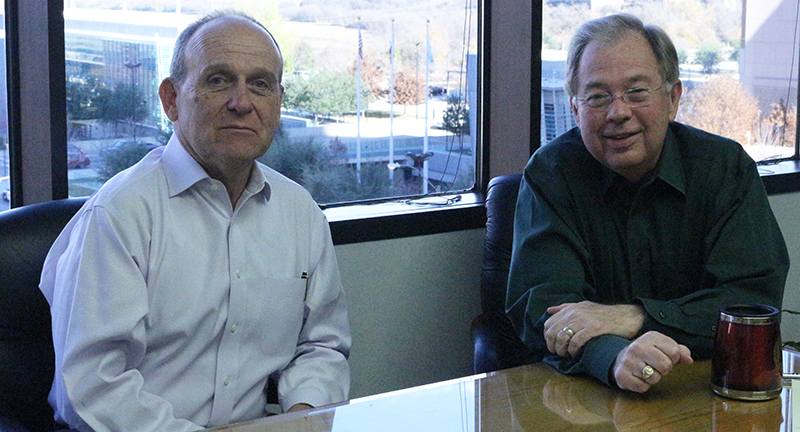 In an effort to better understand the TechShare story, LNO Editor, Nelson Thibodeaux interviewed Tarrant County Administrator G.K. Maenius and Tarrant County Judge Glen Whitley at the Tarrant County Administration Building on December 21, 2017 and the following is the Editorial impressions of LNO.
From personal experience, when an individual comes from an entrepreneurial background and is elected to a political position, he quickly learns entrepreneurial skills and government are an oxymoron.
I recall, as a former city elected official, there is one undisputed fact, in the political environment, no good deed goes unpunished.   I recall a developer David Bagwell, every Arbor Day, would literally give away hundreds of trees to Colleyville residents for local planting.  Bagwell is a skilled and generous Arborist, therefore, it seemed reasonable, at least to me, to ask him if he would consider donating and planting a large  live Christmas Tree to be featured during holiday celebrations held every year.  In July 2005, an article was posted on LNO: Bagwell Christmas Tree.
Thereafter, I was soundly criticized, by then Mayor Donna Arp, with the line that Bagwell was a developer in Colleyville and my request for a donation would sway my decisions on any issues of Bagwell that might come before the city, further that the title "Christmas Tree" might be objectionable to some Colleyville citizens.
I only recount this personal story, because it appears there are similar elements surrounding critical comments made concerning Whitley, leaving the impression that somehow an approach with the goal in mind of improving multi-county software benefits Whitley personally.  Apparently counties in Texas have struggled mightily with the software dilemma, at least since 2004, but most certainly before these dates.  The accusation that millions of dollars have been lost because counties did not accept software from private developers has to be mitigated by the fact that 1) software being offered did not cover all the needs of the counties, 2) that if counties worked with the private companies with suggestions and improvements that the improved software would remain only in the ownership of the private company with no ownership by the county regardless of input, 3) that the software companies would likely increase the price of their software, upon these improvements and, 4) that there is a limited market for this software, therefore a limited number of software suppliers.
One particular incident helped spur on the internal development at TechShare; the Juvenile tracking software.  For example, a juvenile had moved from Harris County to Tarrant County and was in the witness protection program, however, this fact did not transfer to Tarrant County upon her relocation.
As a result, three counties, including Tarrant and Dallas, came together with an inter-local agreement to form TechShare, initially to develop a Juvenile Management System that;
1) Actually met the needs of the participating counties as end users, and 2) Satisfied information that was needed state-wide.
The counties involved did not want to "be at the mercy" of one software company, therefore used contractors and hired employees to develop the first of it's kind Juvenile system.  In fact, the State of Texas determined the system was the best available and  paid TechShare to make available to every county in Texas.
As an offshoot of this program, it has been made available to small counties, at an affordable rate, without internal IT departments, with larger counties, such as Harris County, paying more.
As a result of TechShare, the development phase of the software, for the initially identified areas, has continued and are said to be coming to a user friendly conclusion status;
1) Juvenile – used state wide, 2) Indigent Defense System – Mature, 3) Prosecutor – Mature – Initially developed for Kendall County upon their request, 4) Courts JP – being used by one county to put through all phases, 5) Criminal Courts – in Testing Stage in Dallas, and 6) Jail Package – in beginning of development stage expected completion within 24 months.
Referencing the previous editorial, concerning not being able to obtain TechShare financials,  G.K. Maenius, Tarrant County Administrator said the financials have been provided to Empower Texans and was done so within the ten (10) day period required.  LNO has also requested financials and will post upon receipt.
Considering the financials, the non acceptance of software from a private company, according to Judge Whitley, would not adequately address the needs of Texas counties and should not be considered a net loss to the counties because additional funds may have been spent to develop software that is adequately serving the county end users.  Further, that TechShare ownership will allow updates via internal source development for the counties that can be shared by all on inter-local agreements.
Based on the typical debacles and wasting of millions of tax payer's funds that seems a non-ending cycle by  government, it is easily understood how skeptics of the TechShare program are concerned and anticipating similar results.  However, unlike numerous government programs that are doomed by ineptness, stupidity and corruption; the jury is still out on the innovation that is TechShare.
While, there may have been substantial development cost; it does not appear any cost was incurred by the eventual rejection of private vendor bids.
Judge Whitley said; "Efficient working software is likely to attract interest from other governmental entities, in fact, contacts in five (5) other states have inquired about software, however our goal is to keep cost down for our taxpayers, not looking to make a giant profit."
As part of the plan to recoup the development cost, TechShare makes software available to other entities based on a basis to get the capital cost, plus interest and a ten percent (10%) risk factor.
So regardless of the financial outcome of this effort, where four (4) programs are already completed, at least there is a plan of action to not only recoup the investment, but continue to hold future cost in check; which is more than one can say about programs coming out of Washington.