Spokesman Aaron Harris of Direct Action Texas ,a political advocacy organization in the DFW area,  says his organization has sworn affidavits of fraudulent signatures on Casey's petition  sheets used to qualify him for the Republican Ballot.  LNO reported on Incumbent Casey's attempt to force challengers off the same ballot on January 4, 2017, link is below.
Tarrant County Texas, January 4, 2018

JP Russell Casey, who was previously reprimanded by the Texas Commission on Judicial Conduct, files on last day of filing, now is filing a lawsuit against Tarrant County GOP Chairman Tim O'Hare demanding his opponents be removed off the ballot for technical reasons. According to the Ft. Worth Star Telegram, O'Hare responding by stating, "This guy will do anything to keep this job. Nobody in the Republican Party wants him to be our nominee or on the ballot…, He's going to go down in flames."
Aaron Harris of Direct Action Texas stated, "Attached are two files. One are some samples of the petition signature sheets Russ Casey submitted with his application to be on the Rep ballot. What you should notice is that while there is variation from one page to another, on each page the signatures don't vary. The entire sheet the voters have same signature handwriting. (The only thing the voter must do, statutorily is sign, so the same hand writing on the address etc doesn't matter.) While simply seeing the similarity of the signatures is fishy, we went door to door, many in Colleyville, asking voters if these signatures are theirs. We secured Affidavits from voters stating it is not their signature. "
We had a quick team assembled within hours and went out on a rainy Sunday afternoon (this last Sunday) and I'm thankful to each of them. We needed notaries, which was hard to find, so a couple judges volunteered their Sunday."
The team included:
Judge Alex Kim (he is now a municipal judge BTW)
Judge Patricia Baca Bennett
Judge Deborah Nekhom
Terri Gallagher (Pat Gallagher's wife who is running for judge)
Joel Starnes
Matt Spano
Christine Welborn
Lenny and Crystal Lopez.
Examples of Casey signed sheet as presented to the Tarrant County GOP Headquarters;
Charles Yancey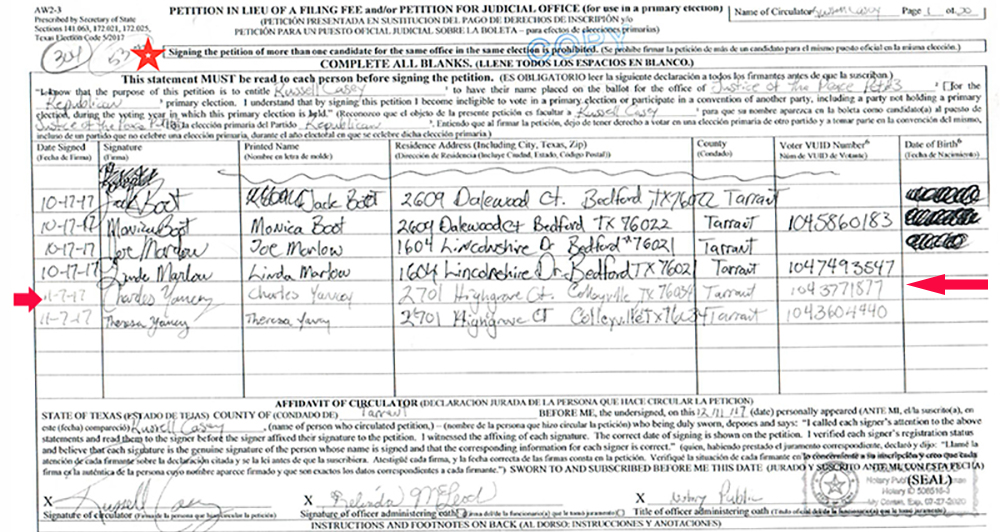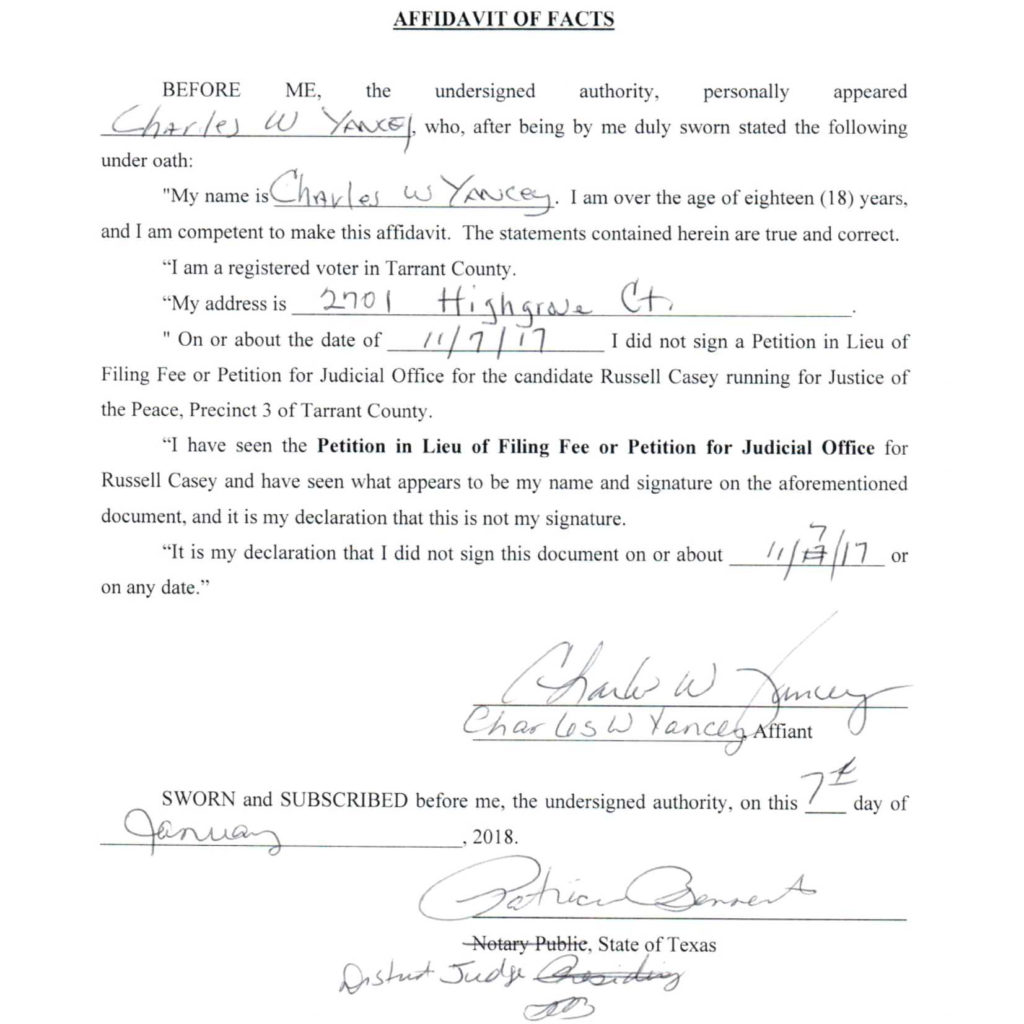 Charee Vogt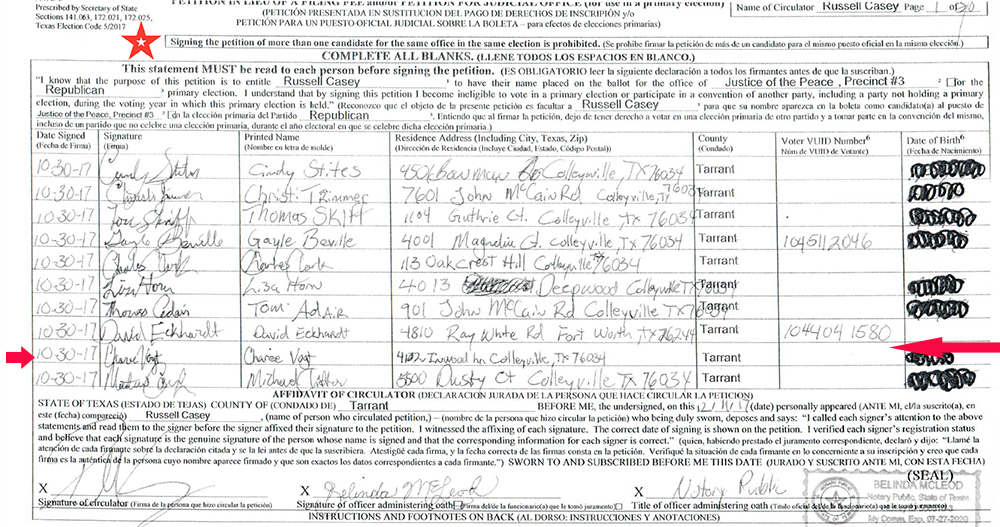 Janet Shearer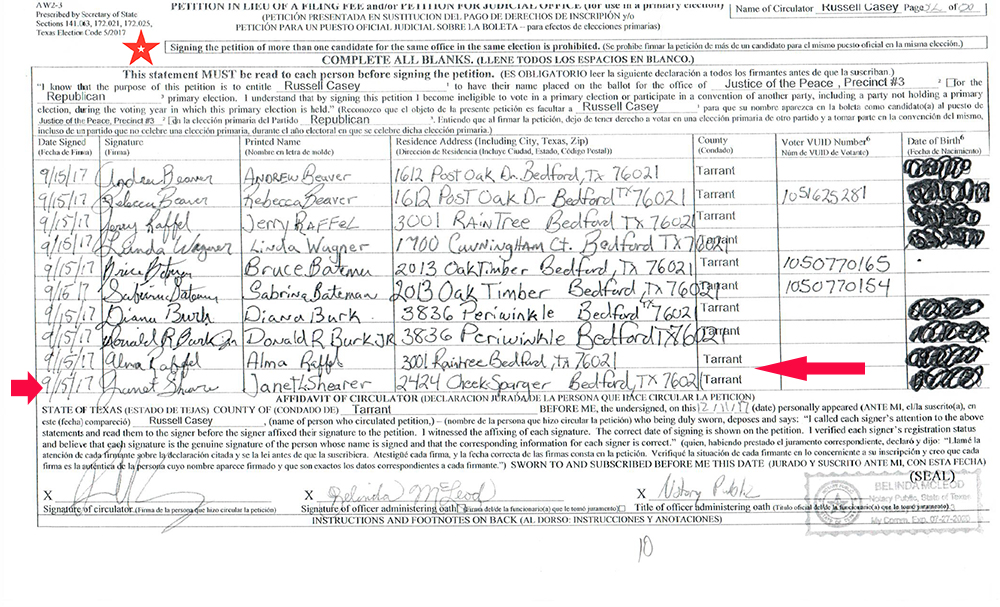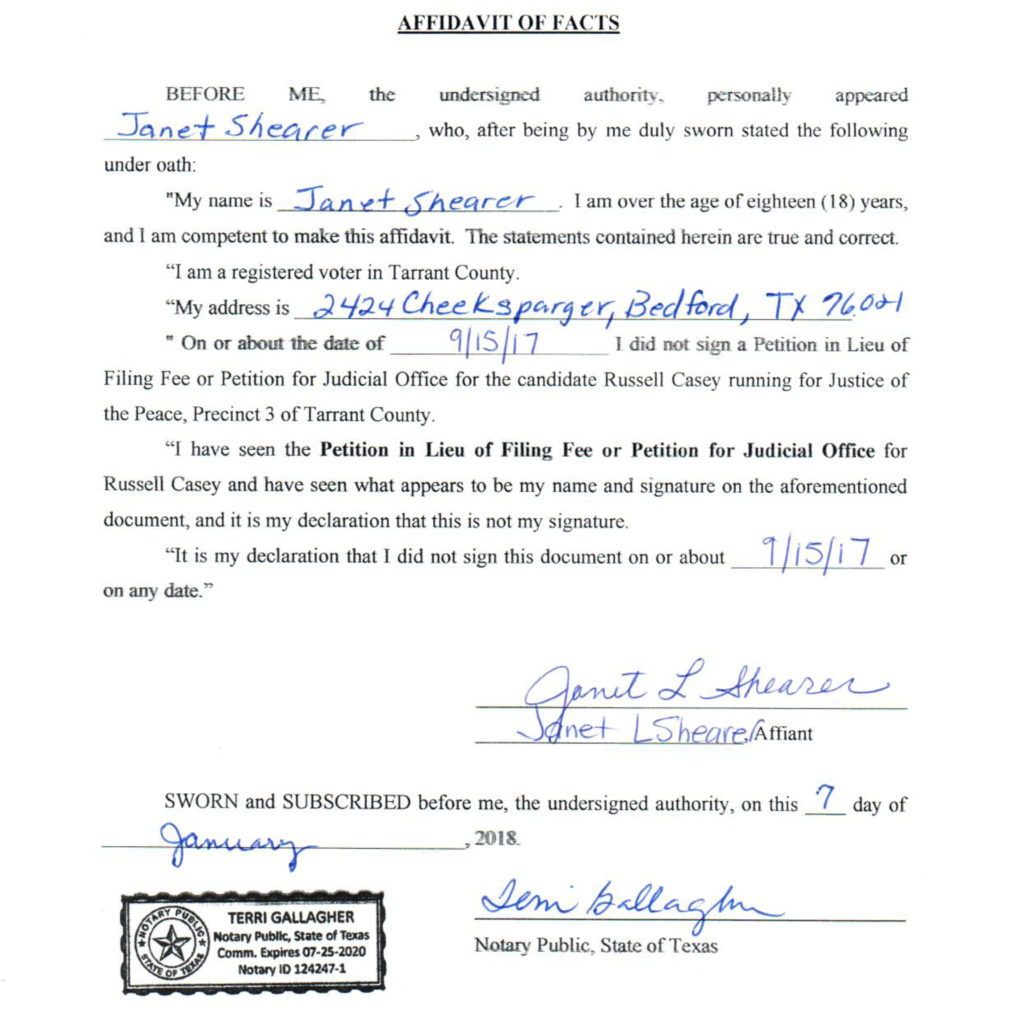 Additional Affidavits
ROBERT SHORT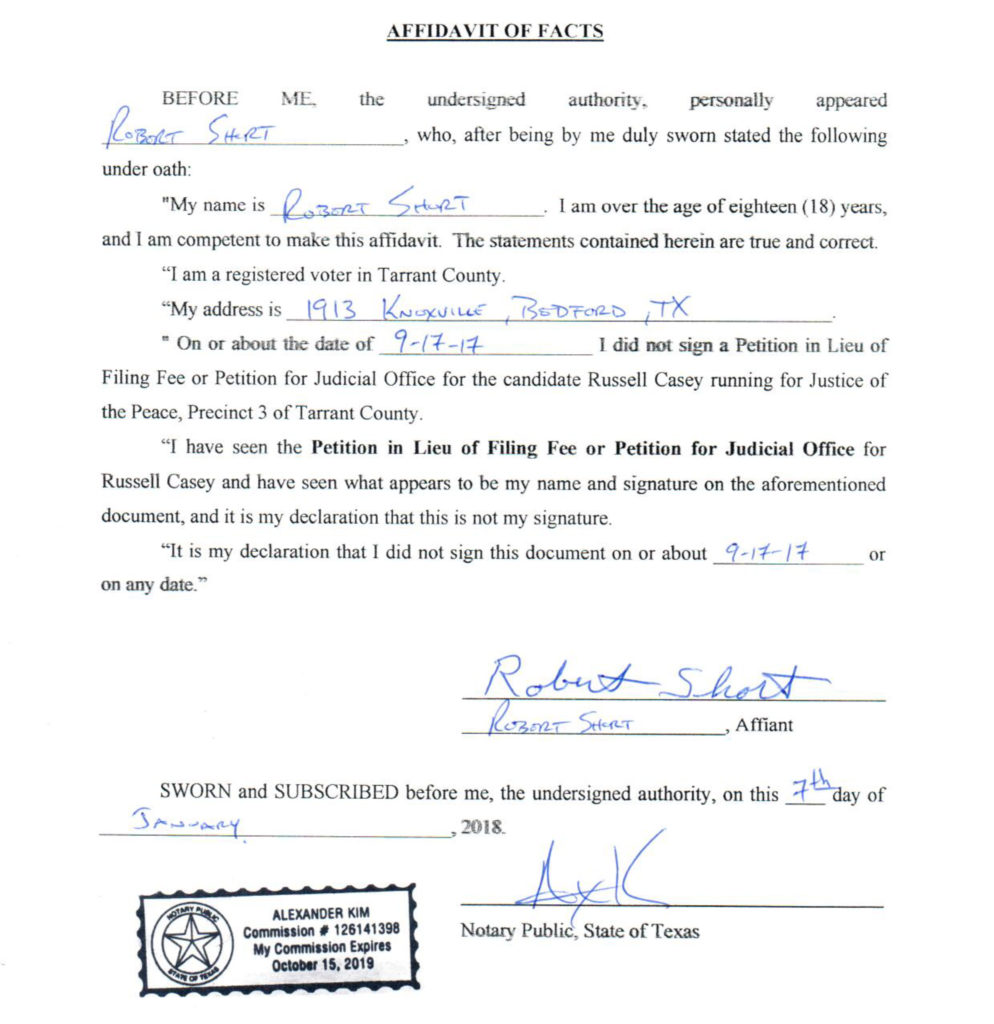 MOIRA TURNER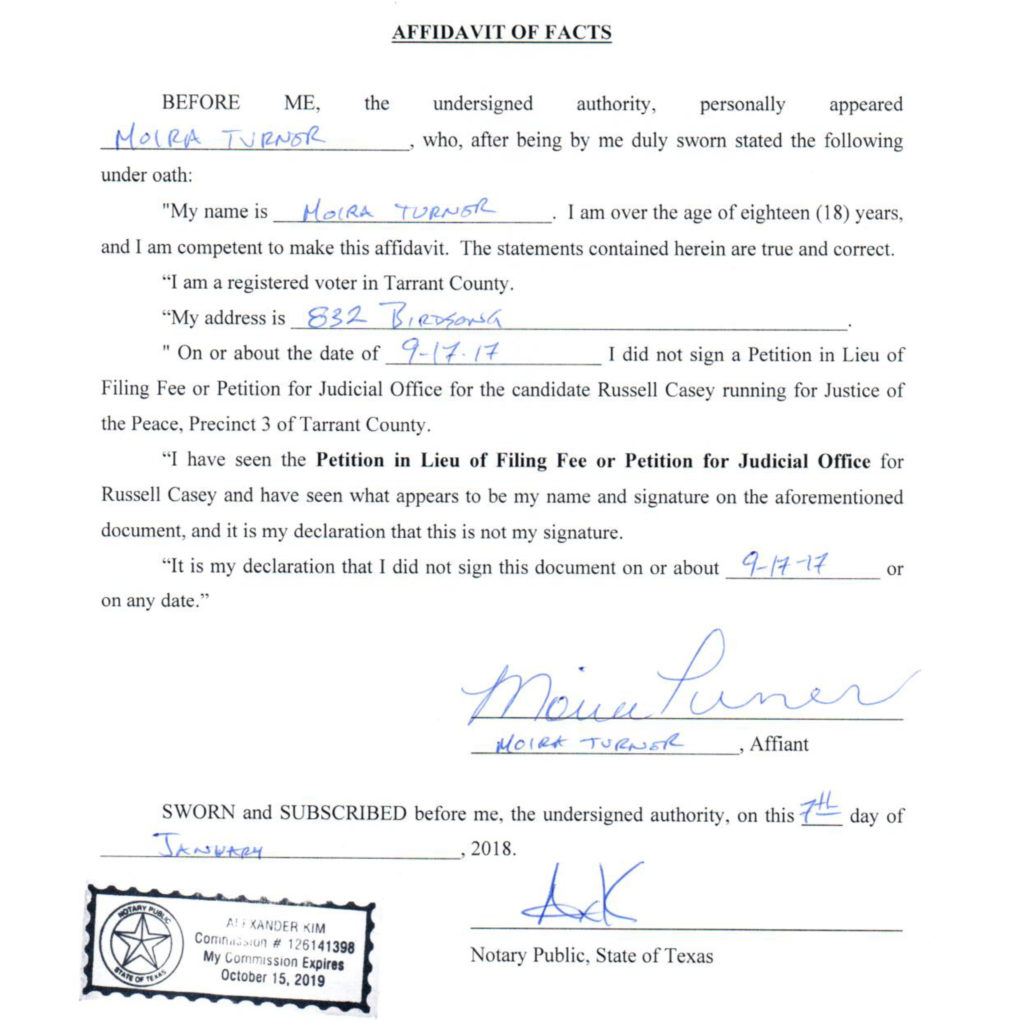 More About Direct Action Texas:

Direct Action Texas is a political advocacy organization in the DFW area. Our focus is local with four main areas of concentration: government transparency, government ethics,public debt and civil liberties. We have a single mission: to help the grassroots take action in changing local government.