January 24, 2018
Editorial by Nelson Thibodeaux, Editor
Editor's Note:  In response to the January 23, 2018 Article showing that GCISD did not earn a high ranking among Nationwide or even schools districts in Texas; there has been substantial discussions on certain Facebook Group Pages, including "GCISD Parents for Strong Schools."
The original article was a media distribution from a respected source used by many credible news organizations. However, the Perennial Local School Cheerleader, and previous unsuccessful candidate for City Council, Mike Sexton posted this comment:

Mike Sexton I want to understand how an organization that lobbies for "security systems" knows anything about schools and what makes them work. Their about has absolutely nothing to do with schools. This source doesn't seem credible as there is not an education component.
Editor's Response: Mr. Sexton, who apparently spends a lot of his daylight hours hanging out at various schools, therefore obviously an expert, continues to tout that GCISD ranks in the top 3% in the US, so how could the source of the information; "know anything about schools and what makes them work."
While, we note that Mr. Lawrence commented on this page actually beating LNO to the punch, by pointing out that;
"Perhaps the US News & World Report" might be considered a better source for Sexton.
US News 7 World Report 2017 ranking;
Grapevine, TX | Grapevine-Colleyville Independent School District
 #548 in National Rankings
#71 in Texas Rankings
Out of 1,247 districts, GCISD would only make the top 6% in Texas, with 70 Texas Independent School Districts ranking Higher!
The criteria for ranking the best performing Schools is not who has the biggest Football Stadium or Indoor Practice Field or Bond debt, as the GCISD Trustees and Superintendent Ryan seem to believe.
As an example; the $1 million fix on the GCISD football stadium, has turned into a $27 million expenditure.  Since GCISD received this money from a Grapevine Tax Increment Funds, it did not come directly from GCISD taxpayers; therefore it's FREE MONEY.  Instead of spending a penny on REDUCING the debt load of GCISD; therefore perhaps looking at a lower tax rate, the Trustees voted to spend all $27 million on a new football stadium.
When pointed out on LNO, Sexton suggested, "GCISD cannot spend any TIF funds on reducing debt."  Therefore, Mr. Sexton holds himself, as an expert and all-knowledgeable about all things GCISD.
However, from 1998 to 2000, I served as the Chairman of the Colleyville TIF District.  There were no stipulations that funds could not be spent retiring debt. In fact, funds were spent on the improvements to Hall-Johnson as an East/West corridor into the city, rather than city debt, John McCain road and even City Entry Monuments; but then of course the City of Colleyville was not carrying a $40 million debt structure either.
Point is GCISD is certainly an adequately performing district; however it will not increase it's educational ranking by spending $27 million on a Football Stadium, much less an athletic covered practice field,  as a monument to the current GCISD Trustees or Superintendent…my guess is taxpayers would have rather seen a more frugal approach to these efforts, paying some of the debt back and perhaps reducing the tax load on homeowners and addressing teacher's pay, or finally keeping the funds for future need to help off-set some of Robin Hood.
Nelson Thibodeaux, Editor

Previous Article: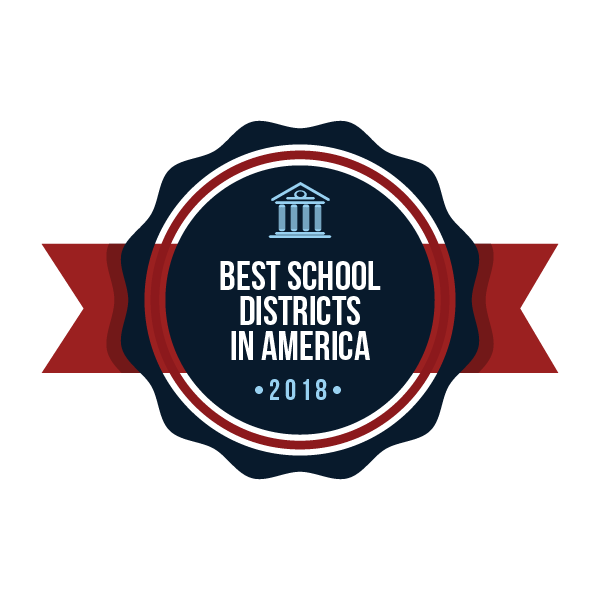 Grapevine/Colleyville  January 23, 2018
We collected data from a total of 9,577 school districts. The following factors contributed to our ranking: student performance (math and reading test scores), dropout rates, school funding, and area poverty rates. Note that some districts, including those from Connecticut were excluded due to incomplete data.
The report was formally released on January 22, 2018, Listing the TOP 500 School Disricts in America.

Texas had 15 Entries with Highland Park and Carroll near the top.  Unfortunately GCISD did not break into the top 500 list.
Texas School Districts Listed:
| | | |
| --- | --- | --- |
| 12 | Texas | HIGHLAND PARK ISD |
| 18 | Texas | LOVEJOY ISD |
| 57 | Texas | FALLS CITY ISD |
| 58 | Texas | CARROLL ISD |
| 78 | Texas | KLONDIKE ISD |
| 83 | Texas | EANES ISD |
| 90 | Texas | FRISCO ISD |
| 129 | Texas | PROSPER ISD |
| 136 | Texas | LAKE TRAVIS ISD |
| 257 | Texas | ALLEN ISD |
| 263 | Texas | GRADY ISD |
| 299 | Texas | COPPELL ISD |
| 370 | Texas | ARGYLE ISD |
| 419 | Texas | FRIENDSWOOD ISD |
| 445 | Texas | PORT ARANSAS ISD |
The National Council for Home Safety and Security is a trade association comprised of home security professionals across the United States. The council advocates for safe communities and home safety with a strong focus on community involvement. Find more information here.
For more information (including our list of the top 500): https://www.alarms.org/best-school-districts–in-america-2018