February 20, 2018 Southlake, Texas
Editorial Nelson Thibodeaux

This Campaign Mailer has created questions, such as, did Representative Giovanni Capriglione Profit from Obama's $30,000,000 stimulus?  The answer is NO, well not as much as many other companies that got on the $1,555,000,000 gravy train.  Yes ONE BILLION, FIVE HUNDRED, AND FIFTY FIVE MILLION DOLLARS!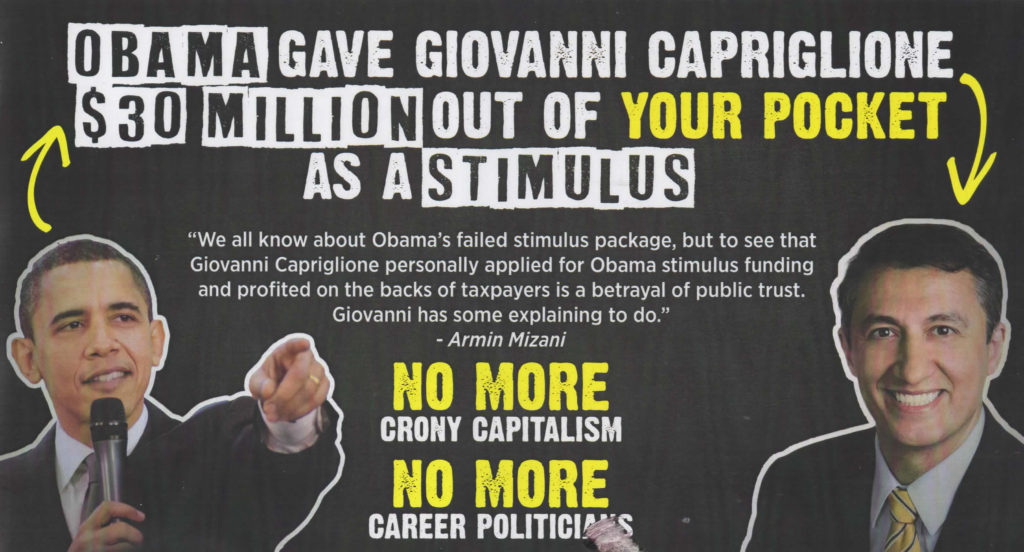 The FIRST, "without a serious doubt" evidence is that Giovanni Capriglione was the original recipient of the original Department of Treasury letter signed in June, 2008.
Assuming of course that Giovanni was paid as the "Authorized Rep" to sign papers with the Government, as shown below in the link to "Letter from Govt to Giovanni Capriglione,"
Further as listed his participation as, "Governing Partner", as well on 9 Texas LLCs related to these funds, one would speculate the Representative has or anticipates making profits out of the LLCs.
In fact, there are a total of 39 LLCs and one corporation listed in Texas all with the name of Mark Disalvo, as a principle.
Below is a letter that resulted in funds being paid to Pacesetter CDE, Inc. and Capriglione signing as the "authorized representative," on behalf of the Company Pacesetters, Inc.
owned by Semaphore, Inc. located in North Andover, MA.
This was to inform the US Department of Treasury the "additional "Subsidiaries Allocatees" were being added.

Note that Giovanni Capriglione was listed on the first nine LLC filing until April 30, 2013; he was no longer listed on any of the LLCs and won the General Election in 2014.
The original document to receive the funds is signed by Giovanni Capriglione PRIOR to his election in 2014 for his first term.  The document, including, Capriglione's signature, can be seen here:Letter from Govt to Giovanni Capriglione . 
All the LLCs, were registered in Texas as shown below;
April, 1, 2008  : Pacesetter CDE, INC is registered in Texas
June 2, 2009; These "new" entities join others that were previously filed, including on 6/25/2009: Pacesetter CDE, I LLC, II, LLC, III, LLC, IV LLC,
February 2012, the following were formed, Pacesetter CDE, V, VI, VII.
April 13, 2013,  These include Pacesetter CDE IX LLC,  X LLC, XI LLC, XII LLC,  XIII LLC, XIV LLC, and XV, LLC.  All of which were formed as Texas LLCs, on the same date April 30, 2013, modifying the official government instrument.
April 13, 2015, These filings included Pacesetter CDE LLC; XXX, XXXI, XXXXIII, XXXIV, XXXV, XXXVI, XXXVII, XXXVIII.

Note; LNO will be requesting an overview of how funds have been spent in Capriglione's Authorized Representative status from the Federal Government via FOIA.
Pacesetter CDC, Inc. Texas Filing: 2015 Pacesetter filing: 2015 Pacesetter filing 
It appears that "beyond a serious doubt" is the best that investigative reporting can accomplish at this point.  There is a major problem when the government doles out $1.55 Billion Dollars of Taxpayers monies to private entities, but we as taxpayers cannot file Open Records request to see where, how and whom the money was shared.
So at minimum there are serious questions of where is the $30,000,000 "signed off" by Capriglione.  Further, I don't believe that Capriglione is an attorney, so exactly what fees would he be due for signing this document.
As a Representative of House District 98, we call on Rep. Capriglione to make a FULL DISCLOSURE on these taxpayers funds, including what, if any, restitution or profits he has received as a part of the company and/or LLCs.  That is a simple enough request that this could be furnished before the March election; that is unless the Representative has a reason not to disclose his financial winnings from the O'Bama package.
LNO is continuing to ask questions regarding this matter; LNO has contacted Congress Kenny Marchant's office for a potential "Congressional Inquiry" how is it $1.55 billion dollars of taxpayers money is given to private companies, yet the taxpayers cannot see the final distribution?
Below is the original News Release from 2009 with monetary grants Below  BLUE represents Pacesetter CDE, Inc. in Texas.
Treasury Awards $1.5 Billion Through Recovery Act to Encourage Private Sector Investments in Communities Around the Country
​Awards Announced Under New Markets Tax Credit Program
Boston, MA – Just 100 days since the President signed into law the American Recovery and Reinvestment Act (Recovery Act), Treasury Secretary Tim Geithner today announced $1.5 billion in New Markets Tax Credit (NMTC) awards for 32 organizations throughout the country. With resources made possible through the Recovery Act, the NMTC Program injects private-sector capital investment into communities around the country to create jobs, stimulate economic growth, and jumpstart the lending necessary for financial stability. The awardees announced today are planning investments in renewable energy projects, charter schools, health care facilities, manufacturing companies and retail centers.
"The Recovery Act was a crucial step toward restoring economic growth, getting Americans back to work, and strengthening our nation's financial stability" said Secretary Geithner. "Many communities have been left with a shortfall of financial support and are unable to pursue desperately needed projects, leaving residents to fall even further behind. The New Markets Tax Credit program helps break that cycle by providing an incentive to invest in communities to break ground on new projects, create jobs, and offer much needed services."
The 32 organizations receiving awards have identified principal service areas covering 33 states, the District of Columbia, and Puerto Rico. The NMTC Program, established by Congress in December 2000, permits individual and corporate taxpayers to receive a credit against federal income taxes for making qualified equity investments in investment vehicles known as Community Development Entities (CDEs). The credit provided to the investor totals 39 percent of the cost of the investment and is claimed over a seven-year period. A majority of the taxpayer's investment must in turn be used by the CDE to make qualified investments in low-income communities.
Secretary Geithner's announcement was made today at Project Hope, a New Markets Tax Credit award recipient in Boston, MA. Secretary Geithner was joined by Massachusetts Governor Duval Patrick and Community Development Financial Institutions (CDFI) Fund Director Donna Gambrell. A division of the Department of Treasury, the CDFI Fund, administers the NMTC program.
"We are here today at Project Hope because it's a shining example of how the New Markets Tax Credit can be utilized to transform communities and improve the quality of life for the local residents," said CDFI Fund Director Donna J. Gambrell. "Through $4.8 million in New Markets Tax Credit financing, the center we are gathered at today is providing expanded adult education, job placement and career development services and is also Roxbury's first certified green building."
To date, close to $12 billion of private-sector capital has been invested through the NMTC Program into urban and rural communities throughout the country. Data reported through 2007 shows that $9 billion dollars of NMTC capital has been invested into approximately 2,000 businesses and real estate developments – helping to develop or rehabilitate over 68 million square feet of real estate, create 210,000 construction jobs, and create or maintain 45,000 full time equivalent jobs at businesses in low-income communities.
A complete list of the 32 organizations selected and additional information on the NMTC Program can be found on the CDFI Fund's web site at: www.cdfifund.gov.
2008 NMTC Program Recovery Act Awards
List of Allocations

Overview of Allocations

States Served

Profiles of Allocatees
Name of Allocatee
Headquarters
Service Area
Predominant Market
Allocated Amount
AHC Community Development, LLC
Cleveland, OH
National

CA, DC, FL, IL, NV, NM, VA

$55,000,000
Albina Equity Fund, I LLC
Portland, OR
State-wide
OR
$10,000,000
Bethany Square LLC
Santa Monica, CA
Local
CA
$10,000,000
California Urban Investment Fund, LLC
Oakland, CA
Local
CA
$20,000,000
Capital One Community Renewal Fund, LLC
McLean, VA
Multi-State

LA, MS, TX, NY, NJ

$90,000,000
Capital Trust Agency Community Development Entity, LLC
Gulf Breeze, FL
State-wide
FL
$75,000,000
Capmark Community Development Fund LLC
Denver, CO
Nation-wide

CA, CO, FL, KY, LA, MI, TX

$85,000,000
Carver Community Development Corporation
New York, NY
Multi-State
NJ, NY
$65,000,000
CCG Community Partners, LLC
Princeton, NJ
National

CA, FL, LA, MO, NJ, NC, TX

$20,000,000
Charter Facilities Funding, LLC
Denver, CO
National
AZ, CA, CO, NY, NC, OR, TX
$20,000,000
Chase New Markets Corporation
New York, NY
National

AZ, IL, MI, NJ, NY, OH, TX

$85,000,000
Commercial & Industrial Community Development Enterprise , LLC
Norwalk, CT
National
AR, CA, GA, ME, MS, MT, OR
$85,000,000
Community Development Funding, LLC
Columbia, MD
National

LA, MD, MS, NY, PA, PR, WA

$20,000,000
Empire State New Market Corporation
New York, NY
State-wide
NY
$30,000,000
Enterprise Corporation of the Delta
Jackson, MS
Multi-State

AR, LA, MS, TN

$20,000,000
ESIC New Markets Partners LP
Columbia, MD
National

CA, FL, GA, KY, LA, MS, NY

$95,000,000
Harbor Bankshares Corporation
Baltimore, MD
Local
MD
$50,000,000
Heartland Renaissance Fund, LLC
Little Rock, AR
State-wide
AR
$55,000,000
Kitsap County NMTC Facilitators I, LLC
Silverdale, WA
State-wide
WA
$20,000,000
MetaMarkets OK, LLC
Oklahoma City, OK
State-wide
OK
$25,000,000
NCB Capital Impact
Arlington, VA
National

CA, DC, MA, MI, NY, OH, TX

$90,000,000
New Markets Redevelopment LLC
Oklahoma City, OK
Local
OK
$50,000,000
Northeast Ohio Development Fund, LLC
Cleveland, OH
Local
OH
$30,000,000
Opportunity Fund   (formerly Lenders for Community Development)
San Jose, CA
Local
CA
$35,000,000

Pa

cesetter CDE INC

Richardson, TX

State-wide

TX

$30,000,000

Rockland Trust Community Development Corporation
Rockland, MA
Multi-state
MA, RI
$50,000,000
SBK New Markets Fund, Inc.
Chicago, IL
Multi-state
IL, MI, OH
$35,000,000
Solomon Hess Loan Fund, LLC
McLean, VA
National

CA, FL, IL, MI, NJ, NY, TX

$50,000,000
Synovus/CB&T Community Reinvestment, LLC
Columbus, GA
National

AL, AK, DC, GA, MA, NY, TX

$50,000,000
Urban Development Fund, LLC
Chicago, IL
National

AL, CA, FL, IL, LA, MS, TX

$65,000,000
Vermont Rural Ventures, Inc.
Burlington, VT
State-wide
VT
$30,000,000
Wayne County – Detroit CDE
Detroit, MI
Local
MI
$50,000,000