Colleyville, Texas March 23, 2018
The Colleyville City Council has appointed Michael C. Miller as the city's next Chief of Police.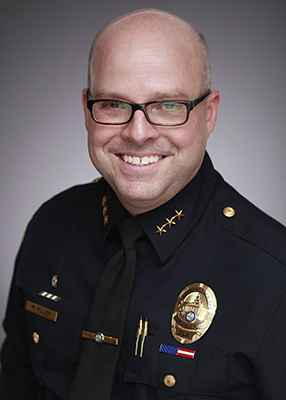 The Council unanimously passed a resolution at the March 20 City Council meeting after a
recommendation from City Manager Jerry Ducay approving his appointment with a start date likely in May.
The City began the search for a police chief in late 2017 and received more than 100 applications from across the country before narrowing it down to a lone finalist. The City conducted the search in-house rather than hire a consultant, saving taxpayers more than $26,000.
Miller currently serves as the Assistant Chief of Police for the City of Coral Gables, Florida. He has more than 26 years across various forms of law enforcement including time with the Wise County Sheriff's Department, Addison Police Department, Federal Bureau of Investigation, and U.S. Bureau of Indian Affairs, as well as private-sector experience working as a management consulting executive. He holds a Bachelor of Science from Texas A&M University and a Master in Public Administration from Harvard University's John F. Kennedy School of Government.
"Mr. Miller's experience and approach to community service make him an exceptional fit for Colleyville," Mayor Richard Newton said. "I have trust in his abilities to continue the city's standing as one of the safest cities in Texas and the nation."
Miller was already in action before officially starting with the City. During the City Council meeting, an elderly gentlemen fell while leaving his seat and Miller immediately helped him up and to his car.
"Many of the candidates that applied for this position were outstanding, which shows Colleyville is a place recognized for its achievements in safety and a place experienced law officials want to be," Ducay said. "I look forward to our community members meeting Mr. Miller and getting to see firsthand what he brings to the city."
Miller is a fifth generation Texan and his family still resides in the area. He mentioned the benefit of coming home was a factor in his decision to come to Colleyville.
"We are pleased we can be the home of Mr. Miller's return to Texas," Mayor Newton said. "It goes a long way that his roots are here and he knows the Texan way."
Acting Police Chief Hillary Wreay will continue to serve in an interim role.
"I cannot wait to work with the men and women of the Police Department," Miller told the Council. "I cannot wait to engage with the community."
The Colleyville Police Department is comprised of 43 uniformed personnel and 6 civilian staff. The Department is recognized by the Texas Police Chiefs Association's Best Practices Law Enforcement Recognition Program.