Colleyville, Texas  April 9, 2018
Column by Nelson Thibodeaux, Editor of Local News Only.com
If you consider yourself a law-abiding patriot of your country, you may have been somewhat shaken by the reported shenanigans of the Justice Department and FBI in matters regarding Hillary Clinton and President Donald Trump.  Or you might reject the reports, because after all, you believe in the FBI, DEA, and the Justice Department as "protector" of your rights, certainly not as predator on innocent victims.
Well prepare yourself for a self-awakening!
Just released and available at Barnes & Nobles is; "Innocent Woman, The Karen Lucchesi Story".  Karen and her family lived in and worked in Colleyville in 2003.  Karen is the daughter of the former well-known Major League Baseball Manager, Frank Lucchesi, whom served as the Manager of the Texas Rangers at one point in his long career.  Lucchesi was a very well known name and surely a Federal undercover agent would NOT be influenced by the fact that Karen was very high profile in Colleyville and of course Frank's daughter.
YOU NEED TO READ THIS BOOK WRITTEN BY THIS COLLEYVILLE NATIVE; PREPARED TO BE SHOCKED AND DISMAYED AT THE RESULTS OF KAREN via THE FEDERAL AGENTS WHO SET HER UP AND FINALLY HER HARROWING TRIP THROUGH SEVERAL YEARS IN FEDERAL PRISON!
MOST OF ALL READ THE BOOK, BECAUSE IT COULD HAPPEN TO YOU, THERE WERE MANY SIMILARITIES I SUFFERED BEFORE KAREN HARROWING EXPERIENCE,!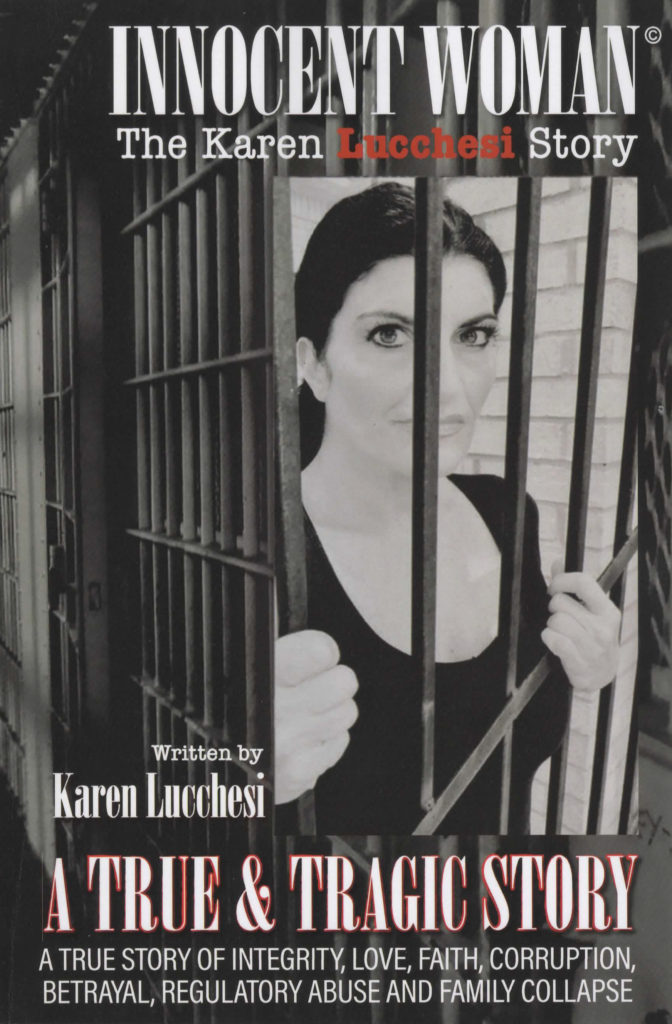 I was fortunate to meet Karen personally and through her wonderful Mom and Dad in 2003 when the case against Karen was being hatched. I also met and became friends with her Dad Frank, despite his baseball reputation,  a kind and generous man, her Mom Kathy, while bearing the horrific possibility that her youngest daughter might be convicted and go to prison, along with Brother Brian who dedicated himself to Karen and her cause.

Karen was kind enough to include a couple of acknowledgements to myself and LocalNewsOnly.com in her book, for which I am very grateful.




Having a similar nightmare in my life during a 4.5 years of "alleged federal investigation," constantly being faced with new challenges from the Asst. US Attorney out of Ft. Worth, of his perceptions concerning non-existent schemes, wrong doing, money laundering, etc., I can honestly say I know the terror the Department of Justice can reign down.  However, after spending my life savings of approximately $3 million dollars for lawyers, experts cataloging thousands of pages of documents, all the while, without the ability to earn a living in my industry, while a guillotine was hanging over me.  When my trial day came, I was assigned to the same Federal Judge's Court where the outrageous events took place with Karen.  Unlike the continuing horror story of an innocent woman going to prison, I along with 5 others were found innocent of a total of 110 manufactured felony counts!  Therefore, I was well acquainted with the  fears and exasperation Karen suffered through during the early period of her investigation by the Feds.  She, as I, knowing all the while we were not guilty of the accusations.
My thanks to Karen for the following acknowledgements in her book;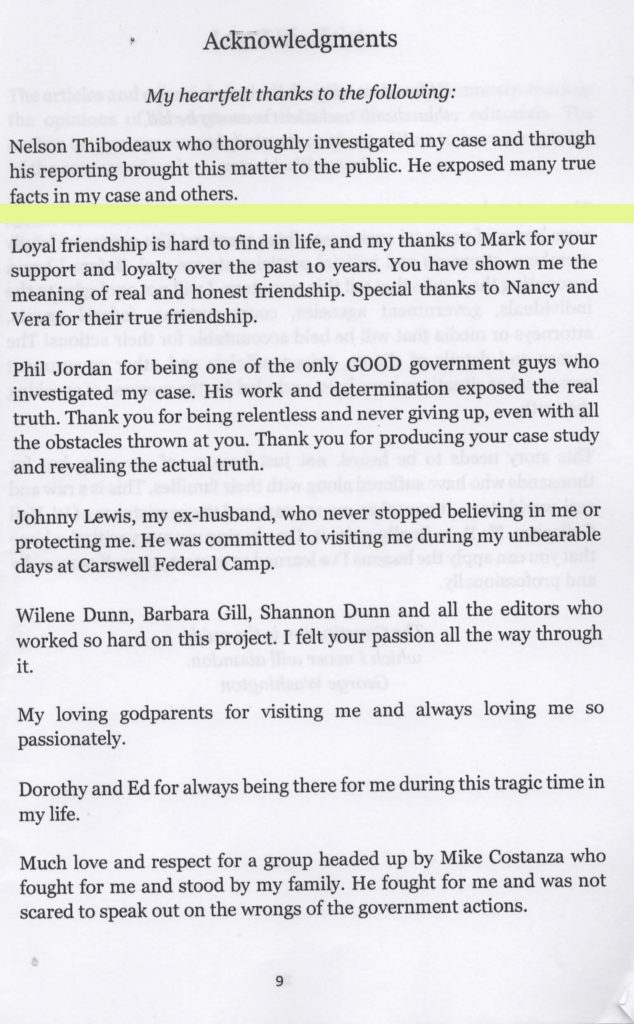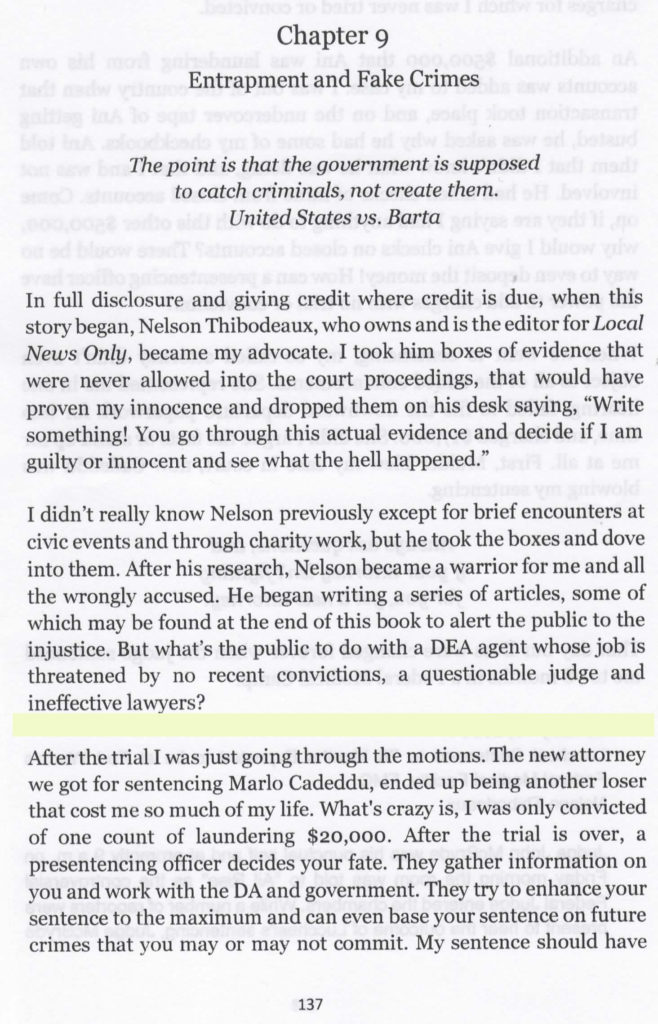 GET THE BOOK; You may also read numerous Local News Only articles, written during the investigation period, trial of Karen, along with some of the nightmares of Federal Prison, on this site, by simply gong to the search engine, select "Prior to 2015" and type in "Karen Luccehsi."
Read Karen's recollections of this period of her life; while I have been told I should have written a book on my experience, I was finally exonerated, but it took a terrible financial toll and anxiety on my family for 4.5 years and I am not sure I am ready to dive back into the abyss although 15  years have now passed.
In addition to Karen's Book I recommend another book by a Dallas Attorney:
Unfortunately, as former assistant U.S. attorney Sidney Powell documents in her new book, " Licensed to Lie: Exposing Corruption in the Department of Justice," the wheels of government have been slowly grinding down the innocent as unsupervised prosecutors distort evidence, make up criminal changes ..the book is available on Amazon Prime.
This concerned a low ranking employee of Arthur Anderson during the Enron madness in Houston.  Don't believe it can happen to you; well this book also touches on the antics of the DOJ against from Alaska Senator Ted Stevens, who was forced to resign from office and died in a private plane crash, before Federal Judge Stevens ruled the Steven's trial was to be thrown out because of the DOJ's failure to produce exculpatory evidence as required by the law and constitution.