Las Colinas, Texas  September 1, 2018
PARK PLACE LUXURY & SUPERCAR SHOWCASE TO FEATURE LIFE-SIZED LEGO® MCLAREN 720S AT
FOUR SEASONS RESORT AND CLUB DALLAS AT LAS COLINAS
PHOTOS : Courtesy of McLaren North America
Fans of McLaren Automotive and LEGO®  will have the opportunity to see a life-sized LEGO® McLaren 720S at the Park Place Luxury & Supercar Showcase 10 a.m. – 4 p.m. Saturday October 13, 2018 at the Four Seasons Resort and Club Dallas at Las Colinas. Making the last stop on its U.S. tour at the luxury lifestyle event, the 1:1 scale model LEGO®  McLaren 720S is made up of more than 280,000 LEGO®  bricks, weighing in at 3,200 pounds, a bit heavier than the road-going 720S' weight of 2,828 pounds.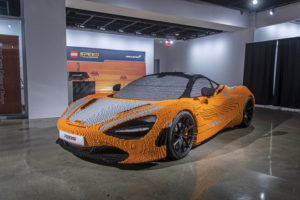 The McLaren 720S model was built around a steel frame, with a team of six working more than 2,000 hours to build the car by hand. In comparison, an actual McLaren 720S takes around 12 working days to assemble.
The McLaren 720S is available to order (pre-assembled) with a starting MRSP of $284,745. Younger fans might be interested in the #75880 LEGO® Speed Champions McLaren 720S model at local retailers.
"While kids of all ages will marvel at the Lego McLaren, guests will also have the opportunity to get up close to several new McLarens in the Park Place Showcase," said Liz Shafton, senior marketing manager at Park Place Dealerships and chair of the event. "We will feature the latest models from each of our manufacturers, including new Bentley, Maserati, Porsche, Jaguar, Land Rover, Mercedes-Benz, Lexus and more. Guests will be among the first in Texas to see the new Rolls-Royce Cullinan Luxury SUV."
The Collector's Concours will feature a dazzling display of vintage, luxury and supercars on the first fairway of the TPC Golf Course. Guests will have the opportunity to see the 1928 Rolls-Royce Phantom featured in the 1974 film "The Great Gatsby" which starred Robert Redford and Mia Farrow. There will be a 2018 Bugatti Chiron, Babe Ruth's 1940 Lincoln Zephyr (a gift from the New York Yankees,) a 2006 Ford GT, and a stunning lineup of rare and unique vehicles.
The Park Place Luxury & Supercar Showcase, which sold out in its inaugural year, is open to the public with tickets ranging from $25 – $50 for general admission and $100 for VIP All Access, which includes access to the VIP Lounge with complimentary food and beverages, and entrance to the Highland Park Village fashion show. Tickets are available online at LuxurySupercarShowcase.com.
The luxury lifestyle event benefits the Momentous Institute, owned and operated by the Salesmanship Club of Dallas since 1920, which is committed to building and repairing social and emotional health for children. Each year, the organization serves more than 6,000 children and family members through its nationally acclaimed Momentous School and innovative Therapeutic Services.