Colleyville, Texas August 6,2018
Colleyville Attorney to Lead Texas Board of Legal Specialization
          Colleyville attorney Wm. Frank Carroll has been elected as the Chairman of the Board of the Texas Board of Legal Specialization for 2018-2019.
            Carroll is the Owner/Member Manager of the Colleyville law firm, The Law Offices of Wm. Frank Carroll, PLLC.
            "I am excited about the opportunity to continue the work of former Chairman David Dickson of Waco" said Carroll.  "We have an excellent group of board members and an outstanding Executive Director in Leo Figueroa.  I look forward to working with all of them on the challenges we face in maintaining the highest standards of the legal profession and insuring the most competent representation for all clients."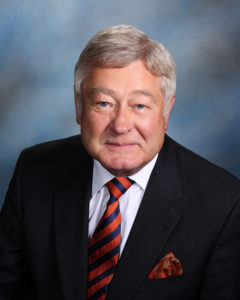 FRANK CARROLL
Carroll was appointed to the Board of Legal Specialization in 2016 by the President of the State Bar of Texas.  The Board is charged with the responsibility for determining the attorneys who will be designated in 24 specialty areas as "Board Certified."  Of the 100,000 attorneys licensed to practice law in Texas only 7,300 are Board Certified.
            Carroll is Board Certified in two areas, Civil Trial Law and Civil Appellate Law.  He is one of less than 100 attorneys certified in both such areas.
            Carroll is a member of the American, Federal and Texas Bar Associations and has chaired the Federal Litigation Section of the Federal Bar and the Antirust and Trade Regulation Sections of the Federal and Texas Bar.  He is an Adjunct Professor of Law at SMU, a member of the William "Mac" Taylor American Inn of Court and a former director of the State Bar of Texas.
         Carroll is also a former City of Colleyville City Councilman, chair of the Dallas Bar Business Litigation and Antitrust and Trade Regulation Sections and a former director of the Dallas Bar.  He is also an Executive Committee member and former President of the Bobby Bragan Youth Foundation in Fort Worth.  Carroll received a bachelor's degree from the University of North Texas and a law degree from Southern Methodist University.