By Kathryn Kelman/editor-in-chief
Sept. 25, 2018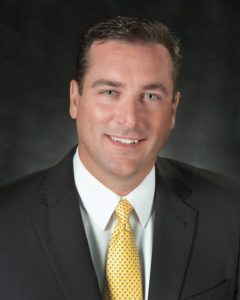 Allen Goben is no longer serving as NE Campus president and is not employed by TCC, said communications and external affairs vice chancellor Reginald Gates, who did not give a reason.
"It's a personnel matter so I am limited to what I can respond to," Gates said.
Provost Elva LeBlanc will step in until an interim NE president is appointed, which Gates said could be by the end of the week.
When reached at home this evening, Goben told The Collegian he was notified at approximately 4 p.m. Aug. 20, the first day of the school year.
"This came as a complete and utter shock," he said. "It was unexpected."
Goben said he received "fantastic" evaluations from the college and had no forewarning or knowledge of his departure.
"I'm just trying to figure it out, and I really don't have any further comment," he said.
This comes as the campus prepares to celebrate its 50th anniversary this fall.
Goben began his tenure at TCC after former Chancellor Erma Johnson Hadley announced in July 2014 that he would replace retiring NE Campus president Larry Darlage. Goben officially started at the college Sept. 2 of the same year.
He brought 25 years of experience in education to the campus, previously serving as an administrator, coach, college recruiter, counselor and faculty member.
At the time of his hiring, former Chancellor Erma Johnson Hadley told The Collegian that Goben stood out because of his background at other colleges and national organizations.
"I liked the fact that he had a short stay with the Western Governors University in Missouri because they do a lot of things that I know TCC is looking at doing in the future, such as competency-based degrees," she said.
Prior to coming to TCC, Goben served as a senior executive for community college partnerships with Western Governors University and was the inaugural chancellor of WGU Missouri during 2013-14. He also served as president of Hazard Community and Technical College in Kentucky and Heartland Community College in Illinois before that.
At Heartland Community College in Normal, Illinois, he helped double the college foundation's endowment and created Heartland GPS: Guided Path to Success — a framework for improved student planning and success.
Under Goben, NE Campus adopted the Career Pathways model which aligned with "his belief that student success is an extension of access."
In 2009, Goben was honored as a distinguished graduate at The University of Texas at Austin Community College Leadership Program. As part of the American Association of Community Colleges, in 2011 Goben served on the 21st Century Commission on the Future of Community Colleges and the Voluntary Framework of Accountability Steering Committee.