Sundance Square, Ft. Worth, Texas  November 12, 2018
Photos by David Alvey.  
Following decades of planning and 18 months of construction, Sundance Square opened a one-acre plaza five years ago with hopes that it would become a central focal point for downtown Fort Worth.  Five years later the plaza has exceeded Sundance Square's wildest expectations.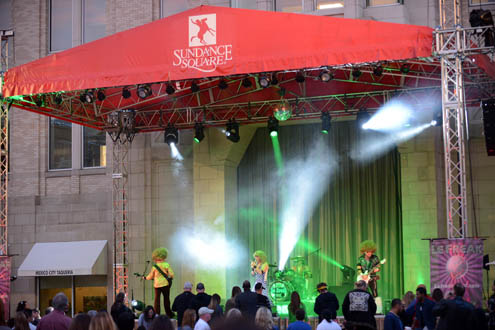 "Since opening November 2013, our Plaza has often been referred to as Fort Worth's living room," said Johnny Campbell, Sundance Square president and CEO. "We have hosted countless events including ESPN's coverage of the Men's Final Four, pep rally's for TCU, Plaza Palooza and movie nights that attracted thousands of people. But, just as importantly, we've witnessed numerous wedding proposals and impromptu reunions taking place in the Plaza. We are honored that people have made Sundance Square Plaza their personal meeting place."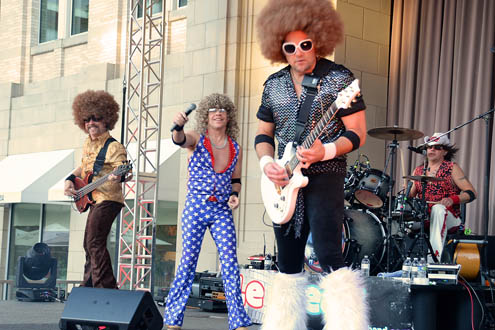 Last Thursday, November 1, Sundance Square kicked off the "Five & Funky" festivities with a TCU pep rally in the plaza to kick off the 2018-19 TCU Men's and Women's basketball seasons. Fans packed the plaza for the high energy pep rally that included appearances by the TCU basketball teams, coaches, Showgirls, the marching band and, of course, SuperFrog.
Friday morning, November 2, the party continued with Funkytown Donuts giving away "5-shaped" donuts in the Sundance Square Plaza. Throughout the day, Sundance Square's marketing staff randomly gifted people shopping throughout Sundance Square's shops on Houston and Commerce with gift cards.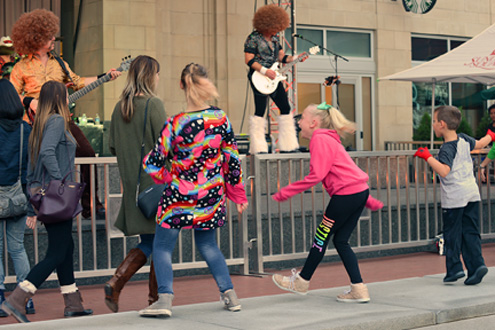 As the sun set on the fifth anniversary celebration, Fort Worth's renowned comedy troupe Four Day Weekend temporarily changed it's name to "Five Day Weekend" in honor of the anniversary and took the main stage for an impromptu show. Then Le Freak, billed as "the greatest disco band in the world" took the stage and quickly had fans of all ages dancing in Sundance Square Plaza.
"We were very excited to celebrate our Five & Funky anniversary with our community," said Tracy Gilmour, Sundance Square marketing director. "All of the events were free and open to the public as our way of thanking the people who've made the plaza such a huge success – from those who work in and around Sundance Square to the residents of Fort Worth and those who've visited from near and far over the past five years. Their laughter and smiles are what breathed life into the plaza."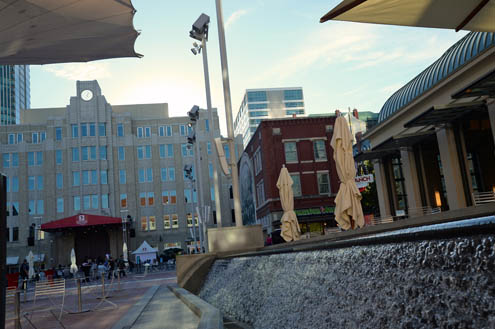 Sundance Square is already gearing up for the holidays. On Monday, November 12, the Sundance Square Christmas Tree will arrive in the plaza. Sundance Square elves will spend the week decorating the tree for the Saturday, November 17 Tree Lighting and the Sunday, November 18 Parade of Lights.
"Sundance Square Plaza continues to be the centerpiece of downtown Fort Worth," said Campbell. "We're proud to be the caretakers of this vivacious treasure. We want  the community to mark their calendars to join us in all the great activities we have planned through the holidays. These are fabulous opportunities to build memories with friends and family."
Parking is always free in Sundance Square after 5 pm on weekdays. Before 5 pm, parking is free with validation from a Sundance Square restaurant or retailer.  Validation is good for 2.5 hours of dining or shopping, or four hours for weekday movies.  Weekends are free throughout the day and evening. 
Sundance Square is a vibrant, award-winning entertainment district spanning 35 blocks in downtown Fort Worth. The multi-use development attracts more than 10 million visitors each year for dining, shopping, events, and performances. For more information visit sundancesquare.com or follow the business and entertainment development on Facebook.com/sundancesquare or Twitter @sundancesquare. Commercial and residential leasing information can be found at www.ssqmgmt.com.