Pool Party for Pooches
Doggie events at select Hawaiian Falls parks benefit area animal rescue groups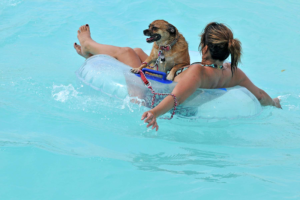 The dog days of summer may be coming to and end, but your dog's chance at summer fun is just around the corner. After the last day of the regular season, Hawaiian Falls locations in The Colony, Mansfield, and Garland welcome pet owners and their canine friends for their annual dog-swim events.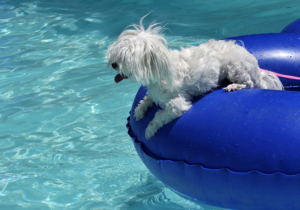 Wags & Waves at Hawaiian Falls Garland: 10 am to – 4 pm September 8. Tickets  $22 per person, includes up to 2 dogs. Doggie costume contests, amazing pet tricks, goodie bags, specialty vendors and concessions. Proceeds benefit the animal nonprofits Cat Matchers, Dallas Companion Animal Project, DFW Rescue Me, Feral Friends and Legacy Boxer Rescue.  More at http://wagsandwaves.org
Bow-Wow Luau at Hawaiian Falls The Colony: 1 pm – 5 pm September 9. Enjoy doggie swims, contests, games, and prizes.  Tickets are $15 online in advance, or $20 at the gate on the day of the event. https://www.thecolonytx.gov/839/Bow-Wow-Luau
Hounds at Hawaiian Falls Mansfield: Noon – 5 pm September 9. Free admission to active military members, veterans and first responders who reserve a ticket online and show proof of service at the gate.  $20 adults, $15 children under 48 inches tall. One dog is included with adult ticket purchase, $5 for an additional dog with a limit of two dogs per adult. 
https://thedriven.net/cw/hounds-at-hawaiian-falls/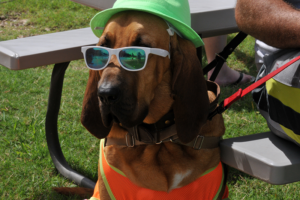 All dogs are required to have complete, up-to-date vaccinations and rabies shots to attend. Additionally, separate pool areas will be set aside for large- and small-breed dogs.
Hawaiian Falls' season passes are not valid for admission as this is a post-season fundraiser for various DFW animal rescue groups.
Hawaiian Falls operates waterparks in Garland, The Colony, Mansfield, Roanoke and Waco. The waterparks are open to the public through Labor Day. More information at hfalls.com.