The U.S. Marshals Service issued a wanted poster on Friday for Ethan Couch, the Tarrant County teenager who killed four people in 2013 in a drunken-driving crash.
The poster says a reward of up to $5,000 reward "is offered for information that leads to the whereabouts and arrest of Couch." Informants are asked to call 800-336-0102.
The marshals and the FBI joined the search for Couch this week after Tarrant County Juvenile Services issued a directive Tuesday to area law enforcement agencies to apprehend Couch.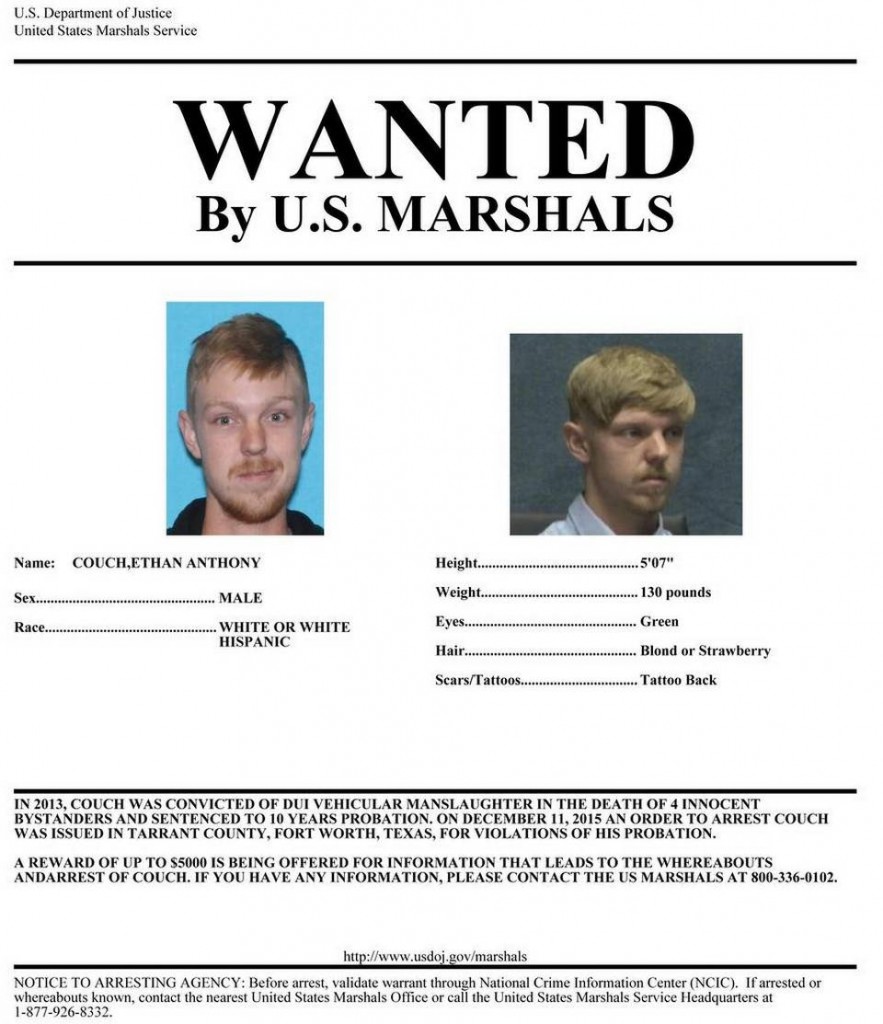 Couch was 16 when he lost control of his Ford F-350 pickup on June 15, 2013, and plowed into a group of people helping a woman whose car had stalled on Burleson-Retta Road in southern Tarrant County.
His blood-alcohol level was three times the legal limit, and traces of Valium were in his system, officials said. During his trial, a psychologist described him as a victim of "affluenza," a pop psychology term for a youngster's reckless behavior brought on by the coddling of affluent parents.
In November, the district attorney's office filed a motion to transfer Couch to adult probation on his 19th birthday in April. Until then, his case is still governed by rules of juvenile court, Jordan said.
Earlier this month, a cellphone video was posted to social media that appears to show Couch with people playing beer pong with red plastic cups and Miller Lite. A person who resembles Couch is seen clapping. At the time, Jordan said the DA's office was looking into the video.
He could be sent to prison for 10 years for violating probation, according to a report by the Star-Telegram.