Editorial By Nelson Thibodeaux
January 4, 2016
This news source did not report on the many alleged "conflicts of interest" of individuals associated with the support and passing of the controversial new "High Density" Comprehensive Plan.  However, it should be noted here for the first time, that Colleyville's City Manager Jennifer Fadden is an investor in high density residential property in Colleyville.  Of course, it was employees of the City of Colleyville, therefore supervised by Ms. Fadden, that actually wrote the provisions in the Comprehensive Plan.
Citizens can decide if appointees of the Planning and Zoning Commission, as well as the Task Force that recommended the Comprehensive Plan, as well as those who appointed these individuals, the Mayor and City Council, harbor personal agendas in real estate or developments that could rise to the level of "Conflict of Interest."
However, in my opinion, it is a concern that the City Manager of Colleyville, since being hired to guide this city, has accumulated around $1.5 million in residential holdings in Colleyville.  I have always found Ms. Fadden to be responsive and, by all appearances, candid and open to inquiries from LNO.  EXCEPT the one inquiry that could clear up if the potential "Conflict of Interest," reaches the highest paid office in Colleyville City Government, the City Manager?
Since the Village is the highest profile, (and getting higher as one can see) high density development in the City; it rises concern that the person in charge of the employees that prepared the plan has never determine that her financial interest should be grounds to Recuse herself from decisions that can contribute to a personal financial gain.  Allegedly, although it is now unclear if there remains an "Ethics Ordinance" in Colleyville, any City Council Member would be obligated to Recuse themselves from decisions that have an impact on their personal financial holdings, even to decisions that can impact the value of their personal residence.
LNO requested, via the Texas Open Records Statues, information on Fadden's personal investments in Colleyville Real Estate, since she has become City Manager.  The first request response received back noted, if I acknowledged we were not asking for Attorney/Client privileged information, the information (after 9 days) would quickly be forthcoming.  Upon that Agreement we received our request, EXCEPT apparently everything concerning the City Manager's Property Ownership and how she came about owning the property was considered Attorney/Client privileged information because there was not one piece of information pertinent to the request.
After a brief discussion with a representative of the Texas Attorney General's Office, I was advised to refile the request and not exclude items claimed as Attorney/Client privilege.  Therefore on December 28, 2015, another Open Records Request was filed with our request for information on the City Manager's Colleyville Real Estate involvement.
The rules allow the City 10 days to respond, for example, before the May 2015 election, the LNO request for correspondence of City Council Members (the City took the full 10 days to respond that the request was being forwarded to the Texas AG to determine if we could receive citizen email addresses), of which we never ask to be included.  Before the election we received 2 pages; after the AG's decision and AFTER the election, LNO received 234 pages and has reported on the misinformation that was used during that campaign from these documents.
In this request, once again, we were informed,  if we ask for Attorney/Client privileged information, that the request would be forwarded to the AG's office, so we expect to hear the request,(after the maximum 10 day waiting period) is being forwarded to the Texas AG for a ruling. Which of course can take weeks or even months for an opinion.
So it must be considered not reasonable to ask the City's Highest Ranking and Taxpayer Paid Employee to explain to the citizens what involvement she has in real estate in the City she Manages? Involvement that could be impacted by a decision of the City Council, for example a Comprehensive Plan, that includes more high density housing?  What were the circumstances in obtaining this property?  Is the City Manager privy to insider information?  Short Sales, Foreclosures, etc?
Unfortunately the refusal of the City Manager to answer this important question causes rise for concern if all of these recent actions have been guided in a fair and impartial manner.  If there is nothing to hide, why not share with Colleyville citizens how and under what circumstances did the City Manager acquire the following properties;  Note all but the first one is in HIGH DENSITY LOCATIONS!  The same HIGH DENSITY developments favored by the newly adopted Comprehensive Plan.
Owner Information:
City Manager's Home
   THOMAS MONROE PROPERTIES LLC
825 REGINA CT
COLLEYVILLE TX 76034-3160
| | | | | | |
| --- | --- | --- | --- | --- | --- |
| 40946142 | 59 PIAZZA LN # 410 | COLLEYVILLE | THOMAS MONROE PROPERTIES LLC | Residential SingleFamily | $362,700 |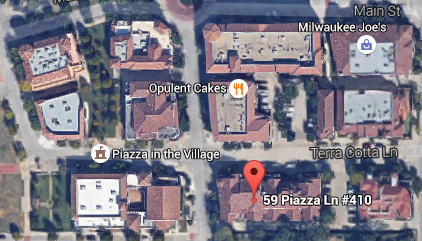 | | | | | | |
| --- | --- | --- | --- | --- | --- |
| 40946150 | 59 PIAZZA LN # 411 | COLLEYVILLE | THOMAS MONROE PROPERTIES LLC | Vacant Land Residential | $0 |
| 40946169 | 59 PIAZZA LN # 412 | COLLEYVILLE | THOMAS MONROE PROPERTIES LLC | Vacant Land Residential | $1 |
| | | | | | |
| --- | --- | --- | --- | --- | --- |
| 41245873 | 3708 BUR OAK DR | COLLEYVILLE | THOMAS MONROE PROPERTIES LLC | Residential SingleFamily | $354,700 |

Considering the lack of retail in the Village of Colleyville, there is very little reason for most residents of Colleyville to even drive through the "so-called" mixed use development.  The Village has been on the forefront of controversy for more than 15 years as it has continued to morph into a higher and higher density residential development, versus the emphasis on commercial sales tax generating retail as first presented.
However, now that the controversial Comprehensive Plan was passed on a 5 to 2 vote, despite literally hundreds of Colleyville residents protesting; perhaps this is a snapshot of the future now planned for Colleyville.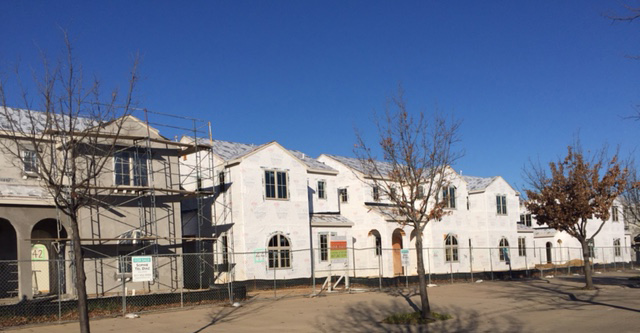 If this is the answer to the Village of Colleyville, which was supposed to be the "highlight" of Colleyville life; imagine what the rest of the City will look like in five years under the new Comprehensive Plan's "liberal" interpretation of the 1.8 density limitations.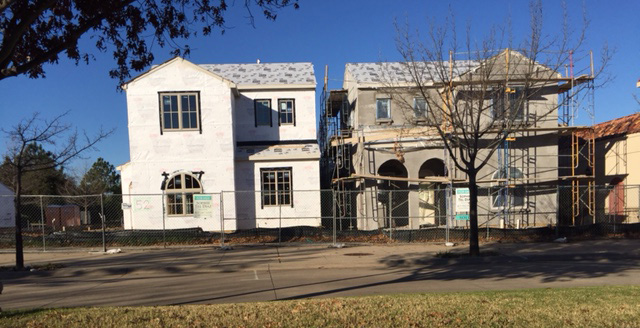 Note the spacing between these "single family homes"; perhaps 10 ft? Just estimating, was not measured however, it is apparent that the future of Colleyville will be VERY CLOSE neighbors on VERY SMALL lots?
So while we await the decision of the Attorney General of Texas if requesting information from a City Manager on property that has been acquired while employed by the citizens of Colleyville should be shared with the public.  Is there a smidgen of conflict of interest here, especially if the purchases were made with insider information?
Citizens have a right to be suspicious of public servants, paid and unpaid, that do not openly share any evidence of conflict of interest.  Not ONE individual associated with the planning, writing and final voting on the Comprehensive Plan EVER RECUSED themselves from any vote or recommendation.  Although, it is now painfully obvious the potential for these conflicts have and do exist.
Taxpayers and Voters of Colleyville should DEMAND TRANSPARENCY at any point, for any reason a potential conflict is present.  And apparently saying "APARTMENT' IS NOT A SCARE TACTIC BUT PART OF THE COLLEYVILLE REAL ESTATE LANDSCAPE TODAY.