North Richland Hills, Texas  June 8, 2016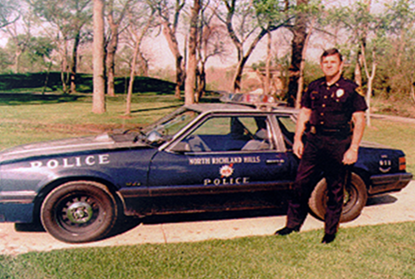 After the incorporation of North Richland Hills in 1953, Robert Hays was appointed town marshal. In addition to Mr. Hays, J.M. Shelton was licensed by the city as a night watchman to provide protection during hours of darkness. Each family was assessed a small monthly fee to pay for this service. In July 1956, Mayor Donald F. Denney and the council approved and installed an Auxiliary Police Force. The force was all volunteers appointed to assist the town marshal. In June 1959, Walter Smith was also given a license to operate a night patrol in North Richland Hills. During this period, talk of a paid police force was growing. In July 1960, the council hired George Braxton Coe of Virginia as the first police chief. A property tax was passed to pay for the chief and five officers as well as establishing a city court. Chief Coe organized the newly formed department and designed the first police uniforms. In 1974, the North Richland Hills Police Department was exposed to what was the beginning of perhaps the most revolutionary concept in the police profession. A computer was delivered to the dispatch office.
ALL ARRESTED ARE CONSIDERED INNOCENT UNTIL CONVICTED IN A COURT OF LAW!

SAMANHA LINN SMITH, 
Arrested on June 1, 2016, Home Address 7416 Gairlock Dr., Ft. Worth. Booked by Officer B. Negrete, Search by Ll. Samilo and charged with Speeding.
LNO often is requested to remove data based on alleged clearance of charges at a later date. LNO therefore is expanding and restating our policy on removing information by request at a later date from the archives dating back to 2000. LNO Policy Note: Considering the long period taken to clear most cases through the court system, LNO does not have the ability to track the eventual outcome of every arrest. If you or someone you know has been reported arrested in this weekly column and subsequently been cleared of the charges inform LNO with verifiable information. LNO will provide equal coverage to same or removal of information at requester's choice. Note: A downward plea, for example "obstruction of a roadway" in lieu of a DWI/DUI is not considered "cleared of charges". A Deferred Adjudication sentence is a conviction with deferred sentencing and not a "dismissal of charges." LNO policy is not to remove information based on this criteria. However, LNO will bring forward and update the information if requested by the convicted party. If interested party makes claims of dismissal but public records indicate no dismissal; LNO may update information and bring forward other public record information.